Bellingham, WA – A predicted cold and moist weather pattern has at least one ski area in Washington State planning to open this week, with others to possibly follow.
After picking up 15 inches of new snow over the weekend and with possibly another foot or two in the forecast, Mt. Baker, east of Bellingham, has announced its season opening for this Thursday, a month sooner than last year's first day.  The resort is reporting a snow depth of three feet at Heather Meadows and five feet at the summit of Pan Dome.  Five chairlifts are expected to operate on Thursday.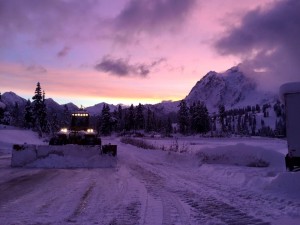 After a wet and rainy Monday night, with snow levels rising to as high as 6,500 feet, the National Weather Service is predicting conditions in the Cascades that will turn more winter-like for Tuesday through Thursday, with one to possibly two feet of snow falling from the storm on areas like Snoqualmie Pass, White Pass and Stevens Pass. A mix of rain and snow is expected to last until the weekend throughout the Cascade Mountains. Winter Storm Warnings have been posted along the Cascade spine from Canada to the Oregon border, in effect through 4 a.m. tomorrow.
Officials at Crystal Mountain, where only three inches of snow fell over the weekend to create a five-inch base, are waiting to see how the mountain weathers Monday night's warmth before making a decision on opening for the season.