Swiss delights
Continuing our look at Europe's 51 best ski resorts, when it comes to Alpine adventure, Switzerland is world famous for its iconic resorts, vast glaciers and thrilling international standard ski runs. Although in-resort accommodation and facilities in Swiss resorts often come at a premium, mainly due to the strong Swiss economy, there are still competitive deals to be found. For tourists on a bigger budget, the mountains of Switzerland are extremely tough to surpass for the perfect winter getaway.
Andermatt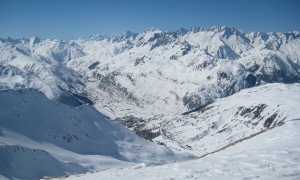 Located towards the Northern end of the Alps, Andermatt is a developing resort that is going through considerable upgrades to its facilities and accommodation. The Gemsstock mountain is ideally suited to expert level skiers, with a wide range of black runs and steep, winding descents guaranteed to thrill. Snow conditions are invariably good, with many of the 86 kilometers of pistes at altitudes close to 3,000 meters. The resort is not suited to beginners, as there are few opportunities for easy skiing on this steep mountain.
The region is undergoing a huge amount of investment and development. The once-quiet area is being transformed into a high-end resort that will boast world-class facilities and superlative hotels alongside a golf course and modern apartments. Old Andermatt remains quiet, though it does feature a truly iconic boutique hotel, the River House, which is one of Switzerland's true gems. Accommodation and facilities here come at a considerable cost, though the wealthy skier will find Andermatt a true Swiss paradise.
Crans-Montana
Another of Switzerland's iconic resorts, Crans-Montana boasts world-class facilities with an ambiance and style that are hard to rival. Billed as the sunniest resort in the Swiss Alps, Crans-Montana is ideally located for great views of Mont Blanc and the Matterhorn. It has good snow cover all year round, and features more than 140 km of pistes and slopes perfect for novices and international athletes alike. There are great off-piste runs, too.
The stunning aspect is filled with opportunities for skiing, snowboarding, and other winter sports activities such as curling and ice skating. The resort center contains around 70 eateries and more than 150 shops and boutiques, one of its major attractions. There's even a championship golf course with some of the greatest scenery in the world, and a thriving casino.
With hundreds of kilometers of walking paths (many of which are open through the winter), visitors to the region and locals are blessed with everything that the great outdoors can offer; of course this ambiance comes at a high-end price, but as with most major Swiss resorts, the extra cost always seems justified for the facilities and scenery.
Engelberg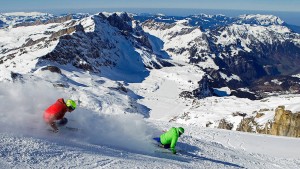 Unlike the iconic Swiss venues, Engelberg is a much quieter and less known resort, but the incredible skiing on offer ought to place this near the top of your list. There's a staggering drop of almost 2,000 meters from the lift system's peak to the town below, and the sheer quality of thrills that can be found here belie the resort's relatively unknown status. The Hahnen peak rises majestically above the town, which is surrounded on all sides by glorious peaks and glaciers.
There are still some issues with Engelberg as a ski resort, notably the lack of direct access to the slopes by foot from town, but a short bus ride easily overcomes that, and once you hit the slopes, any inconvenience will be quickly forgotten. Advanced level skiers and confident intermediates will revel in the long, steep descents and thrilling drops, spread across around 80 kilometers. There are reported plans to link Engelberg to other local centers, opening the region to more visitors, but it is already rapidly growing in popularity – it's definitely a place to visit before the rest of the world discovers its delights!
Laax
In conjunction with neighboring Flims, visitors are presented with a vast ski area that can rival anything across Switzerland in overall size. However, unlike the powerful ski centers across the Alps, Laax predominantly positions itself as a world-class facility for snowboarding enthusiasts. In that respect, it not only doesn't disappoint, it more than surpasses expectations.
There is an abundance of fantastic outdoor facilities, mainly based around the four terrain parks situated above the town. In combination, these offer around 60 specially-created facilities including kickers, rails and an Olympic size halfpipe. There's also an indoor freestyle center where you can escape the worst of the winter weather. Those seeking off-piste thrills can also find plenty to fill their time across the mountain, though the sunny aspect means that snow coverage can be patchy, especially on lower ground.
Given its youthful, snowboard vibe, there's plenty of choice when it comes to accommodation, from youth-oriented hostels and chalets to secluded guest houses and hotels across the resort. These vary widely in price, though all provide good quality facilities to accompany the excellent après-ski.
Saas Fee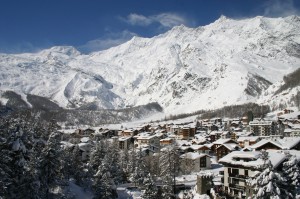 With its overhanging glacier and stunning mountains, Saas Fee is a picture postcard Swiss village that simply oozes appeal. Many of the major pistes are located more than 2,500 meters above sea level, with some breaking through the 10,000-foot barrier, ensuring fabulous views and incredibly deep snow. It's one of the highest snow resorts in the Swiss Alps and while the depth of runs can't rival those of the larger resorts, the altitude and sheer idyllic splendor keep visitors coming back time and again. The pistes best suit intermediate skiers, with less of a challenge for the expert.
Saas Fee also has a lively after hours scene, with restaurants and bars galore. Despite that, it's very child friendly, with car-free zones and a friendly ambiance. Visitors should be aware of electric minibuses and taxis, though they are less pervasive than in other resorts. With 235 kilometers of pistes, good snow coverage and a lively atmosphere, Saas Fee is a great place to base an Alpine adventure.
St. Moritz and its surroundings
With a deserved reputation as a playground for the rich and famous, St. Moritz is one of the world's most iconic winter resorts, and one that you cannot miss. Best reached by rail from Zurich (unless of course you are flying in by private helicopter or jet), St. Moritz has been the place to be seen for more than 150 years.
Located close to the Italian border in the south of Switzerland's Engadin Valley, the resort can boast some 300 days of sun annually. It is of course most closely associated with the world-renowned Crest Run bobsleigh track, but its skiing facilities are also world class. There are more than 350 kilometers of slopes spread over four areas, served by 58 lifts. Slopes ascend beyond 3,300 meters, providing glorious views and amazing downhill runs to inspire any skier. Despite its position as one of the world's major winter destinations, upgrades and enhancements continue, with more developments planned ahead of the 2017 Alpine World Championships.
If you're seeking a glitzy night out or some celebrity spotting, head for the village of Dorf, which is threaded through with high-end restaurants and five star hotels. Two other villages are placed around the lakeshore, with St. Moritz Bad a much quieter base and Celerina (dubbed "Little Milan") also attracting the richer tourist.
Verbier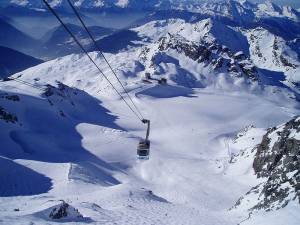 Another high-end, cool resort, Verbier combines the ultra-glitzy appeal of St. Moritz with the death-defying thrills of Andermatt. At the resort base at 1,500 meters, various gondola rides and lift systems transport skiers to the dizzying heights of Mont-Fort and Mont-Gélé at well over 3,000 meters. From here, amazing black runs will challenge even the most experienced skier, while off-piste thrills and spills galore can be found. Based on a series of "itinerary routes", the expert runs of Verbier are not for the faint of heart.
Novice skiers have access to various pistes well down the mountain, and unless progress is made, there's little chance to experience the more dramatic vistas and challenges available up high. However, the great snow, diverse terrain and cosmopolitan lifestyle will attract all types of skier and winter enthusiast. Over 412 km of pistes thread the mountain, accessed by 92 lifts and multiple gondola systems.
Verbier is renowned for its off-piste activity, with a thriving nightlife and celebrity bars and clubs. As with St. Moritz, prices are at a premium, but this is a place to be seen. The resort center features the great atmosphere of the Place Centrale and Médran, and offers fabulous après-ski.
Veysonnaz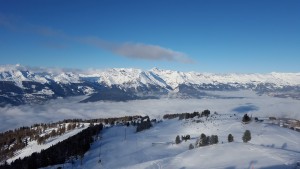 At the opposite end of the Four Valleys region from Verbier lies Veysonnaz, a quiet resort whose ample charms are ideal for those seeking top class slopes without the glitz and celebrity spotlight of its more illustrious counterparts. It has over 50 km of excellent runs, highlighted by the world renowned Piste de l'Ours which has featured in World Cup competition and includes gradients of over 50%; it is actually suitable for confident intermediates.
Expert freeriders will love the cluster of special areas laid out for off-piste adventure, while the gondolas and lift systems can carry riders as high as the adjacent 3,300 meter Mont Fort and onward across the Four Valleys. With superb Rhone Valley views and a small, high quality array of pistes, Veysonnaz is well worth seeking out as an alternative to its rival resorts. Its main village is full of understated charm, with self-catering accommodation and chalets at affordable rates.
Zermatt
Blessed with astonishing views of the Matterhorn, Zermatt has long been the place to visit for sightseeing and skiing in the Swiss Alps. Lifts can carry skiers to a dizzying 3,820 meters, while the 200 km of pistes include many excellent black runs alongside a large collection of intermediate level courses. The high altitude ensures good snow cover throughout the season, and skiers will thrill in the sharp descents and intricate pistes which dot the mountainsides.
Zermatt is famed for its high-end couture and its après-ski. This elite Swiss destination is a charming, character-filled resort which bustles in high season and is never short of visitors seeking out its many attractions. The village is car-free, and easily reached by train or on foot. The recent addition of the Sunnegga funicular carries visitors to a beautiful spot overlooking the Matterhorn, with good access from there to the higher slopes. Experiencing Zermatt isn't cheap, but it's well worth your time for the scenic delights alone.
It's not just about these four countries, however. Let's look at the rest of Europe on this article's final page…  (select next page below)