Quesnel Lake (BC), Canada – If money was no constraint, what would be your ultimate ski trip? Put another way, if you had a quarter million dollars to blow, where would you go skiing?
The folks at Silver Tip Lodge on Quesnel Lake think that they have your answer. You would design your very own private heli-skiing adventure, where all of the elements for the perfect vacation would come together. Your lodge. Your guide. Your helicopter. Your chef. Your friends.
With a single phone call, you would invite nine of your closest friends or family (or people who were "once friends, but who are now just like family"). You would book exclusive use of a luxurious, Canadiana-décor lodge in the middle of British Columbia's purest mountain wilderness. You would ski in the secret corner of a mountain range that's world renowned for having the deepest, driest, and most dependable powder snow on earth. You would hire a helicopter and guide to scout out untracked runs – lines that few folks have ever seen, let alone skied.
And after skiing, you would devour a plate of gourmet appetizers, along with a cold beer or glass of champagne. You would rejuvenate in the spacious outdoor hot tub, and in our luxuriously refurbished spa. You would dine on the very best cuisine, and drink award winning wines.
You would unplug from the stress of incessant to-do lists and demands on your time, but could share Instagram photos of lofty mountain peaks, mile-wide smiles, wicked wipeouts, and the best face-shot you've ever had.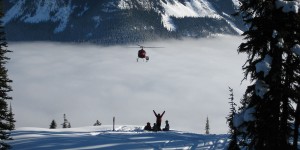 You would do it on the first day, and for five days thereafter.
A former fishing lodge on Quesnel Lake in the northern Cariboos, Silver Tip Lodge has been operated for the past four seasons by Canadian Mountain Holidays as a private member's club for avid heli-skiers seeking an exclusive experience. The lodge was sold this past August to Western Canadian-based Artistry Developments, headed by Mike Duggan, a former senior staffer at Silver Star Mountain Resort and Sun Peaks Resort.
Now, with a new ownership and operational team in place and ready for a soft opening in mid-January, Silver Tip is offering nine weeks of private heli-skiing, guiding, accommodations, and meals. Prices vary according to level of service provided and start at $250,000 per week, all-inclusive.
If you have the bankroll to get this party started, you can find more information at www.silvertipheliskiing.com.