White Pass, WA – The same powerful winter storm that is opening much of the Pacific Northwest ski season has marooned White Pass ski area in Washington after washing out Highway 12.
Because the storm caused much of the eastbound lane near mile posts 142 and 153 to wash away, the Washington State Department of Transportation (WSDOT) expects the road closure to be an extended one. The storm cut off power to the ski area as well.
"The WSDOT team has determined that the road will certainly not be passable this weekend," White Pass ski area confirmed on its website last night. "They have additional surveys tomorrow and we hope for a clearer picture over the weekend."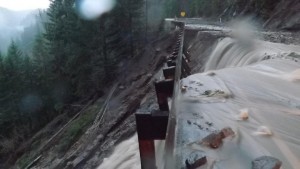 Tops on the WDSOT list are clearing a rockslide at Milepost 166 near Rimrock Tunnel, a washout at Milepost 154 (three miles east of White Pass), and two washouts between Mileposts 141 and 142 west of White Pass. The damage has stranded the few residents of White Pass and a skeleton crew of ski area employees.
Snow from the storm has allowed most other ski resorts in the region to finally open for the season. Mission Ridge and 49 Degrees North are both welcoming White Pass season passholders this weekend through their five-day free exchange program.