Val d'Isere, France – Park City's Ted Ligety has said that Val d'Isere's La Face de Bellvarde is "miserable to ski," and Saturday's race confirmed that for him, as Ligety made a big mistake in the giant slalom and did not qualify for second run in a race won once again by Austria's Marcel Hirscher.
The last time Ligety battled the track in 2013, he went down on his left hip. Although determined to find redemption, Ligety never seemed to find his usual groove and appeared to be fighting the hill and the set from the moment he pushed out of the starting gate. He ended up 2.83 seconds behind Hirscher and finished in 42nd place in the first run.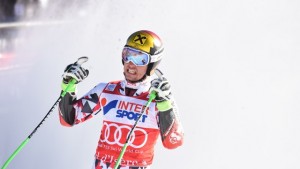 Hirscher continued his domination of the Audi FIS Ski World Cup, charging down the steep, technical slope in Val d'Isere, en route to his 16th career giant slalom victory and third in row at the venue. The victory was by a commanding margin, 1.29 seconds over Germany's Felix Neureuther in second and France's Victor Muffat-Jeandet in third, 1.58 seconds off the pace.
David Chodounsky, Tim Jitloff and Tommy Ford rounded out the American men, but all failed to qualify for a second run. Head Men's Coach Sasha Rearick summed up the day in a somber, yet optimistic, way following the first run.
"Very, very disappointing first run here in Val d'Isere. We over-skied and skied way too defensive," Rearick explained. "Snow was amazing—good course set, easy, and we just gave this thing way too much respect. The key now is to learn from this, evaluate our travel over here, our setup coming into Val d'Isere, also what to expect on this hill now. We have to change our approach to what we do on this hill. On days like this you can actually do a lot of work and make a lot of progress and I look forward to meeting with the coaches, meeting with the athletes and putting forward a game plan for the future in Val d'Isere GS, but also looking forward to tomorrow's slalom."
OFFICIAL RESULTS
FIS Alpine Ski World Cup
Val d'Isere, France – Dec. 12, 2015
Men's Giant Slalom
| | | | | | | |
| --- | --- | --- | --- | --- | --- | --- |
| Rank | Name | Nation | Run 1 | Run 2 | Total | Diff. |
|  1 | HIRSCHER Marcel | AUT |  1:05.31 |  1:03.18 |  2:08.49 | |
|  2 | NEUREUTHER Felix | GER |  1:05.81 |  1:03.97 |  2:09.78 |  +1.29 |
|  3 | MUFFAT-JEANDET Victor | FRA |  1:05.49 |  1:04.58 |  2:10.07 |  +1.58 |
|  4 | FELLER Manuel | AUT |  1:06.55 |  1:03.92 |  2:10.47 |  +1.98 |
|  5 | SANDELL Marcus | FIN |  1:05.72 |  1:04.95 |  2:10.67 |  +2.18 |
|  6 | BORSOTTI Giovanni | ITA |  1:06.01 |  1:04.73 |  2:10.74 |  +2.25 |
|  7 | LUITZ Stefan | GER |  1:06.06 |  1:04.69 |  2:10.75 |  +2.26 |
|  8 | MISSILLIER Steve | FRA |  1:06.64 |  1:04.22 |  2:10.86 |  +2.37 |
|  8 | NANI Roberto | ITA |  1:06.24 |  1:04.62 |  2:10.86 |  +2.37 |
|  10 | FAIVRE Mathieu | FRA |  1:06.29 |  1:04.61 |  2:10.90 |  +2.41 |