Santa Caterina, Italy – Adrien Théaux of France won his third career World Cup downhill on Tuesday by a 1.04-second margin on the dark, bumpy track in Santa Caterina, one of the most difficult on the Audi FIS Alpine World Cup circuit. Hannes Reichelt of Austria was second, followed by David Poisson of France in third.
"I am very happy about my race today," said Théaux. "It's a fight everywhere on the race, when you cross the line, you don't know your time, it's impossible to know if you are fast or not. I am happy because I tried to push a lot on the top and, yeah, it was good. It was perfect."
Italian racer Christof Innerhofer thrilled the crowd after getting hung up on a gate and wearing it like a cape to the finish line, nevertheless finishing fourth.
World Cup downhill leader Aksel Lund Svindal of Norway finished the fourth men's downhill of the season in seventh and moved into the overall World Cup leaded by 15 points over Marcel Hirscher of Austria, who did not race Tuesday's downhill.
For Squaw Valley's Travis Ganong and his U.S. teammates, just making it to the finish line was a victory.
"There's been lots of action, lots of crashes, lots of crazy stuff," Ganong said after leading the U.S. Ski Team in 17th place. "I would say this is one of the toughest hills we ski. It's really hard. It's like Sochi on the top and Bormio on the bottom – super dark, bumpy, super fast speeds. It's a real deal downhill. It's a gnarly, gnarly hill – the after-Christmas wake-up call."
For the Americans, it was a challenging day. Steven Nyman (Sundance, Utah) was 26th; Jared Goldberg (Holladay, Utah) was 33rd; Bryce Bennett (Squaw Valley, Calif.) 37th; and Marco Sullivan (also of Squaw Valley) 42nd. Andrew Weibrecht, of Lake Placid, N.Y., was having a good run before the track got the best of him.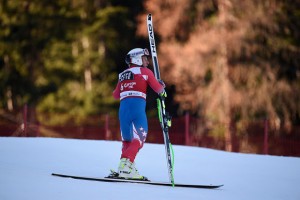 "I hit a bump wrong and it just squatted me," Weibrecht said of his DNF. "I started to get a little tired, but it wasn't bad. I think it was a potentially bad situation and I got lucky."
Weibrecht nevertheless found a bright side to his skiing on Tuesday. "It was nice to ski well today; I'm happy about that. It's such a weird course – it's unlike anything we ever ski," he added. "There's no rhythm. It's bumpy and dark. It reminds a lot of the Val d'Isere World Championships course or the Sochi Olympic downhill – same kind of half turns and nastiness."
Likewise, Ganong was happy with how he skied despite a mistake that may have cost him a top-five finish.
"I had an amazing run. I had a huge mistake on the bottom and I'm still only two seconds out," Ganong said. "I definitely pushed hard. That big mistake on the bottom cost me top five, probably. I'm only two seconds out, so I'm pretty happy with my skiing."
Up next, the men's tech teams compete in slalom in Santa Caterina Jan. 6, while the speed teams head to Wengen, Switzerland Jan. 12-17 for a pair of downhill events.
OFFICIAL RESULTS
FIS Alpine Ski World Cup
Santa Caterina, Italy – Dec. 29, 2015
Men's Downhill
| | | | | |
| --- | --- | --- | --- | --- |
| Rank | Nation | Name | Time | Diff. |
| 1 | FRA | THEAUX Adrien | 1:47.29 | |
| 2 | AUT | REICHELT Hannes | 1:48.33 | +1.04 |
| 3 | FRA | POISSON David | 1:48.44 | +1.15 |
| 4 | ITA | INNERHOFER Christof | 1:48.51 | +1.22 |
| 5 | AUT | BAUMANN Romed | 1:48.67 | +1.38 |
| 6 | AUT | KRIECHMAYR Vincent | 1:48.75 | +1.46 |
| 7 | NOR | SVINDAL Aksel Lund | 1:48.90 | +1.61 |
| 8 | CAN | THOMSEN Benjamin | 1:48.92 | +1.63 |
| 9 | FRA | FAYED Guillermo | 1:48.95 | +1.66 |
| 10 | GER | SANDER Andreas | 1:48.99 | +1.70 |