Montpelier, VT – January is National Learn to Ski and Snowboard month and there are many opportunities for people to learn new snowsports at a discount, or even free. As home to several adaptive sports association, Vermont is also providing free adaptive lessons at alpine and Nordic resorts.
Resorts nationwide will host the World's Largest Lesson this Friday, January 8. Vermont Adaptive is offering free adaptive lessons at 10 a.m. at each of their locations: Pico Mountain, Sugarbush Resort and Bolton Valley. For more information visit www.vermontadaptive.org.
The Vermont Adaptive Ski and Sports programs at Bolton Valley are primarily known for serving a lot of school groups, veterans groups, and a large client base of athletes with developmental disabilities. The programs at Bolton Valley have more than 100 dedicated and loyal volunteers during the winter season. Bolton Valley is a proud supporter of the organization and the resort finds that being a host site for Vermont Adaptive Ski and Sports is a great partnership as the organization helps get more people outside and enjoying snow sports.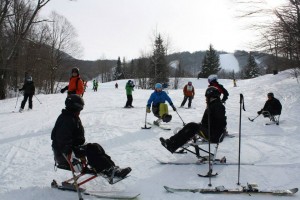 Pico Mountain is home to Vermont Adaptive Ski & Sports, a non-profit organization dedicated to providing recreational opportunities to people with disabilities. Vermont Adaptive offers ski and snowboard clinics at Pico, where Vermont Adaptive instructors teach lessons for all ability levels. Students may book lessons as individuals or as part of a group. Family members or friends of the Vermont Adaptive students are invited to participate and, if interested, can learn the adaptation needed to help their skier achieve as much independence as possible. Clinics are by appointment only, and include lift ticket, private adaptive instruction and adaptive equipment. For more information, call (802) 353-7584 or (802) 786-4991 for the administrative office.
Sugarbush Resort hosts Vermont Adaptive Ski and Sports at Mt. Ellen all season long. Vermont Adaptive provides ski and snowboard experiences and equipment for disabled skiers and riders of all ages. They believe that recreation provides a physical, mental, and social experience that is immeasurable in promoting self-confidence and independence in an individual. For more information and for scheduling call (802) 583-4283.
Winter Trails Day is another national learn-to program offering free cross country skiing and snowshoeing on Saturday, January 9. Find a list of participating resorts at www.wintertrails.org.
The following day, Sunday, January 10, the Northeast Disabled Athletic Association (NDAA) with support from the Vermont Governor's Council of Physical Fitness and Sports will host an adaptive Nordic sit-ski clinic at Rikert Nordic Center. Interested participants will receive a free trail pass and lesson from 11 a.m. to 1:30 p.m. Call NDAA at (802) 862-NDAA (6322) to reserve a space. NDAA is a Burlington-based 501(c)3 not-for-profit sports organization dedicated to providing persons with physical disabilities the opportunity to engage in competitive and recreational sports. Founded in 2003, NDAA offers several outdoor winter sports including Nordic sit-skiing, biathlon and sled hockey as well as indoor winter sports including wheelchair tennis and wheelchair basketball.  The organization is run by an all-volunteer board and serve about 350-400 athletes a year.
AbilityPLUS at Mount Snow provides adaptive ski and snowboard lessons to individuals of all ages with any type of disability, from children with autism to individuals with severe physical impairments. AbilityPLUS is a special part of Mount Snow where children and adults with physical or intellectual disabilities team up with extraordinary instructors and experience the joy and freedom of sliding down a snowy slope unencumbered by a wheelchair or braces. Lessons are specially tailored to each individual's abilities and goals.
Smugglers' Notch Resort's Adaptive Program provides therapeutic recreation for children and adults of all abilities. Winter snowsports experiences are tailored to meet the needs and goals of each individual. Some program participants may benefit from the support of two instructors, while others may be appropriately paired with one instructor. Smugglers' also offers an inclusion program with its ski and snowboard programs for children, giving the opportunity to socialize with peers while still maintaining the support needed through the adaptive program. Half and full day lessons are available. Smugglers' adaptive program maintains an inventory of adaptive equipment including mono-skis, bi-skis and a slider. Snowboarding is also available. Inquiries may be addressed to the adaptive program staff at (802) 644-8502.