Adelboden, Switzerland – After the cancellation of Saturday's giant slalom, race organizers were hell-bent on having at least one race down the legendary Chuenisbaergli course in Adelboden. After firehoses, an army of workers, and endless buckets of salt were used to firm up the snow for first run, racing finally got underway with a stadium packed full of flag-waving Swiss fans.
After an exhilarating second run, Norwegian Henrik Kristoffersen came away with his third victory of the season, beating out Austrian Marcel Hirscher for the win by a scant 0.06 seconds with a blistering final split. Russian Alexander Khoroshilov was third, 0.60 seconds back.
Sitting in third place after the morning's run, Kristofferson wasn't about to let the victory slip away without a fight and attacked the course with an aggressive style that all have grown accustomed to seeing this season. Making the infamously steep bottom pitch look easy, Kristoffersen crossed the line 0.89 seconds in the lead and then waited as only Hirscher and Khoroshilov remained to challenge. Neither racer could match Kristoffersen's pace, however, and the young phenom walked away with yet another slalom win.
The win puts the Norwegian 40 points clear of Hirscher in the overall slalom standings. A battle of epic proportions is brewing between Kristoffersen and Hirscher for the slalom globe this season, as the duo is over 150 points clear of Khoroshilov, currently third place in the standings.
The American contingent was led by Crested Butte, Colo.'s David Chodounsky in 20th place. Chodounsky sat in 10th after the morning run and was eager to attack and move up into another top-five finish, but was unable to hold on and slipped back in the wet second run.
A bright spot on an otherwise cloudy day for the U.S. Ski Team came from Michael Ankeny, of Deephaven, Minn., who managed to score his first-ever World Cup points with a solid 21st-place finish. Sitting in 30th place after the first run, Ankeny was afforded a clean course for the second run and skied well enough to secure some hard-earned points after several years of underwhelming results at the World Cup level.
"It's kind of an indescribable feeling," a delighted Ankeny, who made his World Cup debut in 2011, said in the finish. "I ran first, came down through the finish line and having the whole stadium erupt, not knowing where I stand, but feeling good about my skiing, It's pretty indescribable and it's a once-in-a-lifetime experience that I'll forever remember."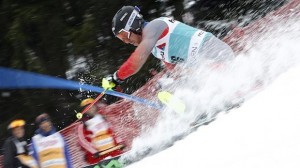 Rounding out the Americans, Ted Ligety DNFed in the first run. Robby Kelley and Tim Kelley did not qualify for a second run.
The men's World Cup alpine tour now heads to Wengen, Switzerland, for the legendary Lauberhorn downhill, combined and slalom races scheduled for Jan. 12-17.
OFFICIAL RESULTS
FIS Alpine Ski World Cup
Adelboden, Switzerland – Jan. 10, 2016
Men's Slalom
| | | | | | | |
| --- | --- | --- | --- | --- | --- | --- |
| Rank | Nation | Name | Run 1 | Run 2 | Total | Diff. |
| 1 | NOR | KRISTOFFERSEN Henrik | 55.53 | 55.81 | 1:51.34 | |
| 2 | AUT | HIRSCHER Marcel | 55.45 | 55.95 | 1:51.40 | +0.06 |
| 3 | RUS | KHOROSHILOV Alexander | 55.21 | 56.73 | 1:51.94 | +0.60 |
| 4 | FRA | PINTURAULT Alexis | 56.18 | 56.05 | 1:52.23 | +0.89 |
| 5 | ITA | GROSS Stefano | 56.35 | 56.22 | 1:52.57 | +1.23 |
| 6 | AUT | FELLER Manuel | 57.09 | 55.50 | 1:52.59 | +1.25 |
| 7 | SUI | ZENHAEUSERN Ramon | 57.47 | 55.19 | 1:52.66 | +1.32 |
| 8 | GER | NEUREUTHER Felix | 56.24 | 56.52 | 1:52.76 | +1.42 |
| 9 | GER | DOPFER Fritz | 56.02 | 56.80 | 1:52.82 | +1.48 |
| 10 | ITA | RAZZOLI Giuliano | 57.34 | 55.52 | 1:52.86 | +1.52 |