Big Sky, MT – A competition set by Mountain Sports International (MSI) for Montana's Big Sky Resort March 23-27 is part of the Freeskiing World Tour, Masters of Snowboarding and Junior Freeride Tour (JFT).
MSI is inviting freeride skiers and snowboarders age 16 and older to compete on Big Sky's slopes. The event format will incorporate three days of competition including a qualifier day with open registration, semi-finals and finals (plus a weather day). Both ski and snowboard divisions will compete on the same days. A pre-qualified athlete list based off past event results will be available online.
"From the top of the mountain to the parks and pipes at the base, The North Face has been a proud supporter of skiing and snowboarding for 50 years," said Sports Marketing Director Katie Ramage at The North Face, co-sponsors of the event. "We are thrilled to continue our support of this event and the many athletes who are constantly pushing the sport's boundaries through competition."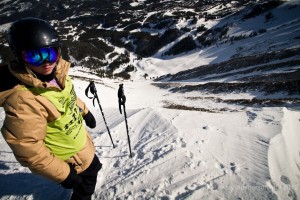 The competition will award championship titles for both freeskiing and snowboarding with even payout for men and women. A cash purse of $15,000 will be awarded to the top performing athletes. In addition to event champion titles, the coveted Sickbird Award will be up for grabs. The North Face Young Gun award will also be given to the most impressive overall performance by a young competitor in the event.
"MSI is excited to bring the freeskiing and snowboarding communities together for an incredible competition this March at Big Sky Resort," said Event Director Bryan Barlow. "Big Sky has some of the best freeride competition terrain in North America providing a perfect stage for athletes to showcase the most progressive big mountain skiing and snowboarding around."
The FWT is the oldest competitive big-mountain freeskiing tour in the history of the sport, producing the world's premier open big-mountain skiing competitions at the most rugged mountains in North and South America. Founded in 1998, the FWT, created and produced by MSI, is heading into its 19th year of operation. MSI also founded the Masters of Snowboarding in 2008, specifically tailored to pioneer the sport of big mountain snowboarding, and the Junior Freeride Tour to shepherd the development of aspiring youth.
Registration for pre-qualified athletes is now open on FreeskiingWorldTour.com and closes at 5 p.m. MST this Thursday. Open registration for athletes is also now available and closes when the event is full.