Big Sky, MT – A Yellowstone Club ski patroller died in an avalanche in Cedar Basin near Big Sky on Wednesday.
The Gallatin County Sheriff's Office has identified the victim as Darren Johnson, 34, of Big Sky. Johnson and another Yellowstone Club patroller had been assisting two Montana State University graduate students with avalanche research, and the group was returning to the Yellowstone Club ski resort when the avalanche struck.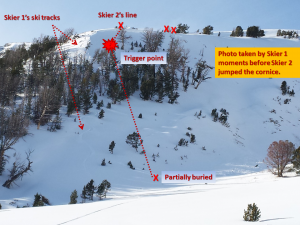 According to the Gallatin National Forest Avalanche Center, Johnson jumped off a cornice onto a steep (39-42 degrees) wind-loaded slope when the slope released on his second turn. The slide broke two to four feet deep, 300 feet wide and carried him through thick trees. He was partially buried at the toe of the debris 300 vertical feet below, but the trauma Johnson sustained in the slide was fatal.