Park City, UT – Ashley Caldwell walked with awe into China's National Stadium in Beijing last month. Rising from the floor of the fabled Bird's Nest, where American track and field athletes won seven Olympic gold medals in 2008, the snow-covered scaffolding soared high towards the ceiling. It was an aerialist's dream. In a few days, she would be standing atop the tower staring down at the triple kicker below.
There was a special aura walking onto the home turf of one of the greatest nations in her sport. In the 19 aerials World Cups in the country, only twice had anyone defeated the Chinese women, who carried a 10-event win streak into last month's contest – undefeated in the Bird's Nest.
It was a trip Caldwell almost didn't make. Just a few days earlier at the team's Park City training base, she thought she had torn a ligament in a knee. "I wasn't even going to show up," she laughed, "but it turns out I was just a big drama queen."
When the Chinese came into freestyle aerials nearly 20 years ago, things started changing on the tour, forcing other nations to react. Ironically, Caldwell is a product of that evolution in America – the first athlete out of the USA's Elite Aerial Development Program started to combat the Chinese. Just a few years after joining the program in Lake Placid, Caldwell found herself on the 2010 Olympic Team at the age of 17. Now a seasoned veteran with three World Cup wins, she came to Beijing as one of few women in the world with an air package to match up with the likes of China's ever changing roster of champions.
"It's big to come to a foreign country as large as this where aerials is such a big deal," said Caldwell. "It's amazing that a country like this, with a lot of talented athletes, thinks its cool and were cheering for someone from America."
As she rode the elevator to the top Saturday night – clearly the scariest part of her evening – her mind drifted to her home snow wins in Deer Valley last year and the jubilant ride on the shoulders of teammates for her debut victory in Lake Placid in 2011.
Last year was a season of mixed emotions. Finally, several injury-plagued years were behind here. She won two World Cups, including the finale in Minsk. Despite that, she watched the season title go to teammate Kiley McKinnon.
"I continually look back upon my career and think about how much I've learned from my injuries," she said. "I wouldn't be the same person here today if I hadn't torn my ACL and hurt my neck. You can't fret on those things – you are where you are and you have to keep pushing from that."
As the elevator opened and she stepped onto the start platform, her eyes gazed out at the crowd below. There was a bit of nervousness about her, having only made the final round of 12 by less than a point in qualifiers. But she had held back her triple flip, saving it for when it counted most.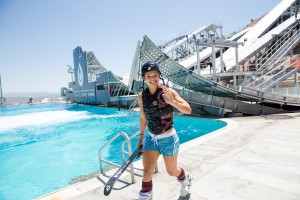 Only a handful of girls on the tour are throwing triple flips regularly in competition. Caldwell is one of them. But the odds were stacked against her.
"The first bit of learning on the triple is pretty rough," she said. "You're taking hits and dealing with a lot of fear."
As the last qualifier, Caldwell went first in the initial finals round, throwing a textbook triple somersault with a layout on the first flip – the highest degree of difficulty of the round. After 11 more athletes, no one could match her.
It was down to one final jump. China's Xin Zhang went first and put down the score to beat. McKinnon challenged, but stood second to Zhang with two jumpers to go. While Caldwell was focusing on her final jump, China's Fanyu Kong pointed her skis down the scaffold, launching a towering triple – clean through the air, but touching down on her landing.
Finally, it was up to the Virginia native to make history.
She watched intently as coach Matt Saunders gave her the go signal. Soon she would be on autopilot, with those hundreds and hundreds of jumps into the Spence Eccles Olympic Freestyle Pool all summer long as her guide. Seconds later, her skis hit kicker 4 – the towering triple – and she launched into a squeaky clean full-full-full with the highest degree of difficulty of any athlete that evening – and she nailed it.
For the first time in history, an American woman had won in China – the Star Spangled Banner echoing throughout the Bird's Nest.
"It's awesome to win World Cups in your home field," said a joyous Caldwell. "But to come out and win against a team that has the home field advantage  – now that's really sweet!"