Vernon, NJ – The National Winter Sports Education Foundation (NWSEF) announced this week the rebirth of New Jersey's former Hidden Valley ski area in Vernon into the National Winter Activity Center (NWAC), which they say is the nation's first private 501(c)(3) nonprofit dedicated winter sport facility for kids.
The NWAC exclusively serves youth 6 – 17 years old, from all economic backgrounds through partnerships with youth organizations. The Center's mission is to improve the overall health and fitness of our nation's youth by providing access to winter sport activities, skill development, healthy meals and mentoring.
Children will learn to ski and snowboard during the seven-session program in a 1-to-8 instructor ratio with PSIA and United States Ski and Snowboard Association (USSA) trained coaches. The children are fully equipped with gear and each participant will be active either in morning or afternoon sessions between 8 a.m. and 4 p.m., during which they meet with their coaches to receive on-snow training, with a snack and meal as part of the program's core focus to improve the health and overall wellness of youth. In total, participating children will experience about 40 hours of outdoor activity during a time of year when they typically opt to stay indoors and become sedentary.
"National Winter Activity Center provides a one-of-a-kind opportunity for youth who would typically not have the chance to experience winter activities such as skiing and snowboarding," said Schone Malliet, Founder and CEO of the National Winter Sports Education Foundation (NWSEF). "Part of our goal is to help reverse the low retention rate in winter sports, while combatting childhood obesity and inspiring a lifelong habit of regular exercise during the winter months."
The NWAC will hope to impact several thousands of lives and inspire a new generation of skiers this winter from children of all economic backgrounds.  The organization has set benchmarks of introducing 4,200 children to snow sports over the next three years, retaining 50 percent as adopters and encouraging 10 percent to eventually enter the world of competitive winter sports.  Additionally, NWAC will also have competitions as part of the renovations including a complete development of the Competition Trail.  U.S. Ski Team athletes will visit and ski with the kids, providing motivation and instruction.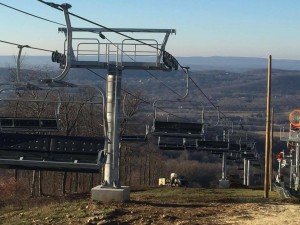 Upon acquiring the Hidden Valley property, the NWAC invested more than $12 million toward overall improvements including new lifts, snowmaking machinery, and renovations to the lodge. Inside the lodge, offices in the basement have been transformed into a brand new locker room, a bar was removed for additional dining space, and all bathrooms as well as the kitchen were completely renovated and brand new appliances were installed. On the exterior, the lodge has been freshly painted and old decking removed. An old race building on the property was demolished and a new building constructed to house competition, ski patrol and operations activities. Important partners of the National Winter Activity Center include U.S. Ski Team athlete Ted Ligety, the U.S. Ski and Snowboard Association (USSA), the International Ski Federation (FIS), the National Ski Areas Association (NSAA), SnowSports Industries America (SIA), Powdr Corp, Royal Trailworks, and HKD Snowmakers, among others.
For more information, visit www.winter4kids.org.