Cortina d'Ampezzo, Italy – The U.S. Ski Team's Lindsey Vonn smashed yet another record on Saturday in Cortina, winning her 37th Audi FIS Ski World Cup downhill. A day later, she won the Cortina super G, her 75th World Cup victory.
On the track where Vonn broke the all-time World Cup win record last season, Vonn battled wind to take the downhill win on Saturday and break Annemarie Moser-Proell's record of 36 downhill wins.
"I love Cortina! It's the place I got my first podium. Last year, breaking the overall wins record—that was incredible," said a breathless Vonn. "It was just another perfect day in Cortina."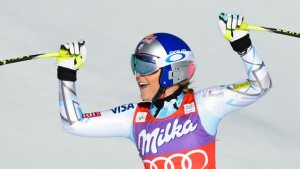 It looked like Vonn was going to take the win by a large margin, but fellow North American Larisa Yurkiw of Canada, 27, reproduced her best World Cup result to take second, just .28 seconds off of Vonn. Switzerland's Lara Gut, who held onto the World Cup overall lead by a mere 10 points before losing it to Vonn in Sunday's super G, was third.
"Yeah, the season is going really well," said Yurkiw. "I'm just trying to keep my head down, and keep working hard. And the results are something I'm really grateful for, but there's a lot of deserving people on the circuit."
"I am happy about the way I ski, but this race is like that. It's an outdoor sport, sometimes you get lucky and you don't get wind and other times, just trying to find a way into the finish, so it was a good day for me, and I hope tomorrow is going to be even better and wind is going to stop," Gut said on Saturday.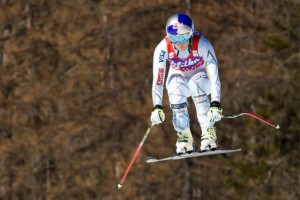 This title means Vonn is the winningest woman in downhill skiing. Her next focus would be to beat Ingemar Stenarmk's World Cup win record of 86, however, Vonn chooses to concentrate on ski racing instead of records.
"The more people talk about the record, the harder it is to break them. I try to stay focused on my skiing," said Vonn after her win. "I thought I skied really well on the top—I went a little too straight on the bottom, but was able to pull it off … I'm just really happy to come away with another win and another record."
It wasn't until Sunday's third super G of the season that Vonn notched another Audi FIS Ski World Cup victory, number 75, and her 27th in super G to move into the overall World Cup lead in the back-and-forth battle for the overall as Gut finished fifth. Vonn won in commanding fashion by 0.69 over Tina Weirather of Liechtenstein. Germany's Viktoria Rebensburg was third.
"This weekend has been incredible," said Vonn after winning her second speed race in as many days. "I feel like all the speed weekends have been amazing. I'm just skiing really well, skiing confident."
With three victories in the three super G races so far this season, Vonn leads the discipline standings by 130 points over Austria's Cornelia Huetter, who is still chasing her first victory after six podium finishes in her career, including a fourth place on Sunday 1.19 seconds behind.
Swiss ski team coach Roland Platzer set a tight, technical course for the women on Sunday; one that many felt didn't favor Vonn's skiing style. But she proved them wrong.
"It was interesting to see the course set today," Vonn said. "It was a set a little bit more technical, and people thought that maybe I wouldn't be able to win with that set, but I skied well. I'm a good turner!"
Five Americans finished in the World Cup points on Sunday. Stacey Cook (Mammoth, Calif.) was eighth, Laurenne Ross (Bend, Ore) 14th, Alice McKennis (Glenwood Springs, Colo.) 28th and Anna Marno (Steamboat Springs, Colo.) scored her first World Cup points, finishing 30th.
"Super G is definitely a tougher event for me: I have no consistency in it at all, so I'm happy when I can throw down a run that is in there with some of the best," said Cook, who scored a career-best World Cup result Sunday. "I'm really psyched about the time, more psyched about how fun it was, because the snow was about as perfect as you could ever ask for."
Up next, the women head to Maribor, Slovenia for giant slalom and slalom events Jan. 30-31., then it's off to Garmisch, Germany for downhill and super G races Feb. 6-7.
OFFICIAL RESULTS
FIS Alpine Ski World Cup
Cortina d'Ampezzo, Italy
Women's Downhill – Jan. 23, 2016
| | | | | |
| --- | --- | --- | --- | --- |
| Rank | Name | Nation | Time | Diff. |
|  1 | VONN Lindsey | USA |  1:37.01 | |
|  2 | YURKIW Larisa | CAN |  1:37.29 |  +0.28 |
|  3 | GUT Lara | SUI |  1:37.68 |  +0.67 |
|  4 | WEIRATHER Tina | LIE |  1:38.02 |  +1.01 |
|  5 | SCHNARF Johanna | ITA |  1:38.07 |  +1.06 |
|  6 | MIKLOS Edit | HUN |  1:38.09 |  +1.08 |
|  7 | KLING Kajsa | SWE |  1:38.32 |  +1.31 |
|  8 | REBENSBURG Viktoria | GER |  1:38.62 |  +1.61 |
|  9 | STUFFER Verena | ITA |  1:38.76 |  +1.75 |
|  9 | PUCHNER Mirjam | AUT |  1:38.76 |  +1.75 |
Women's Super G – Jan. 24, 2016
| | | | | |
| --- | --- | --- | --- | --- |
| Rank | Name | Nation | Time | Diff. |
|  1 | VONN Lindsey | USA |  1:26.55 | |
|  2 | WEIRATHER Tina | LIE |  1:27.24 |  +0.69 |
|  3 | REBENSBURG Viktoria | GER |  1:27.70 |  +1.15 |
|  4 | HUETTER Cornelia | AUT |  1:27.74 |  +1.19 |
|  5 | GUT Lara | SUI |  1:27.86 |  +1.31 |
|  6 | KLING Kajsa | SWE |  1:28.02 |  +1.47 |
|  7 | SUTER Corinne | SUI |  1:28.25 |  +1.70 |
|  8 | COOK Stacey | USA |  1:28.42 |  +1.87 |
|  9 | BRIGNONE Federica | ITA |  1:28.58 |  +2.03 |
|  10 | VENIER Stephanie | AUT |  1:28.73 |  +2.18 |
|  10 | CURTONI Elena | ITA |  1:28.73 |  +2.18 |