Warren, VT – Vermont's Sugarbush Resort is once again joining the Ski The East Freeride Tour as a stop with its 19th Annual Castlerock Extreme and 5th Annual Jr. Castlerock Extreme.
The Jr. Castlerock Extreme will take place next Saturday, February 6th for participants up to 14 years old. The event is open to 110 competitors and pre-registration is open until Thursday, February 4th. The event starts with registration from 7:30 to 8:30 a.m. for bib pick-up and check-in at the Castlerock Pub. Castlerock Lift will be open to bib holders only at 8:15 a.m. for one practice run, and the course will close at 9:30 a.m. There will be a mandatory competitor's meeting in the Gables (patrol shack at top of Castlerock Double) at 9:45 a.m. The competition begins at 10:00 a.m. on Lift Line.
The competition format allows for one run per competitor with the youngest age category starting first. The event is based on a free-ski format and competitors are judged on line, control, fluidity, technique, and style.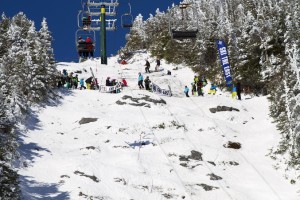 The Jr. Castlerock Extreme is a qualifier for the main event, with the top eight competitors qualifying for the Castlerock Extreme on March 5th. Registration, bib pickup, a competitors meeting, a practice run, and the start of competition all follow the same timing as the Jr. Castlerock Extreme. An awards party will be held outside of Castlerock Pub at 4 p.m.
The Jr. Castlerock Extreme competition is one of four junior qualifying events for the Ski The East Freeride Tour. The Castlerock Extreme is the third stop of six on the Freeride Tour with a cash purse of $1,000. Competitors will be judged based on STEFT/IFSA judging criteria.
To learn more about the event or to register, visit www.sugarbush.com.