Park City, UT – The U.S. Freestyle Ski Team returns home to Deer Valley Resort this week for the 2016 Visa Freestyle International, today through Saturday. The biggest stop on the World Cup freestyle skiing tour, 2,000 to 5,000 spectators at each event witness the world's best competing on the 2002 Olympic Winter Games venues: Deer Valley's White Owl aerial hill and the Champion mogul course.
With family, friends and a strong contingent of USA fans cheering them on, 34 U.S. Freestyle Ski Team athletes are ready to put down their best runs and jumps on home snow. The moguls team captured four podiums last year, including wins in women's moguls and women's dual moguls. This year's team is a mix of talented veterans and newcomers, and they're all looking to ski their best in front of a hometown crowd.
"Our team has the ability and skills to perform well here," stated Dylan Walczyk, who was second in last year's men's dual moguls competition. "At Deer Valley, there's such a great atmosphere. We're skiing on one of the best mogul courses with the best skiers in the world. There's nothing quite like it."
The aerials team also had a successful event last year, with Ashley Caldwell (Ashburn, Vt.) and defending World Cup globe winners Kiley McKinnon and Mac Bohonnon (both Madison, Conn.) landing on the podium. This year, with Deer Valley taking on a make-up event from the canceled Lake Placid World Cup, 16 U.S. team aerials athletes will have two chances to earn top finishes.
"After four weeks of training, we're all really excited for our competitions to start up again, and Deer Valley is always one of our favorites," said Caldwell, who won last year's event at Deer Valley and started 2016 off with a win in China. "Winning in Beijing has definitely given me some momentum coming in to this event. With the awesome site and huge crowd, I'm looking forward to just going big and hopefully doing well."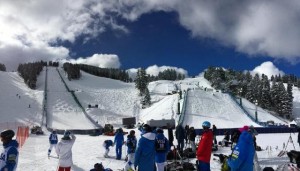 Amidst all the World Cup action, athletes and fans will honor the legacy of the father of freestyle, Stein Eriksen, with a celebration of life on Thursday, Feb. 4. Eriksen passed away on Dec. 27, 2015.
Attending the Deer Valley World Cup is free for spectators. Finals for all aerials and moguls competitions will be live streamed on NBC Sports Live Extra.
EVENT SCHEDULE (Times MST)
Wednesday, Feb. 3
7:00 p.m. – Opening Concert, Main Street Park City
Thursday, Feb. 4
9:20 – 10:40 a.m. – Men's Aerials Qualifications and Finals
12:05 – 1:20 p.m. – Women's Aerials Qualifications and Finals
1:30 p.m. – Stein Ericksen Celebration of Life
3:00 p.m. – Women's Moguls Qualifications
5:00 p.m. – Men's Moguls Qualifications
7:00 p.m. – Women's and Men's Moguls Finals
Friday, Feb. 5
2:45 p.m. – Women's Aerials Qualifications
5:00 p.m. – Men's Aerials Qualifications
8:00 p.m. – Women's and Men's Aerials Finals
Saturday, Feb. 6
4:55 p.m. – Women's and Men's Dual Moguls Qualifications
7:00 – Women's and Men's Dual Moguls Finals
LIVE STREAM SCHEDULE (Times EST)
Fans can watch the Visa Freestyle International in spectacular high definition via NBC Sports Live Extra online at NBCSports.com/LiveExtra, or through the Live Extra app on mobile, tablet and through the Apple TV or Roku connected devices.
Thursday, Feb. 4 – 12:10 p.m. – Men's Aerials Finals
Thursday, Feb. 4 – 2:50 p.m. – Women's Aerials Finals
Thursday, Feb. 4 – 8:50 p.m. – Women's and Men's Moguls Finals
Friday, Feb. 5 – 9:50 p.m. – Women's and Men's Aerials Finals
Saturday, Feb. 6 – 8:50 p.m. – Women's and Men's Dual Moguls Finals
TV SCHEDULE (Times EST)
Saturday, Feb. 7 – 4:00 p.m. – Moguls/Aerials – NBCSN
Sunday, Feb. 11 – 10:00 p.m. – Aerials – NBCSN
Sunday, Feb. 14 – 2:30 p.m. – Dual Moguls – NBC