Twin Bridges, CA – Sierra-at-Tahoe will host the Huck Cup, a 2-Star Freeride World Tour Qualifying event in the California ski resort's Huckleberry Canyon on February 26-27.
The Freeride World Tour is a worldwide circuit of freeride skiing and snowboarding events where athletes compete on legendary and challenging terrain at resorts around the world. Sierra is the only Lake Tahoe resort to host a 2-Star Freeride World Qualifying event this year.
Huckleberry Canyon is comprised of 320 acres of backcountry-style ski and snowboard terrain accessed by five gates at the summit of Sierra-at-Tahoe.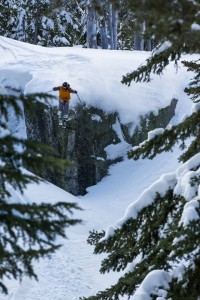 "Huckleberry Canyon is a great venue for a 2-Star event," says Freeride World Tour Americas Manager, Tom Winter. "It has a wide variety of lines, easy access and fantastic opportunities for spectators to watch all the action and cheer all of their friends. We're really pleased with the partnership and this is an event that we expect will be part of the FWQ for a long, long time."
Roughly 80 men and women will compete for a $5,000 cash purse. Athletes must be licensed to compete in the Freeride World Tour and can register for the Huck Cup online at www.freerideworldtour.com. Discount lodging and ticket packages are available for athletes through Montbleu Resort Casino and Spa in South Lake Tahoe. Spectators must have a valid lift ticket to enter the viewing area.