Hinterstoder, Austria – Norway's Aleksander Aamodt Kilde won his second career World Cup race, and first career super G with a brilliant run down the hard, fast Hannes Trinkl track on Saturday. Slovenia's Bostjan Kline scored his second career World Cup podium, finishing second, while overall World Cup leader Marcel Hirscher of Austria was third.
"It's been a really good season," said Kilde. "I'm really happy with what I've done and it's unbelievable, actually. Winning races is always fun, but this one I really wanted and I probably had a little bit of a better feeling today than in Garmisch. When it comes again, it's a little bit easier to handle."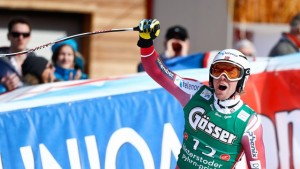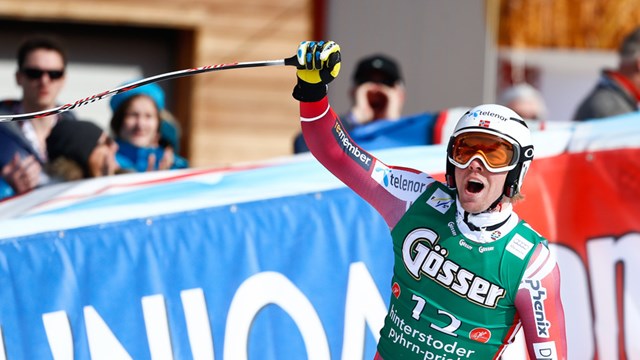 Kilde is now only 25 points behind his injured teammate Aksel Lund Svindal in the super G standings. With two races yet to come, and one of them in his home turf, Kilde is becoming a globe favorite. "We'll see," said Kilde. "There are still races to come and you have to ski well because there are really good skiers on the hill, so you have to fight for it. It's been way over my expectations already, it's crazy."
Steven Nyman (Sundance, Utah), Andrew Weibrecht (Lake Placid, N.Y.) and Thomas Biesemeyer (Keene, N.Y.) all scored World Cup points, just not as many as they were shooting to score.
"It was just a tough race for me today," said Weibrecht, who woke up sick on race day and struggled to a 22nd-place finish after narrowly escaping disaster midway down the course after catching too much air off a roller. "It was really hard to get up and just get the energy to come out. I put my best effort in, but I didn't expect a lot. I didn't expect to make it down to be honest. I just made mistakes the whole way, so it wasn't the kind of race I was looking for."
For Nyman, he skied too round when he should have gone straight and fast, and too straight when he should have carved. He finished 18th.
"You have to be fully confident in your line and where you're going, and I was a little too round," Nyman said. "The bottom was OK, I just needed to execute a little better."
For Biesemeyer, his 28th-place finish was well off his expectations, but he scored points in the second straight super G this season, so it proves that he's moving in the right directions. In fact, Biesemeyer has been in the top 30 four times in super G this season, doubling his career top 30 super G finishes.
For the rest of the Americans, Jared Goldberg (Holladay, Utah) finished 32nd; Kieffer Christianson (Anchorage, Alaska) was 43rd; and Nicholas Krause (Northboro, Mass.) was 54th. Tommy Ford (Bend, Ore.) and Wiley Maple (Aspen, Colo.) did not finish.
World Cup speed teams have a couple weeks off before returning to action March 12-13 with downhill and super G races in Kvitfjell, Norway.
"I'm heading home tomorrow, so I'll be able to relax, restore and get things rolling again and come over for Norway and try to hit that with the guns blazing," said Weibrecht, who was fifth in the super G at Kvitfjell last season. "Kvitfjell has always been a great track for me. It's a track I like and I feel I can ski well on it. It's just a matter of getting my head straight and getting back into the mode."
OFFICIAL RESULTS
FIS Alpine Ski World Cup
Hinterstoder, Austria – Feb. 27, 2016
Men's Super G
Rank
Nation
Name
Time
Diff.
World
Cup
Points
1
NOR
KILDE Aleksander Aamodt
1:29.89
100
2
SLO
KLINE Bostjan
1:30.13
+0.24
80
3
AUT
HIRSCHER Marcel
1:30.24
+0.35
60
4
AUT
KRIECHMAYR Vincent
1:30.38
+0.49
50
5
SUI
JANKA Carlo
1:30.85
+0.96
45
6
FRA
THEAUX Adrien
1:30.86
+0.97
40
7
AUT
SCHWEIGER Patrick
1:30.89
+1.00
36
8
FRA
PINTURAULT Alexis
1:30.94
+1.05
32
9
NOR
JANSRUD Kjetil
1:30.98
+1.09
29
10
SLO
KOSI Klemen
1:31.16
+1.27
26