Wrightwood, CA – Southern California's Mountain High Resort is closing while resort officials await more snowfall.
The popular resort, located about 80 miles northwest of Los Angeles, is expecting more snowfall about 10-12 days out and is pinning its hopes to El Niño, which thus far this season has largely bypassed Southern California. Until then, its lifts will remain silent.
"We are going to remain closed today due to the warm weather but expect to reopen in a week or so with new snow. A stormy March is somewhat typical of El Niños, and the long-range weather forecast shows a change towards a more active pattern," resort officials said today in a prepared statement.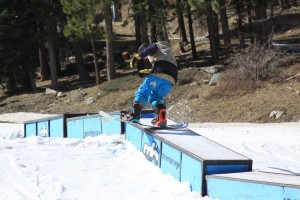 Nearby Bear Mountain and Snow Summit in Big Bear Lake have a nearly limitless water supply for snowmaking, and skiing will continue there as scheduled despite daytime temperatures pushing 60ºF. Mountain High season passholders normally get three free days at Snow Valley in Running Springs, Calif., which also remains open, but Snow Valley officials have expanded that partnership to honor all Mountain High season passes throughout the closure.
"Snow Valley has plenty of snow and has terrain available for all levels of skiers and snowboarders. We welcome all Mountain High season pass holders and will honor their 2015-2016 Mountain High season passes," said Snow Valley Mountain Resort VP & General Manager, Kevin Somes.
Snow Valley's spring lift hours now in effect, from 9 a.m. to 4 p.m. Monday through Friday, and 8 a.m. to 4 p.m. on Saturday and Sunday.  Somes notes that "Snow Valley will make snow at every opportunity that we can. We believe there is still plenty of season ahead of us. Snow Valley traditionally strives to remain open through at least Easter Sunday and hopefully beyond that as conditions and skier/snowboarder interest permit."
Pre-purchased Mountain High lift tickets, vouchers and lessons will still be valid should the resort reopen, but tickets not used by close of the winter season will not be refunded and are not valid for use during the following season.