Oak Creek, CO – Already the most visited ski state in the nation, Colorado is currently home to 29 lift-served ski areas, both large and small. If one Boulder-based entrepreneur has his way, however, they could number an even 30 as soon as next winter.
Don McLean, CEO of Stagecoach Communities LLC, hopes to reopen the long-dormant Stagecoach Ski Area located between Steamboat Springs and Vail as soon as December 17, 2017. Along with Steamboat Realtor Steve Elkins and Boulder CPA Scott Sober, he's under contract to purchase the 3,500 acres of private land upon which Stagecoach sits from Boulder's Wittemyer family at a closing scheduled for next month. The property encompasses the ski area, an adjacent 35 acre residential development and a site formally approved for the Stagecoach Marketplace, near Stagecoach Reservoir and a state park.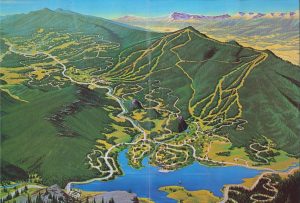 Originally conceived as a retirement community not including a ski area, Stagecoach's 2,200 vertical feet of north-facing terrain first opened to the skiing public in 1974, but closed only two years later after Westinghouse Credit Corporation pulled the project's funding in 1973 and its Texas-based developer, Woodmoor Corporation, fell on hard times. Although 1,400 residential homesites were sold, only 78 single-family homes and 172 multi-family units were built, while in intervening years other homes have sprung up in subdivisions not related to the Woodmoor development. The ski area has sat silently in Colorado's Rocky Mountains ever since, where ColoradoSkiHistory.com lists the average annual snowfall at 300 inches.
McLean, who was instrumental in the development of Mountain Village at Telluride and also worked at Vail and Beaver Creek, brought his proposal to the Routt County Planning Commission at its September 1 meeting. His plans call at first for a high-speed Doppelmayr detachable quad reaching two-thirds of the way up the mountain, topped by a fixed-grip quad to the summit. Because the lifts and trails would be built entirely on private land, McLean's proposal needs only the Planning Commission's approval, and avoids the protracted environmental review process required of projects built on public land.
McLean sees Stagecoach as an alternative to Steamboat Ski Area 18 miles to the north, and the more congested resorts lining Colorado's I-70 corridor. He plans to approach the ski area's development slowly and deliberately; if it opens next year, base facilities will operate out of temporary buildings.