Newry, ME – The North American Wife Carrying Championship returns to Sunday River in Maine for its 17th year as part of the ski resort's annual Fall Festival Weekend, Oct. 8­–10.
Kicking off at 11 a.m. on Saturday, October 8, 50 pre-registered couples will test their wife-carrying skills on a 278-yard alpine obstacle course in an attempt to win their wife's weight in beer and five times her weight in cash.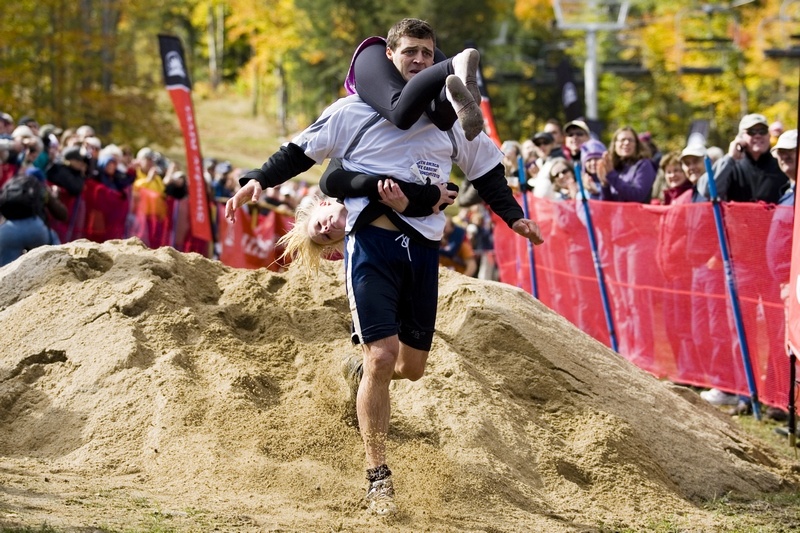 Showcased on Good Morning America and Live with Kelly, and featuring such celebrities as The Travel Channel's Bert the Conqueror, this event has been the subject of multiple Associated Press and Reuters photo anthologies, and has attracted competitors, spectators, and press from around the world.
Part of Sunday River's Fall Festival Weekend, spectators can also take advantage of lodging packages that start at $99 and a full schedule of events, including:
Saturday, October 8
– 11AM 17th Annual North American Wife Carrying Championship
– 9AM-5PM 33rd Annual Blue Mountain Craft Fair
– 12PM-3PM Wine Tasting Tent*
– 1PM-5PM Live Music from the Ghost of Paul Revere and Jason Spooner
– 3PM Kid's Pumpkin Pie Eating Contest
Sunday, October 9
– 9AM-3PM 33rd Annual Blue Mountain Craft Fair
– 10AM 3rd Annual Cornhole Championship
– 10AM Mountaintop Worship Service
– 10AM-2PM Bloody Mary Tent*
– 11AM-3PM Live Music from The Northside Ramblers and The Mallett Brother's Band
All Weekend
– Sunday River Sports Pre-Winter Sale
– Mountain Park Activities: scenic lift rides, mountain biking, zipline tours, twin zips, climbing wall, hiking, and disc golf*
– Kids' Games and Pony Rides*
– Wagon Rides
*Admission and activity fees apply.