La Hoya, Argentina – An 18-year-old competitor died on Saturday while competing in a Freeride World Qualifier (FWQ) at La Hoya ski area in Argentina.
Elwyn Roy Freeman, of Trevelin, Argentina near La Hoya, crashed into rocks at the 2* event venue and sustained fatal chest injuries. He was part of the Ski Club Andino di Esquel.
"The FWT (Freeride World Tour) and IFSA (International are deeply saddened by the recent news of the tragic accident at the 2* FWQ La Hoya event and would like to extend their deepest condolences to the friends and family of Elwyn Roy Freeman as well as to the organizers of the event and to the staff of La Hoya Ski Resort (Argentina)," event organizers indicated in a statement released today.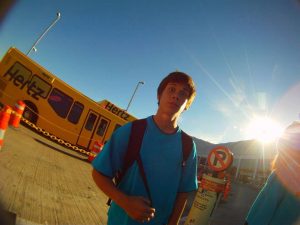 "With this statement we send our deepest condolences to the family of Elwyn Roy Freeman, who passed away this afternoon at the Esquel Hospital, due to injuries suffered from an accidental fall during the Freeride World Qualifier competition that was held on the mountain," La Hoya resort officials confirmed on Saturday, also in a prepared statement. "Our thoughts are with the family and friends at this difficult time."
The athlete's Facebook page indicates that he was sponsored by Line Skis, and also establishes a residential connection to Park City, Utah.