Denver, CO – A New Jersey skier is suing Aspen Skiing Co. (ASC) over an injury she reportedly sustained at Snowmass Ski Area in Colorado last December.
On October 14, attorneys representing Carol Dennis, of Marlboro, N.J., filed a lawsuit against ASC in U.S. District Court in Denver. In her complaint, Dennis alleges that on December 5, 2015 she was preparing to load the Village Express Lift at Snowmass when an unidentified ASC employee directed her to enter the lift's loading area. Dennis claims that's when the chairlift stopped abruptly, causing the lift chair in front of her to swing backwards and strike her. She maintains that the impact with the lift chair knocked her over, resulting in unspecified injuries.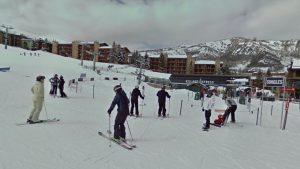 However, the Village Express Lift at Snowmass is a high-speed detachable six-place chairlift manufactured by Leitner and installed in 2005. In this detachable lift configuration, chairs do not attach to the high-speed haul cable until they exit the base terminal, at the end of a low-speed conveyor system that extends well beyond the passenger loading area.
Dennis' lawsuit seeks unspecified medical costs, lost wages, mental anguish, physical disfigurement, interest, attorneys fees and other damages from ASC, to be proven at trial.
Dennis is represented by attorney S. Burgess Williams with the Denver office of Zinda Law Group, PLLC, a personal injury law firm with five offices in Colorado and 17 offices in Texas.