Soelden, Austria – Slovenia's Tina Maze, a two-time Olympic champion, has announced her retirement from ski racing.
Thus ends Maze's glittering 17-year career chasing the Crystal Globe, although the 33-year-old plans to race one more time before retirement for her fans at home, when the World Cup visits Maribor in her home country on January 7. Maribor is where Maze's first World Cup start took place at the age of 15.
Maze hasn't raced since March 2015, when she took a year off to pursue academic studies at the University of Maribor and other interests, fueling speculation that she had planned to retire all along.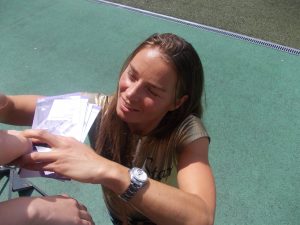 "I am really happy with what I've achieved," Maze said at a press conference held in Soelden on Friday, on the eve of the first race of the World Cup season. "I don't feel the need to compete at such a high level anymore."
In addition to the two Olympic gold medals, earned in downhill and giant slalom at the 2014 Games in Sochi, Maze's career tally also includes two Olympic silver medals (giant slalom and super G in Vancouver in 2010), 26 World Cup wins in all five disciplines, and four World Championship titles.
Maze is a veritable celebrity in her home country, where she was awarded the title of the Slovenian Sportswoman of the Year in 2005, 2010, 2011, 2013, 2014 and 2015, and with her four medals she is the most decorated Slovenian athlete at the Winter Olympics. She has even recorded and released mainstream pop music, and served as a television commentator for Eurosport during her hiatus from racing, something that she says will continue. In face, Eurosport on Friday also announced signing a contract with Maze, joining triple Olympic gold medalist biathlete Michael Greis and Polish ski legend Adam Malysz.
"Nothing can replace the adrenaline that comes to compete in the Olympic Games or the World Cup, but this is a new chapter of my life, of which I'm excited, and I hope to offer fans a different point of view during the races," she said.
Video: Tina Maze in the official music video for "My Way Is My Decision"
In June 2015, Eurosport parent Discovery Communications and the International Olympic Committee signed an agreement that will give Eurosport exclusive television and multi-platform broadcast for 50 countries and territories in Europe for the next four Olympic Games, including the Winter Olympics in Pyeonchang 2018 and Beijing 2022.
"At Eurosport, we pride ourselves on being the home of winter sports, presenting every World Cup and World Championship in every major winter discipline," Eurosport CEO Peter Hutton said in a statement. "Adding Tina to our team of experts will give fans a first-hand insight into skiing at the very top level. Tina is an important signing for us as we build towards the Olympic Winter Games. She is a unique character who is never afraid to share an opinion and I speak on behalf of everyone at Eurosport when I say we are all looking forward to working with her in the coming months and years."