North Conway, NH – In the wake of growing interest in backcountry skiing, the new nonprofit Granite Backcountry Alliance has formed to promote the sport in New Hampshire and Western Maine. The group intends to provide low-impact, human-powered backcountry skiing opportunities to the public.
Granite BC will strive to be the unified voice of backcountry skiers to advocate for the expansion, development and maintenance of backcountry skiing, primarily focused on the restoration and revival of former Civilian Conservation Corps (CCC) ski trails, across the White Mountains.
"New Hampshire and Western Maine are blessed with a rich ski history that includes a deep heritage of backcountry skiing," said Tyler Ray, President of the Board of Directors for Granite BC. "From Mt. Washington's famed Tuckerman Ravine to the many ski trails cut by the CCC in the 1930's, we want to revitalize a trail network that once provided a true backcountry experience. We think there is a strong and growing demand for expanded terrain."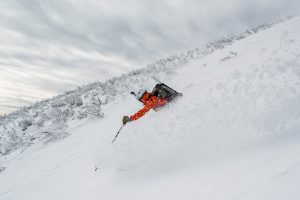 "Backcountry skiing and riding is a measurable, undeniable force in the industry and is the fastest growing segment of the sport," notes Jake Risch, a founding board member of Granite BC and also President of Friends of Tuckerman Ravine. "The demand is strong, but the terrain in New Hampshire and Western Maine is limited by the natural density and legal access to the forests and mountains. We can change that."
Granite BC will provide educational opportunities for ecological awareness, avalanche and general winter safety, and help lead conservation efforts and partnerships with landowners, including the United States Forest Service. Granite BC will advocate in regard to legislation, regulations and rules with public policy makers on new forestry management plans and other polices, similar to other recreational lobbying groups representing snowmobilers, alpine and nordic skiing, hiking and mountain biking.
Opportunities to meet with the founders to discuss the organization's plans for Winter 2016-2017 will be available at its Backcountry Film Festival at 6 p.m. on Saturday, November 19 at International Mountain Equipment in North Conway.
More information about Granite BC can be found on Facebook under Granite Backcountry Alliance or message directly to @granite_BC or granitebackcountry@gmail.com.