Semmering, Austria – Maybe it wasn't perfect, but it was fast and capped off with a double fist pump and celebratory "Yeah!"
Mikaela Shiffrin, of Eagle, Colo., won her second career Audi FIS Ski World Cup giant slalom race on Tuesday in Semmering, a make up event from last week's race that was canceled due to wind in Courchevel, France.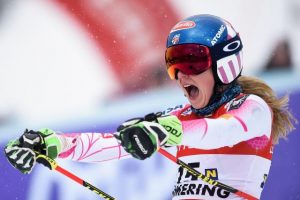 "Today I felt really good just going for it," Shiffrin said when asked about her reaction coming across the finish line and realizing she had won. "I wasn't trying to ski perfect; I was just trying to ski fast. I believed in myself for the first time in a GS race, and that was very emotional.
"So many times in GS I think, 'Oh man, I won that by two seconds!' And then I see that I'm two seconds behind, and I'm like, uh-oh, that's embarrassing," added Shiffrin, who's other GS victory was in Soelden in 2014. "I never really know for sure, but I had a feeling because I was fighting for it. But I was surprised when I saw the green light, and it was a really nice feeling."
Tessa Worley of France was second, followed by Manuela Moelgg of Italy in third. Switzerland's Lara Gut was fourth after finishing an uncharacteristic 17th after the first run.
"It was a tough race; icy, bumpy, everything I like. Mikaela did a great two runs. I did a bad top section on the first, so I'm really happy with second place and with my second run attacking from top to bottom," said Worley. "I love it. I love having two chances like this, and I'm going to make the best of it," she added, looking ahead to Wednesday's race.
Shiffrin extended her five-point overall World Cup lead over Gut to 55 points with Tuesday's win. She also moved into second in the overall giant slalom World Cup standings, just 55 points behind Worley, and admitted that there is a chance she could compete for the overall giant slalom title.
"At this point there is still a chance," she said. "But I have to ski really, really well in every race for the rest of the season. Right now, I'm just trying my best to fight in each race and have fun with it. Today was really fun, and I like that feeling."
Up next, the ladies compete in another giant slalom Wednesday in Semmering, followed by an evening slalom on Thursday.
OFFICIAL RESULTS
Audi FIS Alpine Ski World Cup
Semmering, Austria – Dec. 27, 2016
Women's Giant Slalom
| | | | | | | |
| --- | --- | --- | --- | --- | --- | --- |
| Rank | Name | Nation | Run 1 | Run 2 | Total | Diff. |
|  1 | SHIFFRIN Mikaela | USA |  59.91 |  1:01.90 |  2:01.81 | |
|  2 | WORLEY Tessa | FRA |  1:00.71 |  1:01.88 |  2:02.59 |  +0.78 |
|  3 | MOELGG Manuela | ITA |  1:00.18 |  1:02.72 |  2:02.90 |  +1.09 |
|  4 | GUT Lara | SUI |  1:01.27 |  1:01.78 |  2:03.05 |  +1.24 |
|  5 | BASSINO Marta | ITA |  1:00.40 |  1:02.97 |  2:03.37 |  +1.56 |
|  6 | DREV Ana | SLO |  1:00.87 |  1:02.54 |  2:03.41 |  +1.60 |
|  7 | REBENSBURG Viktoria | GER |  1:01.60 |  1:01.82 |  2:03.42 |  +1.61 |
|  8 | VLHOVA Petra | SVK |  1:01.36 |  1:02.10 |  2:03.46 |  +1.65 |
|  9 | MOWINCKEL Ragnhild | NOR |  1:01.10 |  1:02.39 |  2:03.49 |  +1.68 |
|  10 | LOESETH Nina | NOR |  1:01.20 |  1:02.32 |  2:03.52 |  +1.71 |