Henniker, NH – Pats Peak in southern New Hampshire will resume Saturday afternoon bus service from the Boston area for the current ski season starting on Jan. 7, according to a press release from the ski area.
The bus departs from various locations in and around Boston and will also pick up at any metro Boston location with 15-person minimum and 48 hours advance reservations.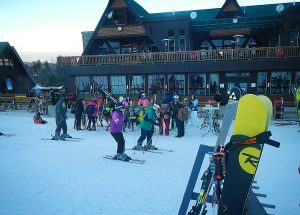 Boston is 67 crow-flying miles southwest of Pats Peak. By road it's a 90 minute drive.
A bus trip and lift ticket combo costs $85 per person. The combo includes round trip transportation, a Saturday night Pay-One-Price (POP)  ticket (3-10 p.m.), a snowtubing ticket (5-10 p.m.), lesson tips (4-6 p.m.), rental equipment and entertainment. Advanced reservations must be made by calling Boston Common Coach toll free at 1-877-723-3833 or local at 617-773-2784.
Bus schedule:
11:45 a.m. – South Shore Mall, Braintree (Uno Pizzeria & Grill)
12:10 p.m. – Comm. Ave/Warren Towers
12:30 p.m. – Ruggles T Station Roundabout
9:30 p.m. – Departs Pats Peak for return trip
"This bus service out of the Boston area is great for college students, families and others that need transportation to the slopes," said  Celina Braun, Group Sales Coordinator at Pats Peak.
Pats Peak is in its 54th consecutive season under Patenaude family ownership and offers 28 trails with 100 percent snowmaking. The main mountain is 100 percent illuminated for night skiing and there are also nine gladed areas, three terrain parks, a snowtubing park and 11 lifts (three triple chairs, three double chairs, one J-bar, two handle tows and two carpet lifts). Most trails are named after winds, such as Duster, Breeze,  Puff, Cyclone, Hurricane, Twister and Tornado.