Salt Lake City, UT – In September of 2015, Ski Utah announced their partnership with Protect Our Winters in efforts to raise local and national awareness around the cause of environmental responsibility. In continuation of these efforts, Ski Utah, Protect Our Winters and SNOCRU with support from Alta, Snowbird, Powder Mountain and Sundance will be hosting the second annual "POW Day" on January 13.
Again on January 13, statistically the snowiest day in Utah based on 50 years of snow data, Ski Utah and partners will be encouraging skiers and riders to carpool, take Utah Transit Authority (UTA) ski buses, or ride-share to help lower CO2 emissions, reduce traffic congestion and increase the overall awareness around environmental accountability.
"Last year's event was a great starting point for our industry here in Utah," says CEO/President of Ski Utah Nathan Rafferty. "To have two more mountains (Sundance and Powder Mountain) become Protect Our Winters members during the off-season has now made this local initiative a statewide event and we are excited to see its growth."
"We're truly excited to be part of POW Day again this year – to help address the air quality issues in Utah," say Chris Steinkamp, executive director of Protect Our Winters. "It's through events like this, that we'll begin to change habits, showing everyone how easy and fun it can be, helping to make carpooling and taking public transit to the mountains second nature."
"SNOCRU is excited to be a part of POW Day for the second year in a row. Anything that encourages people to ski/ride together in a sustainable manner as well as support POW we're all about," says Founder of SNOCRU, Ed Lewis.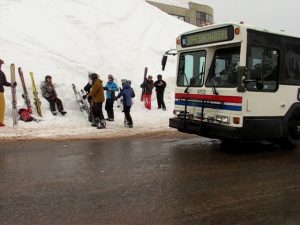 Taking public transit or carpooling to the mountains is not only a feasible option in Utah but also a great way to help make a difference. UTA is offering new and improved routes this winter to make it even easier to take public transportation to the slopes.
Schedule of events:
8:00 a.m. – 10:00 a.m. – Participants of POW Day will need to take either UTA or carpool with three or more people to a participating resort (Alta, Snowbird, Sundance or Powder Mountain)
Carpoolers: There will be priority parking at each resort:
Alta: Wildcat base area
Snowbird: Entry 1 & 2
Powder Mountain: Timberline parking area
Upon arrival, head to the registration tent, check-in via the SNOCRU app and receive you annual POW Day limited addition Discrete beanie. For each participant who checks into SNOCRU, not only will you be entered into the raffle for prizes but SNOCRU has promised to donate $5 per person to Protect Our Winters.
10:30 a.m. – Participants will have the chance to make a few laps with professional athletes/POW ambassadors.
Alta: Meet Caroline Gleich at Collins Lift
Snowbird: Meet Forrest Shearer and Griffin Siebert at the Tram
Powder Mountain: Meet Julian Carr at the Adventure Yurt
Sundance Resort: Meet Brody Leven at the base of Ray's Lift
2:30 p.m. – Participants are welcome to a Protect Our Winters social at each respective resort. Learn a bit more about the initiatives POW does and get a chance to win prizes.
Alta: Goldminer's Daughter Saloon
Snowbird: Tram Deck
Powder Mountain: PowderKeg
Sundance Resort: Foundry Grill Patio