Lake Placid, NY – FIS Freestyle moguls and aerials athletes return to competition in the new year this week at the Putnam Investments Freestyle Cup in Lake Placid. The moguls competition will take place Friday at Whiteface Mountain Ski Center in nearby Wilmington, while aerial athletes will compete at a night event on Saturday at the Olympic Jumping Complex in Lake Placid.
Freestyle athletes have been competing at Lake Placid for over 30 years. It was minted as a stop on the FIS Freestyle World Cup tour in 1985, five years after the small Adirondack community hosted the 1980 Olympic Winter Games. Although freestyle skiing was not a part of the 1980 Games, the lingering Olympic spirit fuels strong athletic performances from international and U.S. skiers alike.
"The freestyle World Cup is a highlight for our community every winter," said Olympic Regional Development Authority President/CEO Ted Blazer. "The staff at Whiteface Mountain and the Olympic Jumping Complex have been working hard to put together world-class venues for these athletes to compete on. We are looking forward to hosting the international teams as well as our U.S. team for their first home-snow event of the season."
Home to the U.S. Ski and Snowboard Association's (USSA) Elite Aerial Development Program, many of the U.S. athletes have lived and trained at Lake Placid's Olympic Training Center and grew up competing at Whiteface or the Olympic Jumping Complex. U.S. athletes have had an impressive 84 moguls and aerials World Cup podium finishes on the venues in Lake Placid and, with 33 athletes on the start list this year, there's plenty of potential to raise that number.
"Lake Placid is where most of our teams' aerials careers began, so it's the ultimate home field advantage," said Mac Bohonnon, who won the men's aerials competition in 2014. "A lot of the freestyle team grew up skiing in the east, so it's easy for our friends and family to come out – we're expecting to see a big crowd. I'm excited to be back and motivated to defend my win from two years ago."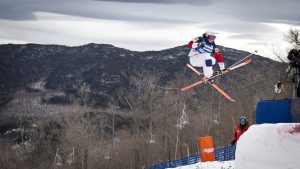 The Putnam Investments Freestyle Cup begins on Friday at 9:50 a.m. EST with men's and women's moguls qualifications. Finals begin at 1:30 p.m. Saturday night's aerials competition begins at 2:55 p.m. with qualifications followed by finals at 8:15 p.m. A fireworks display over the Olympic Jumping Complex is also set for after the finals.
The excitement of Friday's moguls competition is free with the purchase of a Whiteface Mountain lift ticket. Admission to the aerials event costs $12 online, or $16 at the gate for adults and $6 online or $10 for juniors and seniors. Admission is free for ORDA season pass holders.
Finals for both competitions will be streamed live at www.nbcsports.com/live. Broadcast coverage of the events will air Jan. 14 and 15 on NBC.
LAKE PLACID WORLD CUP U.S. START LIST
Moguls
Men
Joel Hedrick (Fort Collins, CO)
Troy Murphy (Bethel, ME)
Tom Rowley (Long Beach, NY)
Emerson Smith (Dover, VT)
Abe Studler (Brant Lake, NY)
Troy Tully (Pleasantville, NY)
Dylan Walczyk (Rochester, NY)
Brad Wilson (Butte, MT)
Bryon Wilson (Butte, MT)
Women
Nessa Dziemian (East Hampstead, NH)
Olivia Giaccio (Redding, CT)
Alex Jenson (Park City, UT)
Tess Johnson (Vail, CO)
Jaelin Kauf (Alta, WY)
Mikaela Matthews (Frisco, CO)
Keaton McCargo (Telluride, CO)
K.C. Oakley (Piedmont, CA)
Morgan Schild (Pittsford, NY)
Aerials
Men
Mac Bohonnon (Madison, CT)
Alex Bowen (Springville, NY)
Thomas Coe (Stafford, VA)
Chris Lillis (Pittsford, NY)
Jon Lillis (Pittsford, NY)
Eric Loughran (Pelham, NH)
Patrick O'Flynn (Penfield, NY)
Nik Seemann (Winter Park, CO)
Women
Ashley Caldwell (Ashburn, VA)
Elle Gaudette (Maple Grove, MN)
Kiley McKinnon (Madison, CT)
Megan Nick (Shelburne, VT)
Kira Tanghe (Essex, VT)
Madison Varmette (Stafford, VA)
Winter Vinecki (Gaylord, MI)
BROADCAST AND LIVE STREAMING (times EST)
Friday, Jan. 13
1:30 p.m. – Men's and Women's Mogul Finals – nbcsports.com – LIVE STREAM
Saturday, Jan 14
4:30 p.m. – Men's and Women's Moguls – NBC
8:15 p.m. – Men's and Women's Aerial Finals – nbcsports.com – LIVE STREAM
Sunday, Jan. 15
4:30 p.m. – Men's and Women's Aerials – NBC
Tuesday, Jan. 17
12:30 a.m. – Re-air TBD – NBCSN