Silverton, CO – A backcountry skier is lucky to be alive this morning after being swept off a cliff by an avalanche on Monday near Silverton.
The incident occurred along U.S. route 550 at Coal Bank Pass, south of Silverton in the San Juan Mountains of southwestern Colorado, where the avalanche danger was rated at the time as "considerable." The unnamed victim, from Durango, had been skiing with a companion and was standing near the edge of a 25-foot cliff when the avalanche broke, sweeping him over the edge and onto the highway below. He was wearing an avalanche transceiver and an Avalung.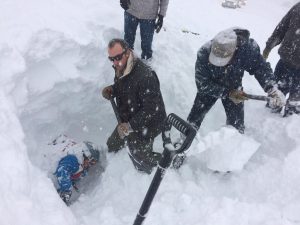 The  victim was located under four feet of avalanche debris by his companion, along with Mike Barney, an avalanche professional based in Silverton who happened upon the scene as he and his wife were returning to Silverton from Durango, and another passer-by. The victim was successfully utilizing his Avalung when recovered.
No injuries were reported.