Denver, CO – An annual partnership between Winter Park Resort, Denver Parks and Recreation and nearly 30 volunteers, the Ruby Hill Rail Yard is open once again for free skiing and snowboarding in downtown Denver.
First established in 2007, Ruby Hill Rail Yard was the country's first free urban terrain park based in a city. The experimental program in the 88-acre Ruby Hill Park,  named for the red garnet-colored stones found in the adjacent Platte River, attracted approximately 3,000 youth and adults, and instantly became a nationwide model for numerous cities and ski resort collaborations. The second year saw participation grow to over 6,000, which the city used to quantify Ruby Hill Rail Yard as an annual park.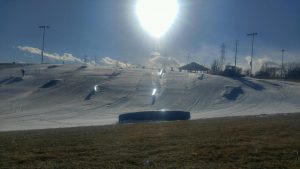 Snowmakers went to work on January 2 to get Ruby Hill Rail Yard ready for riders, and it officially opened for business yesterday. Over an acre of snow, two to three feet deep, has been made in the hope that it will last many weeks. The Rail Park's northeastern exposure reduces the angle of the mid-day sun, helping to prolong the snow's melt-out.
There's no charge to ride Ruby Hill Rail Yard, which is open from 5 a.m. until 9 p.m. daily.
Editor's note: An earlier version of this story included Christy Sports in the partnership behind the Ruby Hill Rail Yard by offering free equipment rentals. A Christy Sports spokesperson subsequently informed us that the Colorado-based ski and snowboard retailer is no longer involved with Ruby Hill.