Copper Mountain, CO – For U.S. Ski Team athletes, it was just like any other day at Copper Mountain, Colorado, training at the U.S. Ski Team Speed Center: wake up, warm up, breakfast, super G session, NASTAR Pacesetting Trials, giant slalom session, lunch, dryland, video, autograph signings, dinner, bedtime. Repeat. But for Hedda, Saturday, November 19 was a day she'll never forget.
For athletes, coaches and servicemen, this is a labor of love. There's not much money in ski racing, but they all make up for it in passion and a pure love for the sport. They work from the most stunning mountaintops across the world. They see sunrises and sunsets in beautiful villages. They laugh, they cry, they celebrate and they struggle. All in all, it's a privilege to live this life, and for the athletes, it's a platform to inspire. For Hedda, Lindsey Vonn, Ted Ligety, Steven Nyman and their teammates did just this. They inspired. And left a lasting impression on this young girl.
U.S. Ski Team press officer Megan Harrod received the call from U.S. Ski and Snowboard Association's CMO Mike Jaquet on the night of the 18th. "Hedda and her family are coming to Summit County for a ski camp for 10 days for her sister and brother, is there anything special you can do?" he asked. Without a doubt they could. They invited Hedda and her family to lunch with the team at Copper Station, where she was able to meet Nyman, Tommy Biesemeyer, Laurenne Ross, Stacey Cook, Erik Arvidsson…and Olympic champion Ligety.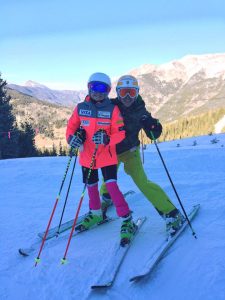 Herrod says that she will never forget the sparkle in Hedda's eyes when they looked over and saw Ted. He came over, chatted, signed her suit. When Ligety walked away Hedda looked up at Herrod, nearly breathless, and simply said, "That was so cool." At that moment, she was just like any other wide-eyed girl who met one of her heroes. Star-struck. And so, so full of gratitude.
Hedda was diagnosed in the summer of 2015 with medulloblastoma, a malignant high-risk, cancerous tumor in her brain. She's been fighting ever since. Hailing from the East, the Mecca for ski racing, she continued to ski through chemotherapy and radiation alongside her ski team.
For the U.S. Ski Team, Hedda's journey has been a poignant reminder of life off the hill. There's a big ol' world out there beyond the White Circus, and – at times – it's easy for those on the World Cup circuit to forget. Beyond the gold medals, finish area smiles and hugs, sparkly champagne for victory toasts, mind-blowing runs and breakthrough up-and-comer performances, Herrod says that sitting with Hedda on that sunny day in November taught them all about the true definition of perseverance. Without even knowing it, and in her own quiet and charming way, Hedda taught them what makes a champion.
Hedda loves to ski, and skiing has been one of the activities in her life that made a significant difference in lifting her spirits. It was only a matter of time before these two champions would unite…but what Hedda might not have realized is just how much she inspired her heroine Vonn. "Stay strong and never give up," she told Hedda in that first video.
Vonn, who recently announced her return to Audi FIS Ski World Cup action this weekend in Altenmarkt-Zauchensee, knows a thing or two about staying strong and never giving up. Just when Vonn was ready to return to action after fracturing her left tibial plateau while racing in Soldeu-El Tarter, Andorra last February, she then suffered a fracture in her upper right arm while training in November. Hedda's visit to Summit County just happened to coincide with Vonn's recovery period in Vail.
Not even two weeks after her injury, Vonn asked for Hedda's contact information and quietly connected with her mother, Camille, to surprise Hedda. "When you meet an amazing girl who is bravely battling cancer, it makes the important things in life more clear. Hedda, you inspire me. Keep fighting girl. #thisiswhyidoit" Vonn wrote in a Facebook post just after Thanksgiving.
Whip-smart with a big, bright smile and an insurmountable amount of gratitude, curiosity, strength, imagination and perseverance. That's Hedda.  She may not have won an Olympic gold – yet – but she's taught the whole U.S. Ski Team what truly makes a champion, and has left a lasting impact on them all.
Just before Christmas, doctors discovered that what they thought was a concussion was in fact a recurrence of the tumor despite a clean scan only a month earlier. Hedda underwent brain surgery, and now has another rigorous course of radiation treatment and chemotherapy ahead. We know that the entire U.S. Ski Team is now rooting for one of their biggest fans…and so are we.