Altenmarkt-Zauchensee, Austria – Too much new snowfall on the course forced the cancellation of Thursday's downhill training run for the World Cup ladies at Altenmarkt-Zauchensee, and a similar fate befell the plan on Friday. Despite workers clearing the course in time for Friday's training run, heavy snowfall picked up just before the racers' inspection and continued throughout the day.
The training run was delayed until 1 p.m. local time in the hopes that a weather window might open. But when it became clear that there was no chance of the snow and fog letting up, the jury was forced to cancel the program for the day.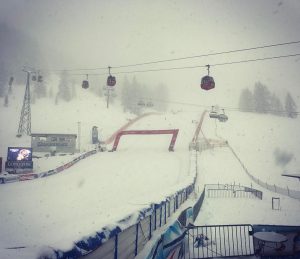 In cooperation with the organizing committee, the jury decided to push ahead with the plan for a downhill race on Saturday. In order for this to occur, the athletes will have a training run prior to the 11:15 a.m. CET race time. Additional snowfall is in the forecast for Saturday.
Alternative options for Saturday's program were considered, but the jury and organizing committee ultimately settled on this plan.
The women also have an alpine combined race scheduled for Sunday at Altenmarkt-Zauchensee.