Beech Mountain, NC – The 36th annual Adaptive Learn to Ski Event, sponsored by Disabled Sports USA and the Sports Parks and Recreation group of Chattanooga, got underway this morning and continues through Friday at Beech Mountain ski resort in North Carolina.
This is the oldest adaptive ski clinic started by Disabled Sports USA, formerly known as National Handicap Sports (NHS).  The Atlanta Chapter of NHS assisted to develop the first clinic in 1981 and continued it through 2004. The clinic is now run as a cooperative effort between several groups and hosted by Beech Mountain Resort.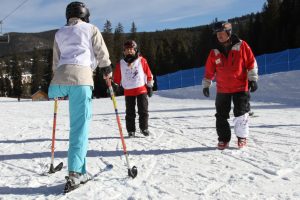 The team of PSIA Adaptive-certified instructors supporting this event hails from across the U.S., including from the Breckenridge Outdoor Education Center, Alpine Meadows Adaptive Ski Program, and Cataloochee Adaptive Program. Together they boast over 80 years of combined experience in monoski, biski, twin ski, 2, 3, & 4 tracking, slider, visually impaired and snowboard instruction.
Participants come from all over the Southeast, including South Carolina, Georgia, Tennessee, Mississippi, Alabama, Florida, and of course North Carolina. Ages range from age 4 to over 70, with a variety of diagnoses including brain and spinal injuries, amputees, cerebral palsy, spina bifida, spinal muscular atrophy, multiple sclerosis, visually impaired, and a whole host of other neurological and orthopedic challenges.