Breckenridge, CO – Call it the battle of the après-ski.
Breckenridge has reclaimed its spot in the Guinness Book of World Records for the world's biggest shot ski, following its defeat of recent title holder Park City during the Colorado ski town's annual January Ullr Fest honoring the Norse god of snow.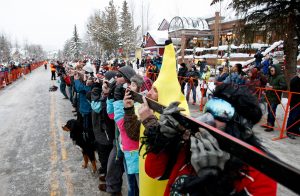 Sponsored by Breckenridge Distillery, the 1,997-foot "ski" (actually constructed from 420 individual skis bolted together) was mounted with shot glasses holding cinnamon whiskey for 1,234 participants on Friday. That beat Park City's record of 1,191 people from 2016, when that Utah ski town knocked Breckenridge out of the record books.