Kitzbuehel, Austria – The excitement here in Tirol is so palpable, it feels like Christmas Eve. The famous "Flying Bulls" whiz by overhead in their beautiful bombers, wispy smoke circles swirling in the air and leaving magic in their dust for all Kitzbuehel guests to marvel at, jaws dropping. Even more jaw-dropping are the athletes hurtling their bodies down the Streif track at 130km/hr. This is Kitzbuehel: the Super Bowl of ski racing in Austria. And ski legends await their coronation.
What's it like to fly? Ask the American Downhillers. Leave the start gate at the Hahnenkamm, and you're greeted with one of the gnarliest "hellos" you'll ever receive — the Mausefalle, where you'll experience 60-80 meters of flight, fueled by fear and adrenaline. That's just the start of the excitement, though. It's a rock-hard, bumpy 2.5k ride from there to the finish.
Leaving the start gate is an honor and crossing the finish line is a blessing in Kitzbuehel. Athletes let out a sigh of relief, with good reason. This year, the Streif is quite the ominous beast of a competitor.
Every weekend is an away game for the American Downhillers. But, there are some legends in town amongst the 70,000 plus fans this weekend at the ski racing Mecca to make them feel like it's a home game: Daron Rahlves. AJ Kitt. Chad Fleischer. Bode Miller. They're all here to watch the biggest show on snow on Saturday, where Steven Nyman (Sundance, Utah) has said, "It's a sea of black as you're coming into the finish area…it's like you're skiing into a football stadium."
Nyman heads into the weekend at Kitzbuehel having finished on the podium in five of his last six downhill races. This consistency has given Nyman confidence, and he knows he can podium here. Last season Nyman had fast splits until he DNFd, and with a fifth two seasons ago and a clean, fast first downhill training run on Wednesday, Nyman is confident with his plan of attack.
"Yeah, I'm confident," Nyman noted after his second training run Thursday. "Yesterday we had a lot of video analysis. I want to try a couple of new lines, and there are definitely some lines I know are faster that I'll try to hit on race day. The way I am over my skis and how I'm feeling is good, so I'll stick with that, stick to the basics, ski solid and hope for the best."
The most unforgiving track on the Audi FIS Ski World Cup circuit, the Streif has claimed its fair share of downhillers. In the second and final training run on Thursday, the Streif was victorious in its battle against three top American Downhillers: Nyman, Travis Ganong (Squaw Valley, Calif.), and Andrew Weibrecht (Lake Placid, N.Y.) – who took the risky, bad boy line, crashing straddling after the Hausberg and crashing into the nets back-first. Thankfully, all emerged unscathed and will look to reset mentally heading into the weekend.
"It's tough, but you just have to do it," Weibrecht said after not finishing Thursday's downhill training run. "You just have to get up and keep going at it. Sometimes a crash like this is almost helpful for your psyche, I think, because to take a crash like that and walk away – it kind of makes you feel a little bit more invincible and like you're willing to take the risk because you think you'll be fine."
In order to ski well on this track, you have to "commit to taking the bad boy line," as Bryce Bennett (Squaw Valley, Calif.) said after course inspection on Wednesday. What goes through your mind in the start gate? It's kind of a game day decision whether or not you're going to commit to sending it, and putting it all out there on the line – calculated risk taking.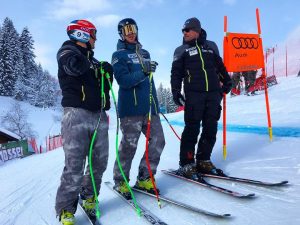 "As much as I want to come here and just have the tenacity to give it all the way and put in a decent run, that was my fourth run ever down it, so it is just taking the steps to learn," said Bennett following training Thursday. "Steven (Nyman) has been helping me out a bunch during inspection, helping me to look at different lines and figure out what it actually takes to win this thing. And then, you know, figuring out how to play with those different, straighter lines and what I need to do to eventually win this."
The weekend's festivities will include a super G today, followed by the downhill on Saturday and topped off with slalom on Sunday, where David Chodounsky (Crested Butte, Colo.) looks to put two solid runs together to lead a talented and promising group of slalom skiers, hungry for points.
The women's tour faces a weekend of challenging races with a downhill and super G in Garmisch-Partenkirchen, Germany Saturday and Sunday. Lindsey Vonn (Vail, Colo.) was 10th fastest in Thursday's opening training run. The ladies will have one more look at the downhill track on Friday before the action kicks off on Saturday with downhill. They'll look to carry their momentum from last weekend's strong finish in Zauchensee, where Lindsey Vonn Foundation Ambassador Jackie Wiles (Aurora, Ore.) grabbed her career-first World Cup podium and led five Americans into the points.
Road to Aspen Audi FIS Ski World Cup Finals
Austria's Marcel Hirscher retains a 285-point lead over Norway's Henrik Kristoffersen for the overall lead going into a speed heavy weekend for the men. Look for fourth place Attacking Viking Kjetil Jansrud to creep up in the points with the downhill and super G in Kitzbuehel, but then a face-off between Hirscher and Kristoffersen in Sunday's slalom. With downhill leader Aksel Lund Svindal out for the season, watch for a battle between Jansrud and Austria's Max Franz for the lead this weekend. Jansrud will also put his perfect three-for-three super G record on the line Friday.
On the women's side, Mikaela Shiffrin still holds a 315-point lead over Swiss Lara Gut. Watch for Gut to whittle that back in the speed events where Shiffrin will not start. But the American will have another shot on Tuesday with a giant slalom in Kronplatz, Italy. And watch out for Slovenian Ilka Stuhec who has a large lead over Gut in the downhill. The battle for World Cup crystal globes will conclude in Aspen this March with the Audi FIS Ski World Cup Finals.
CONFIRMED US STARTERS
Garmisch, Germany and Kronplatz, Italy  – Women:
Stacey Cook (Mammoth Lakes, CA) – DH, SG
Breezy Johnson (Victor, ID) – DH, SG
Anna Marno (Centennial, WY) – SG
Megan McJames (Park City, UT) – GS
Alice McKennis (New Castle, CO) – DH, SG
Alice Merryweather (Hingham, MA) – SG
Laurenne Ross (Bend, OR) – DH, SG
Mikaela Shiffrin (Eagle-Vail, CO) – GS
Leanne Smith (North Conway, NH) – DH, SG
Resi Stiegler (Jackson, WY) – GS
Jackie Wiles (Aurora, OR) – DH, SG
Lindsey Vonn (Vail, CO) – DH, SG
Kitzbuehel and Schladming, Austria – Men: 
Michael Ankeny (Deephaven, MN) – SL
David Chodounsky (Crested Butte, CO) – SL
Bryce Bennett (Squaw Valley, CA) – SG, DH
Tommy Biesemeyer (Keene, NY) – SG, DH
Ryan Cochran-Siegle (Starksboro, VT) – SG, SL
Mark Engel (Truckee, CA) – SL
Travis Ganong (Squaw Valley, CA) – SG, DH
AJ Ginnis (Vouliagmeni, Greece) – SL
Jared Goldberg (Holladay, UT) – SG, DH
Robby Kelley (Starksboro, VT) – SL
Steve Nyman (Sundance, UT) – SG, DH
Andrew Weibrecht (Lake Placid, NY) – SG, DH