Val Saint-Côme (QC), Canada – After a successful showing on home snow in Lake Placid, N.Y., the U.S. Ski Team moguls athletes are moving on to the second of four North American FIS Freestyle World Cups at Val Saint-Côme, an hour's drive north of Montreal. Men's and women's competitions will take place on Saturday.
The U.S. moguls team came away from Lake Placid with two podium finishes from Brad Wilson (Butte, Mont.) and Morgan Schild (Pittsford, N.Y.). The women's team in particular saw some impressive results from both veteran and rookie athletes, including a top-10 finish from 16-year-old Tess Johnson (Vail, Colo.).
"It was great to have Brad and Morgan back on the podium and see such strong performances from our athletes," said head mogul coach Matt Gnoza. "The women already have two podiums by two different athletes, and all the members of our World Cup team have podium potential. We fully expect the success we have seen thus far to continue and improve as the season unfolds."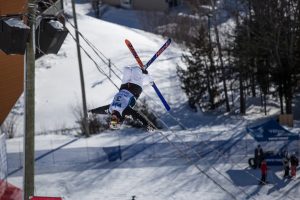 Last year's event at Val Saint-Côme was dominated by the home team Canadians. The Dufour-LaPointe sisters had a historic sweep of the women's podium and Mikael Kingsbury added yet another win to his record. After getting closed out of the Lake Placid podium, the strong Canadian team will be looking to take their revenge, but while skiing on home turf can have its advantages, the U.S. team — as well as current World Cup leaders Britteny Cox (AUS) and Dmitriy Reiherd (KAZ) — will be gunning for more top finishes.
"We are happy with how the season has started, however, we are eager to turn the top 10's into more podiums," said Gnoza "In order to do that, our team needs to continue to execute at a high level and push their limits. They all have put in the hours and runs needed to be successful, now  they need to go out each week and trust their stuff."
Competition on Saturday begins at 9:40 a.m. EST with women's and men's qualifications. Finals will begin at 1:30 p.m. Finals will be live streamed at nbcsports.com/live and via the NBC Sports App.
VAL ST-COME WORLD CUP US START LIST
Men
Joel Hedrick (Fort Collins, CO)
Troy Murphy (Bethel, ME)
Tom Rowley (Long Beach, NY)
Dylan Walczyk (Rochester, NY)
Brad Wilson (Butte, MT)
Women
Nessa Dziemian (East Hampstead, NH)
Tess Johnson (Vail, CO)
Jaelin Kauf (Alta, WY)
Mikaela Matthews (Frisco, CO)
Keaton McCargo (Telluride, CO)
K.C. Oakley (Piedmont, CA)
Morgan Schild (Pittsford, NY)