Val Saint-Côme (QC), Canada – The second time round was just as sweet on Saturday for Freestyle Canada's Women's Moguls team, who were successful in defending their sweep of the podium in the first Canadian-hosted 2017 FIS Freestyle Ski World Cup in Val Saint-Côme, Quebec.
With four Canadian skiers qualifying to the super final, top qualifier Justine Dufour- Lapointe was the last skier down the course. With three Canadians already on the podium, she knew she needed a great run to be part of the sweep. Her fluid, aggressive skiing combined with excellent technique vaulted her to the top of the podium, with teammates Andi Naude finishing second and older sister Chloé Dufour-Lapointe claiming third place.
"I wanted to ski for my fans and my family and I wanted to make them proud," claimed Justine Dufour-Lapointe. "I was in the start gate and I could hear the announcer say we had the sweep. In that moment I felt some pressure, but then I said to myself, I'm not going to let that stop me – I'm going to defend my title."
Teammate Andi Naude captured her first podium of the 2016/2017 season, after a scary moment earlier in the week.
"I had a big crash here in training, so I'm over the moon to be on the podium today with my teammates" said Naude. "I think the key to my success this season is to stick with the process: if I can keep putting down runs day after day, that are consistent, I'm confident more great results will come."
Chloé Dufour-Lapointe was solid top to bottom in her runs on Saturday and rounded out the women's podium with a third place finish. Team veteran Audrey Robichaud finished in fourth place.
Keaton McCargo, of Telluride, Colo., finished sixth for the best U.S. result.
"The course today was great," said McCargo. "The jumps were nice, and the moguls were spaced farther apart than normal, so that made for some interesting skiing. I could have been faster, but I thought I skied clean and my jumps were good."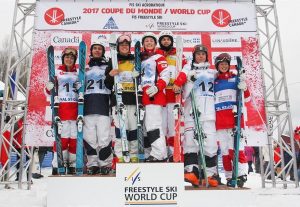 King of the Moguls Mikaël Kingsbury reigned supreme again on Saturday, recovering from a disappointing result in Lake Placid to capture his second World Cup of the season and reclaim the yellow bib on the FIS World Cup Tour. It was his third straight gold medal in Val Saint-Côme.
"It's always great to compete here at home, we don't get the chance to compete in front of so many family, friends and fans" claimed Kingsbury. "It's so special when you hear your name at the top of the course and you hear everyone cheering – it definitely helped me compete at my best today."
Kinigsbury was joined on the podium by France's Sacha Theocharis in second and Sweden's Walter Wallberg in third. Troy Murphy, of Bethel, Me., scored the top U.S. result in 10th. His teammate Brad Wilson, who podiumed at last weekend's World Cup in Lake Placid, was 11th.
"Overall I'm satisfied with my skiing today," stated Murphy, who earned his first top-10 finish of the season. "I've got some good momentum behind me that's been building up the past few weeks and I'm happy to keep taking steps in the right direction."
The FIS World Cup Tour continues this weekend at WinSport's Canada Olympic Park in Calgary, Alberta.
OFFICIAL RESULTS
FIS Freestyle Ski World Cup
Val Saint-Côme (QC), Canada – Jan. 21, 2017
Women's Moguls
| Rank | NATION | Name | Tot. Points | WC Points |
| --- | --- | --- | --- | --- |
| 1 | CAN | DUFOUR-LAPOINTE Justine | 78.36 | 100 |
| 2 | CAN | NAUDE Andi | 78.10 | 80 |
| 3 | CAN | DUFOUR-LAPOINTE Chloe | 77.70 | 60 |
| 4 | CAN | ROBICHAUD Audrey | 77.69 | 50 |
| 5 | AUS | COX Britteny | 76.45 | 45 |
| 6 | USA | MCCARGO Keaton | 73.95 | 40 |
| 7 | FRA | LAFFONT Perrine | 75.84 | 36 |
| 8 | USA | OAKLEY K C | 75.49 | 32 |
| 9 | KZH | GALYSHEVA Yulia | 75.35 | 29 |
| 10 | CAN | GAGNON Alex-Anne | 74.78 | 26 |
Men's Moguls
| Rank | NATION | Name | Tot. Points | WC Points |
| --- | --- | --- | --- | --- |
| 1 | CAN | KINGSBURY Mikael | 86.44 | 100 |
| 2 | FRA | THEOCHARIS Sacha | 82.20 | 80 |
| 3 | SWE | WALLBERG Walter | 82.19 | 60 |
| 4 | AUS | GRAHAM Matt | 81.11 | 50 |
| 5 | JPN | ENDO Sho | 74.16 | 45 |
| 6 | CAN | MARQUIS Philippe | 69.55 | 40 |
| 7 | FIN | SALONEN Jimi | 81.29 | 36 |
| 8 | KZH | REIHERD Dmitriy | 80.81 | 32 |
| 9 | CAN | POULIOT-CAVANAGH Simon | 79.61 | 29 |
| 10 | USA | MURPHY Troy | 79.25 | 26 |