Sugar Mountain, NC – The Tennessee family of a teenage snowboarder who jumped 30 feet to avoid spending the night on a stopped Sugar Mountain chairlift has sued the North Carolina resort.
Temperatures were in the teens with wind chills in the single digits on February 14, 2016 when Sugar Mountain's GW Lift stopped for the evening with the unnamed victim aboard. The lawsuit, filed in federal district court in Asheville, alleges that when parents Robert and Emily Williams reported their son missing, ski area officials presumed that he rode off trail and didn't check the chairlift for their son.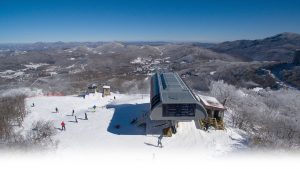 Wind and the sound of snowmaking equipment reportedly drowned out the boy's calls for help, so he lowered himself as far as he could from the chairlift and then dropped an estimated 30 feet to the ground below.
The impact was said to have knocked the Plaintiff unconscious. When he came to, he crawled some 500 yards to the resort's terrain park, which was open for night skiing, where he found assistance.
The Williams family is seeking at least $75,000 in damages from the resort.
In December, a jury in Vermont awarded a woman $750,000 for spending six hours in a Killington gondola cabin after she was similarly left hanging at closing time.