Sun Dec 15, 2013 10:26 am
Will update the snow conditions for the region . About 1 foot of snow last week of November early December followed by a thaw/freeze cycle . This week we received 6 inches midweek followed by about a foot today . Currently light snow falling . Light snow is in the forecast for the rest of the week with the potential for trouble on Friday with warm air tracking in . Have to watch this one . Personally off to a slow start so ripping to go . My next opportunity will be this Saturday . No news on opening day for Alta.
Sun Dec 15, 2013 11:01 pm
Awesome day today in the Ottawa region, Not sure how much snow, Edelweiss is claiming 22cm, but I presume that was in the morning. It snowed all day. MSS is now talking of 37cm.

I have 1 or 2 trips planed at Tremblant this week. Vouchers expire on Friday. I still need to finish that TR from 2 weeks ago.
Thu Dec 19, 2013 10:45 am
Tremblant was real good yesterday. One more voucher to use before it expires tomorrow. Going with my teen tomorrow.

Terrain is about to be seriously expended for the Holidays. The current closed runs are mostly due to snowmaking activities. They are stockpilling snow and are probably going to flatten it and open them soon.

PS. Still need to find time to finish that 1st Tremblant TR (Nov 28 & Dec 1).
Thu Dec 19, 2013 7:51 pm
Sounds good , The current snow depth on ground in the mid laurentian area is now at 2 feet with a little less to the north and south . Received a message from Alta that the tentative plan is to open just after Christmas day on natural snow alone . Not enough snow for the woods but open areas should ski fine . Hope the cold weather holds.
Sat Dec 21, 2013 8:14 pm
Was determined to ski today even though the local weather was playing havoc . Woke up in the Montreal area this morning with thick ice covering everything. After 30 minutes chipping ice off the car headed north at a snails pace with hope that the freezing rain would end once north of the river . After all this BS with ice it better be good . Settled in at Olympia in the lower Laurentians , since it hasn't been open for a week probably a good chance of fresh snow . Upon arrival discovered a good natural snow base over 2 feet with very little crust from freezing rain . We skied the the natural snow areas under the power lines in untracked snow and the nearby woods . Overall good day out with non existent crowds .More snow /ice pellets on the way tonight ,tomorrow so base is building up . The Lauentian area should be at 100 % any day now . The only reason trails are currently closed is due to snow crews rolling the mounds of artificial snow into trails . Woods could use another foot.
Fri Dec 27, 2013 5:27 pm
I am not one to say every day on snow is a great day especially when you have have to pay to ride the lifts . However, today was worth the money . Natural snow trails skied great with sections of untracked snow and tracked snow . The ice and rain that hit areas south of the St Lawrence and North East US spared the Laurentian region. Powder and tracked powder were the conditions today on natural snow trails . Machine snow covered trails were hardpack but holding a edge was not a issue . I would imagine natural snow trails at big areas like Tremblant would become scraped down fast with the volume of traffic. Base about 2.5 feet so still wise to know the ground without snow your skiing over as small trees and branches sticking out . We are all patiently waiting for Alta to open as their site advises any day now .
Fri Dec 27, 2013 7:26 pm
costco.ca has a sale on their Tremblant tickets that ends tomorrow. 2 passes, with 2 $10 food vouchers and 50% rental coupons for $119.99; or 3 for $179.99. $15 off the 2 ticket pack and $20 for the 3 ticket. Tickets valid starting on Jan. 4, no other blackouts.
Fri Dec 27, 2013 9:23 pm
Great streak is continuing...great ski conditions streak that is. I have a few TRs on the backburner, having a few issues to complete them (scanning pictures is one of them...
), one of them is skiing at record pace towards "100" (not necessarily ski days). Never skied so much in December (up to 13 days). In the last month (since Nov 28), I've been to Tremblant 4 times and Edelweiss 10 times. Returning for the next 3 days.
Sun Jan 05, 2014 6:02 pm
The big news for natural snow skiing is that Alta opened yesterday . Spent the last 2 days powder skiing . Saturday we skied in the 3 feet of accumulated snow breaking up the various layers that formed over the last 6 weeks . A few inches of powder over a light crust and more powder beneath with air pockets made for interesting skiing . Guess you could call it skiers grooming . Last night another 2 inches fell while light snow continued through out the day today . The new snow today made for a better day as we hammered out run after run . 3 foot base in the woods so all the steep open tree shots were in great shape . Tremblant park is reporting the following snow depths.
Condition State
Snow latest 24h 3 cm
Snow latest 48h 3 cm
Snow on the ground 93 cm
OK , Now for the bad news and it could be brutal . There is Freezing rain warning in effect to start tonight. The system rolling will start as snow then change over to freezing rain and finally straight rain ending with a flash freeze.
Can it get any worse . Storm track will have the warm air track north of the St. Lawrence which is not good for the Laurentian ski areas. Un groomed ski tracks could end up coated in ice then frozen solid . Will have to see how it all plays out.
Sun Jan 05, 2014 6:04 pm
Anthony wrote: The system rolling will start as snow then change over to freezing rain and finally straight rain ending with a flash freeze.
Good times!
Sent from my Galaxy Note 3 using Tapatalk
Sun Jan 05, 2014 7:14 pm
With the day off we were watching the Weather Channel in advance of the NFL playoffs. Lots of hype about the record cold predicted for the Midwest tomorrow. Perhaps Al Gore should visit Minneapolis this week.
So with all of this I was surprised to see rain all the way up the East Coast. It looks like it will be the rain/freeze event from hell when that air from the Midwest moves east.
Sun Jan 05, 2014 9:53 pm
Tony Crocker wrote:Minneapolis this week.
-18 in my backyard in South Minneapolis (maybe a mile-and-a-half from the center of the urban heat island) right now. Winds are steady at about 16mph, putting the windchill somewhere in the low negative 40s. Forecasts put the overnight low somewhere between -22 and -27 and tomorrow's highs at about -16. We went below zero yesterday evening and are not expected to climb back above zero until Wednesday. These temperatures, alone, are nowhere near record breaking. The local talking heads say the persistent winds that are forecast to accompany the cold may result in some historic windchills.
Went skiing with my daughter yesterday, but wussed out today and went for a long run on an indoor track followed 25 minutes in a 200 degree sauna.
Mon Jan 06, 2014 1:49 pm
Admin wrote:Good times!
So good that I'm already at Day 23 (14 days since Dec 18) and the only ice I hit was that one day south of the border. Great streak of local conditions. You know it's good when a World Cup athlete at home for the Holidays takes out some fat skis to ski at her home hill.
Too much skiing to finish TRs. We got some freezing rain and light rain overnight...temps are now at -6c. Heading to -23c tonight.
Mon Jan 06, 2014 2:23 pm
Tony Crocker wrote:Perhaps Al Gore should visit Minneapolis this week.
Global ...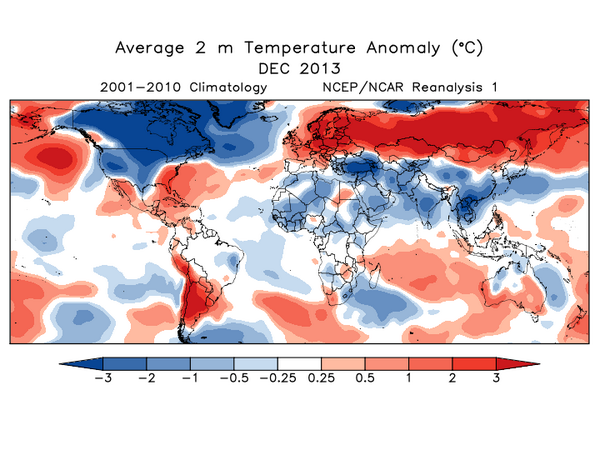 Wed Jan 08, 2014 8:20 pm
OK , Quick mid week update . Heavy rain on Monday ( Jan 6 ) followed by a flash freeze with no new snow . Warming temperatures and more rain in the forecast for this weekend ,maybe some snow but count on rain . Will see what happens. Snow pack still at 93 cm recorded at Tremblant Park .