Ski journalists were given an unusual opportunity to ski at the private Yellowstone Club ski area just south of Big Sky. For details on the diverse activities and membership requirements,
check their website
.
Yellowstone Club's terrain is easily visible while skiing the south side runs from the top of Lone Peak at Big Sky.
What you notice is 800 acres of impeccably groomed north and east facing runs with 3 high speed quads but almost no people on the hill. There is also a long ridgeline with numerous steep chutes (3 of which we sampled) of around 800 vertical above the groomers, and a gladed backside. There's about 2,000 acres of skiing at an elevation range of 7,200-9,900 feet now, with eventual buildout to 4,000 acres. One can only imagine it with a couple of feet of fresh powder.
Here we approach the club after passing through the security gate.
Our journalist group of 20 people was probably their busiest day in 2001 since Christmas. Warren Miller was their ski director and gave an introductory speech and answered questions at breakfast in the then modest base lodge. Now that is the site of the Warren Miller Lodge.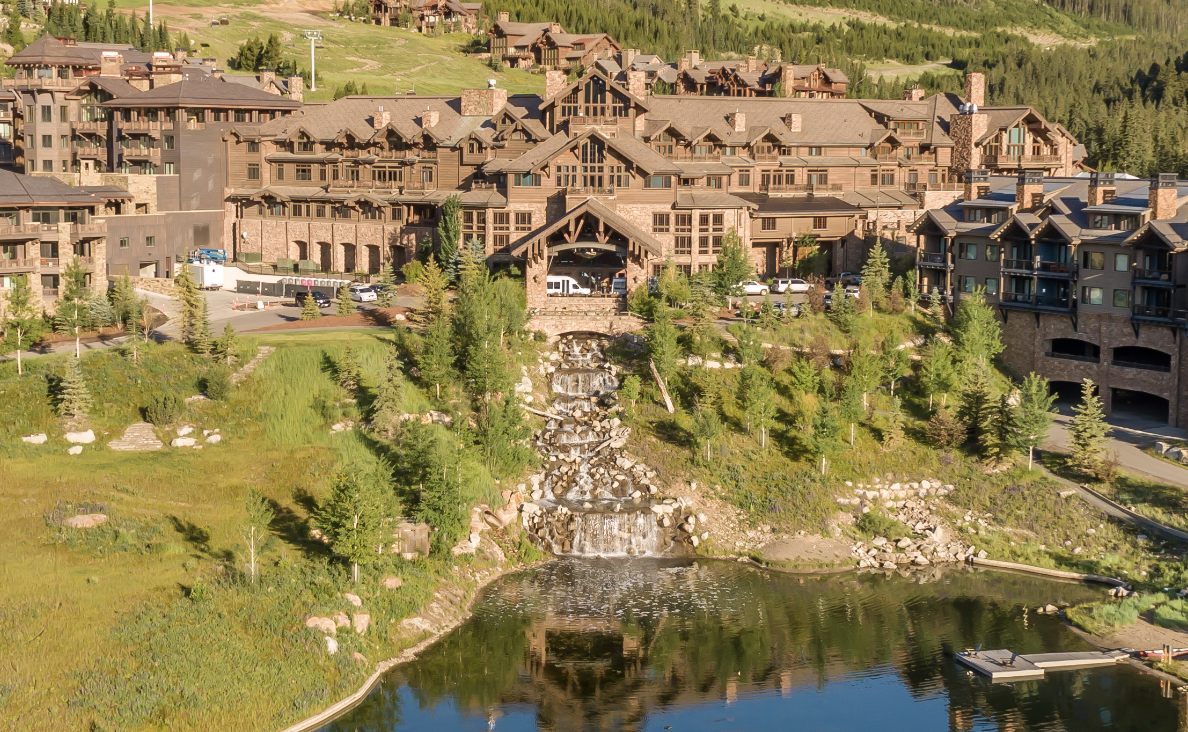 Warren is no longer with us, but now Scot Schmidt is the Yellowstone Club's ski ambassador.
Development progress in 2001: There are 16 mid-mountain cabins for prospective members to stay.
Nearby is the beautifully decorated Rainbow Lodge for guests and prospective members, carved wooden eagle here by windows with Lone Peak view.
70 memberships had been sold and the first 20 houses and a lift connecting to Big Sky were to be built in summer 2001. For summer use, a Tom Weiskopf golf course was also built soon thereafter and the Yellowstone Club property contains 14 miles of fly-fishing streams.
Grooming was of impeccable quality but flat spots got sticky about midday with the warm but overcast weather.
Brandi Miller was the guide for the advanced group:
Brandi then moved us over to the Pioneer Ridge expert terrain.
First up was Hourglass Chute.
Stein's Run was the highlight in terms of snow quality and a sustained steep fall line.
All of the NASJA members regrouped for a sumptuous lunch at the upper mountain Timberline Lodge, greeted by Marketing Director Charlie Callandar.
Small world! Charlie was one year behind me in high school at Webb in Claremont. Charlie is still in management at the Yellowstone Club after the tumultuous bankruptcy during the Great Recession.
Here I am before lunch.
Dick Needham, editor of

SKI

Magazine for 25 years
:
Dick Needham hired me to write resort guides and snow analyses for the
Inside Tracks
subscription Newsletter from 1997-2002.
These articles
qualified me to join North American Snowsports Journalist Association in 1999. I gave Dick a local's tour of Mammoth at my first NASJA annual meeting. Two years later I got the invite to Yellowstone Club in conjunction with NASJA's annual meeting at Big Sky.
NASJA members at TImberline Lodge:
Recent NASJA president and occasional FTO writer Martin Griff is at left.
After lunch NASJA had a Q&A with some Yellowstone Club representatives.
Charlie is addressing us here.
At left is Jon Reveal, who was in charge of mountain operations. Warren Miller visited Jon in a Billings hospital in 2015 and wrote
a quite interesting bio article.
Jon's health has recovered enough for him to take on the job of
reviving the Tamarack resort in Idaho.
After lunch we took a backside groomed run. The backside has open glades at the top, but the trees close out about halfway down, so some trails are cut to a cat track returning to the Lake lift. From the top of Lake my guest Garry Klassen and I left the group and skied to the base.
We had to hit the road by 3PM because I had a late flight home from Salt Lake.