Our guided tour of Iceland ended the morning of Mar. 23, so Liz and I rented a car for the next 2 days. We spent that night in Akureyri and skied at the local area Hlidarfjall Mar. 24. Our best view of the ski area was from the March 20 eclipse flight shortly before landing in Akureyri.
The access road climbs from town to the 1,640 foot base. A fixed quad chair serves the mellow lower slopes while a T-bar rises more steeply to 3,214 feet just short of the secondary ridgeline in the above picture. There was a map in the lodge of a proposed expansion to the top ridgeline at upper left of the picture.
Hlidarfjall is the largest lift served area in Iceland and draws weekenders from Reykyavik, where about 80% of Iceland's 400,000 people live. There is an area close to Reykyavik with more lifts but it's only 600 vertical. There are several smaller areas in the north that I did not find on my Google Earth search last fall.
Hlidarfjall is open 10-4 on weekends, but noon – 7PM midweek. Most of the pistes have lights as there are only about 3 hours daylight in December/January. The lights were on all day on the lower slopes and were turned on for the upper 2 open pistes before racing began at 4PM.
Weather in Iceland has not been too cooperative for skiing this winter. There have been numerous high wind events, mostly from the SW. Gulf Stream influenced storms from the SW also tend to be warmer and bring low elevation rain. Overnight between March 20 and 21 it rained hard and washed out quite a bit of snow in the Myvatn area where our tour was staying, leaving lots of puddles on the remaining snow. There was a short but intense snowfall on March 23, returning a thin layer of snow to much of the landscape.
Liz and I took a warmup run on the lower chair.
Grooming was excellent, but I discovered that flat light has a whole new meaning at 66 degrees latitude on a cloudy day and immediately switched to my goggles. Hlidarfjall trail map: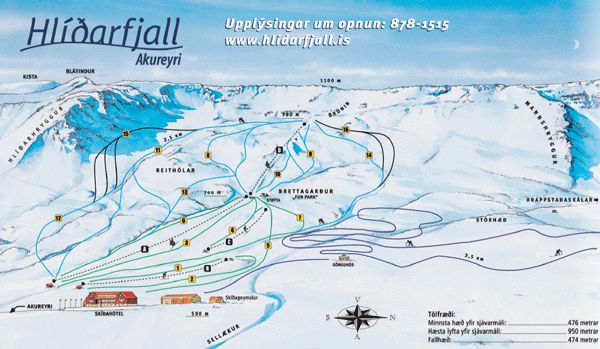 Liz at base of T-bar.
The chair was slow but the T-bar was fast and self-serve, so it took a few tries before we loaded it successfully. The cloud descended when we were riding the T-bar so visibility deteriorated. Again the grooming was smooth and uniform so not bad skiing as long as you looked well ahead at trail markings. Due to snow conditions only trails #8 and #10 were groomed up there, and the variable ungroomed skiing was out of the question with that visibility. There is some good steep bowl skiing looker's right of the T-bar with perhaps a 5 -10 minute hike.
After those 2 runs we skied down to lodge for a short break, hoping maybe the clouds would move higher. A man overhead us chatting in English, came over and introduced himself as British journalist Arnie Wilson.
http://www.arniewilson.com/?p=224
In the course of conversation I mentioned that Hlidarfjall was my 194th ski area, and Arnie responded that it was #726 for him.
One of Arnie's notable exploits as the Financial Times ski correspondent was to ski every day in 1994, which included visiting 240 areas just that year.
Arnie arrived with North Iceland Tourism manager Hordor Oli Kjartansson but soon went to rent skis. Liz and I then joined Arnie and Hlidarfjall mountain manager Hordur Finnbogason for some skiing. Arnie and Hordur as we left the lodge.
Fortunately the lower slopes cleared enough for a decent view down to Akureyri.
No such luck with the upper T-bar. Liz and Arnie, with a patroller unloading with gates for the slalom course:
When we landed at Keflavik airport on March 23 the plane remained on the tarmac for 1.5 hours because it was too windy to bring it to the gate. This same windstorm snapped one of Hlidarfjall's trail signs.
Temps were in the mid-20'sF, but it was a damp cold, so Liz was slightly underdressed and had to retire to warm her hands and feet. The rest of us skied a few more T-bar runs. Hordur and Arnie with some sun finally appearing far below us.
About 3:45 racers began practicing on the slalom courses.
About 4:15 we joined Liz in the lodge for some hot chocolate and wide ranging discussion of various ski topics. To no surprise Arnie is well acquainted with Fraser Wilkin of
http://www.weathertoski.co.uk/
. While in the lodge the weather below us continued to improve while the cloud remained upon the upper T-bar.
Only when we had to depart at 5PM did the upper mountain finally come into view.
There are times when weather/conditions do not allow you to fully appreciate what a new ski area has to offer. But our serendipitous meeting with Arnie Wilson made for a very interesting day.