This was our first day with guides from Black Diamond Lodge. Kiroro is near Otaru, about an hour north of Niseko.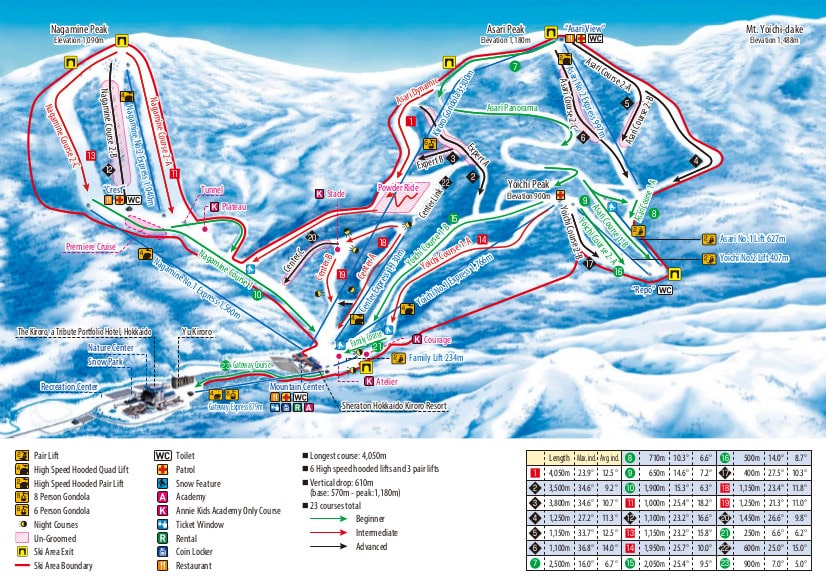 Kiroro may be modest in size, but it's been hammered with snow and thus the BD guides have been going there often in this early season when it's had much more than Niseko. Today is probably the turning point for Niseko, as it dumped all day and the snow was widespread along the entire west side of Hokkaido.
Kiroro skied like a scaled down version of Furano. As at Furano the snow was A+ powder in abundant quantity but with even more limited terrain to utilize it.
Given the ongoing storm it's hard to figure out where we skied from the trail map. From Asari Peak we skied a trail about halfway down before traversing into the trees, where we had a deep forest of perhaps 500 vertical behind Yoichi Peak. We also skied off the backside of both Nagamine and Asari Peaks, with long exit traverses back into the ski area.
With cold weather and bad visibility I only took one picture of this huge tree blob when we were regrouping behind Asari Peak.
We skied 12,300 vertical, about 5K of powder. On a day like this, that modest ratio of powder to total is entirely due to extensive traverses and runouts. This is another place where Black Diamond Lodge tours are primarily with alpine touring gear for lift assisted backcountry skiing. Our second guided day with BD would have been with touring gear if the early season weather pattern had continued.