La Grave lives up to much of the hype that surrounds it. It is tough, crowd-free, unspoiled, glaciated and incredibly scenic. Much less a ski resort and more a lift served backcountry skiing experience. To try an American metaphor, it is Mad River Glen meets Mt. Rainier.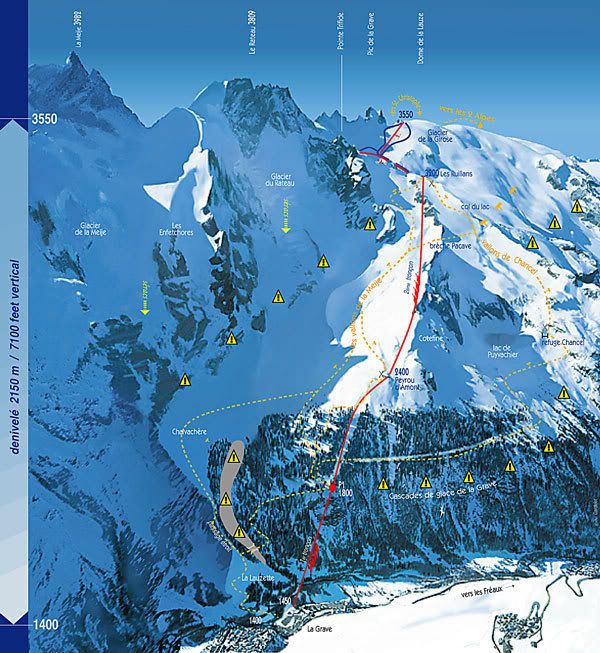 Mountain
La Grave,s vertical is an astounding 7,000 ft (think Alta on top of Whistler) 4,600 to 11,600 ft. It faces almost due north and any other light is blocked by La Meije towering over at 13,000 ft. There are no defined, patrolled, avy protected routes. You are on your own. However, there are two well-known itineraries: Vallons (east side) and Chancel (west side). Neither is overly challenging and mostly high intermediate/low expert. However, route finding can be tricky. And the point of La Grave is not to stay on the beaten path.
Most descents at La Grave consist of the following segments:
1. Open, glaciated terrain
2. Technical couloirs
3. Tree skiing
The difficulty comes from not-so-much the steepness, but from the unrelenting, rugged technical challenge. There are no groomed paths. No catwalk to space out on. And you need to be proficient at many types of terrain ? tight turns, bumps, trees, obstacle avoidance, boulders, etc. Fitness is necessary.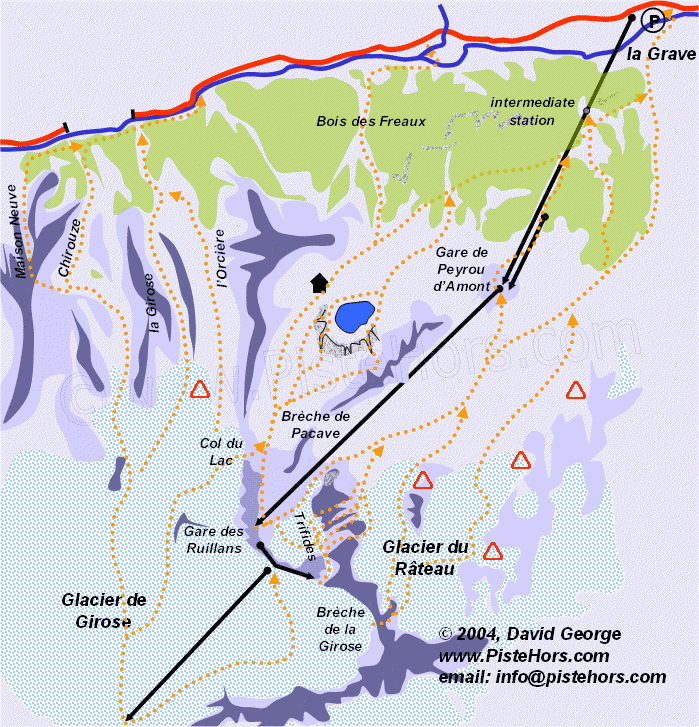 Guiding
You need a guide. You need avy gear. And why bother with La Grave unless you put a harness on and get into something scary via a rope?
We found a guide -- via a Chamonix guide friend-of-friend -- who was willing to negotiate for multi-day deal, well below the Official Guide Bureau. He was great and trying to start a practice in the Southern French Alps. It is truly amazing the certification process to become a mountain guide. The US has no equivalent. You need excellent skills at many mountain disciplines (rock climbing, ice climbing, mountaineering, off-piste skiing and ski touring) and superior skills at two of them in order to achieve this certification. If you want his info, email me. This being France, we were probably breaking some territorial union rules which might have resulted in a strike and the closure of La Grave for a few days
Lift.
Painted in rainbow colors, the aging pulse gondola takes about 30 minutes from top-to-bottom. It?s actually 2 gondolas; one gondola has a mid station called P1. At the mid station it just slows to crawl and you jump in without supervision. Don?t screw up or get caught napping. It?s the funkiest lift I?ve been on.
The lift is closed approximately 1-2 days per week due to high winds, heavy snow, instability, etc. While visiting, it was closed 2 out of our 4 days. This is how avalanche control is done at La Grave. Too dangerous, close the lift. The La Grave guides make a decision every morning before lift opening at 9am.
Snow Conditions
The base was 150cm in early February and snowfall ranged between 20-40cm. This was good, but not excellent. The mid/lower mountain was well-covered with soft surface conditions all the way down to town. The couloirs were well covered since they are sheltered and get good blow-in snow. The problem was the exposed areas of the upper mountain. The lack of trees and scouring winds stripped much of the snow. Combined with no maintenance and an inherent rocky mountain, you had to be careful. It reminded me of the traverses at Alta/Bird that get scoured.
Also, the mountain never sees the light of day which keeps temps cold and prevents the snow from consolidating into a base. Most of the compaction is due to wind. Good/bad ? soft snow, but less solid base to cover rocks. Locals say that rocks are always present ? even in the best years. Until you get to a 200cm base, they will be there ? and probably even when you get above that.
Season
La Grave probably has a small sweet spot for its season. Different parts of the mountain "ripen" at different rates.
Almost unskiable until mid January.
February. The mountain is filling in and getting better. Lower mountain is great.
Early-to-mid March. Optimal time to ski La Grave. Lower mountain starts to deteriorate.
Late March onwards. Lower mountain suffers spring conditions to melt off. Upper mountain best filled in and still powdery.
Crowds
There were no crowds. None. Zero. There were so few skiers; it was like having your own private mountain. We rarely saw another person on the mountain. Occasionally, a group might ? just might ? show up while we were waiting for the lift. Never have skied anyplace so uncrowded. Wild. In fact, there seemed to be more ice climbers than skiers. And there were no women. None. I think I saw just one or two on the hill. It was a very much a macho sausage fest.
I'm not sure this truism would hold on a March powder weekend.
Mountain Food
Despite few crowds, there are 3 places to eat on the mountain. How do they stay in business? The summit station is a traditional cafeteria. Despite it being February, it was too cold to its deck. The mid station restaurant was great and always had a table for us at noon. At the base of the lake couloirs, the Refuge Chancel (
http://www.refuge-chancel.com/
) is even more unique.
Town
La Grave is a charming French village with a few inns, bars, restaurants and a ski shop or two ? and not much else. Oh, a cheese shop. Truly low-key. Sleepy almost. Just being non-French stood out. The Bois de Fees (Ferry Forest ? go figure) is one of the only popular bars. Had shots of Genepi ? alcohol fused with mountain wildflower. Our guide who made his own gave advice on the different colors.
Lodging
The Skiers? Lodge and Edelweiss seem to be the best known and most obvious (only?) choices. Skiers? Lodge is more all inclusive ? guide, meals, etc. We stayed at the Edelweiss. It had good homemade French food, reasonable prices and flexible owners.
Trip Planning
If you plane on skiing La Grave for more than a few days, you most likely will be skiing a few of the other mountains due to lift closures or better snowfall elsewhere. Alp d?Duez, Serre Chevalier and Les 2 Alpes are all 20-30 minutes away. However, the mountains and valleys funnel storms differently, so if you are hunting powder be prepared to travel.
Who should go?
Well, this is not heli/cat skiing where you are shuttled to the best powder everyday. It is more backcountry with the aid of a lift - and it's rough around the edges (variable conditions, obstacles). Vertical maximaization is also not really part of the equation. Expect less than 5 runs per day if not fewer. Understand this attitude and you will love La Grave.
Resources
Here are some web links I used:
Description of runs with visuals
http://www.skierslodge.com/2Frameindex.html
.
Another descriptive site
http://pistehors.com/backcountry/wiki/H ... -Off-Piste
Off-piste guide book
http://www.editionsvamos.com/index.php? ... p&Itemid=8
Trip Report and Photos
Here is the good stuff.
It all starts from a simple A-frame lodge at the edge of town. Note about 10 cars in the parking lot.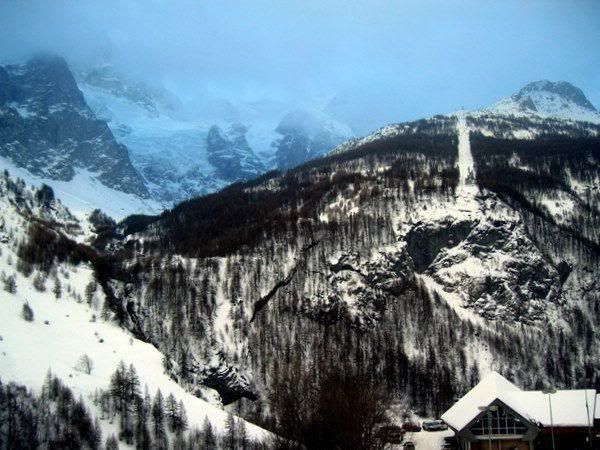 The token danger side at the top of the gondola.
The view from the summit.
The easiest of the Trifides Couloirs.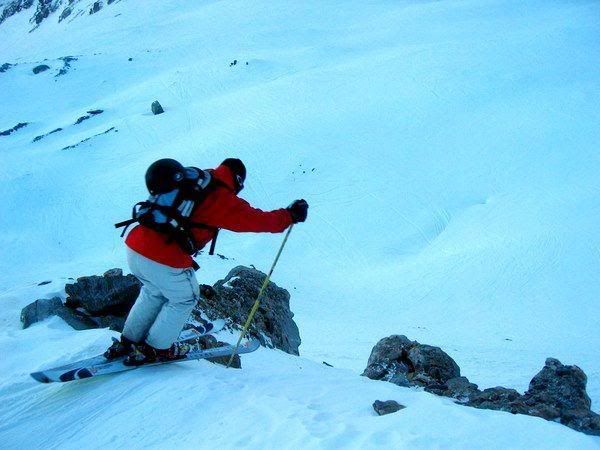 The Glacier de la Meije. That?s my group out there in the vast space.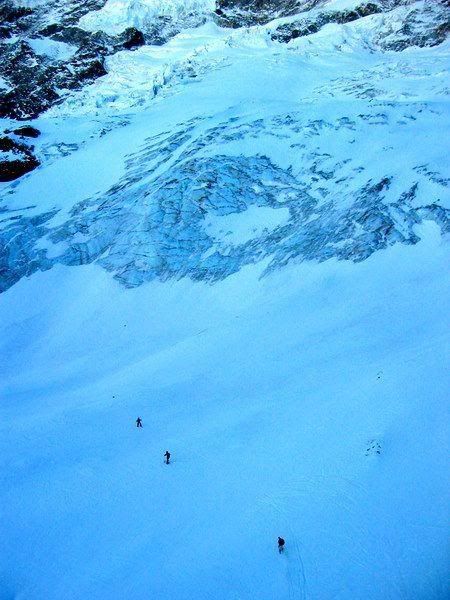 The ice cave at the foot of the glacier.
Another Trifide Couloir.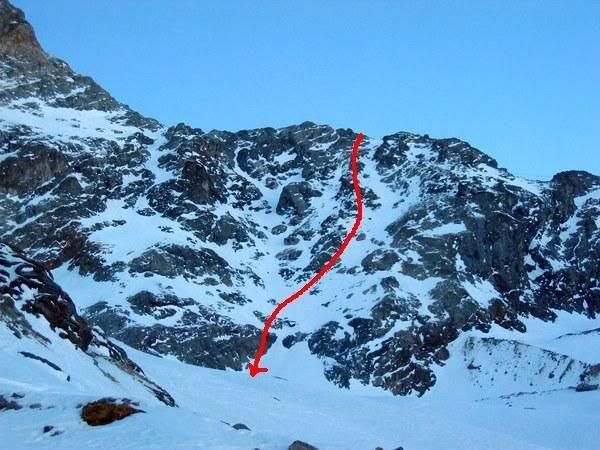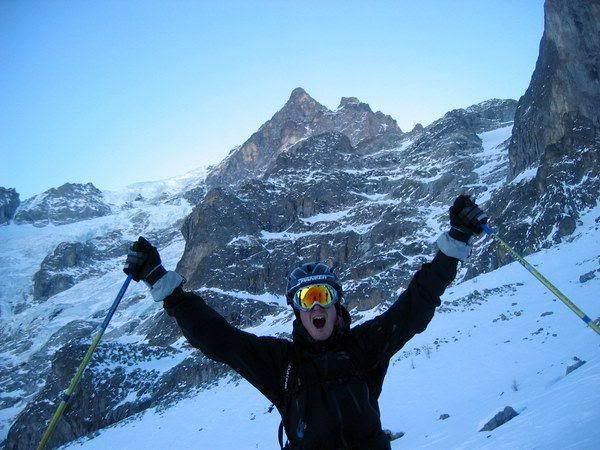 La Meije.
P1. Just sit and wait on the stairs.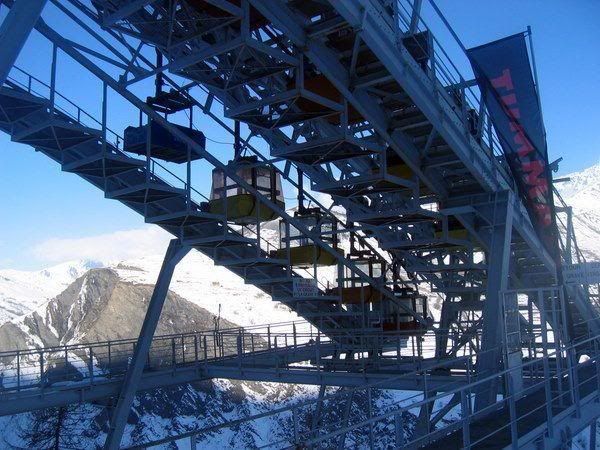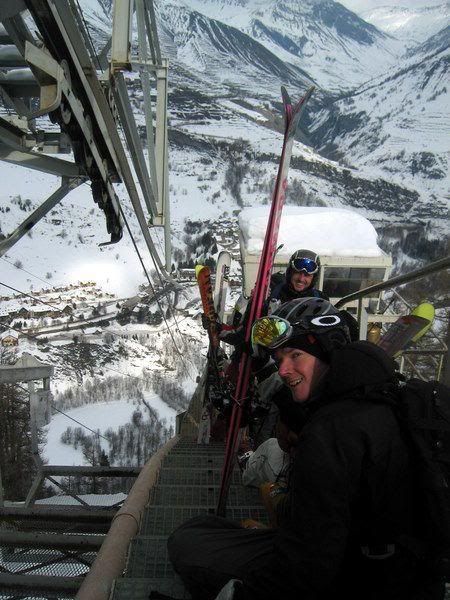 Busy mountain café.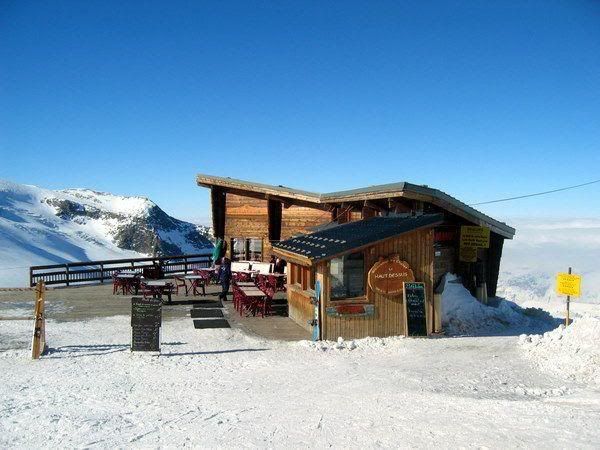 Chancel Itinerary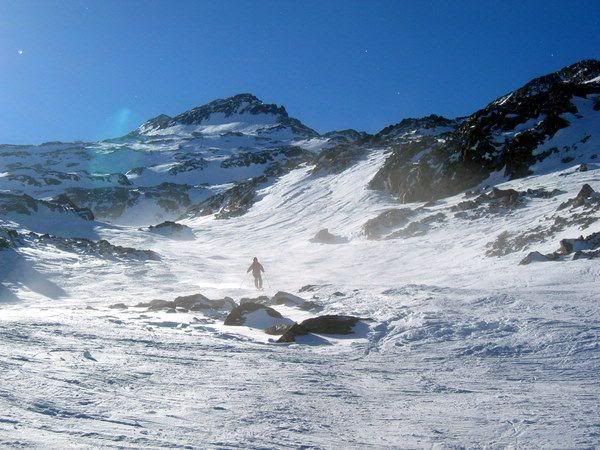 Banana Couloir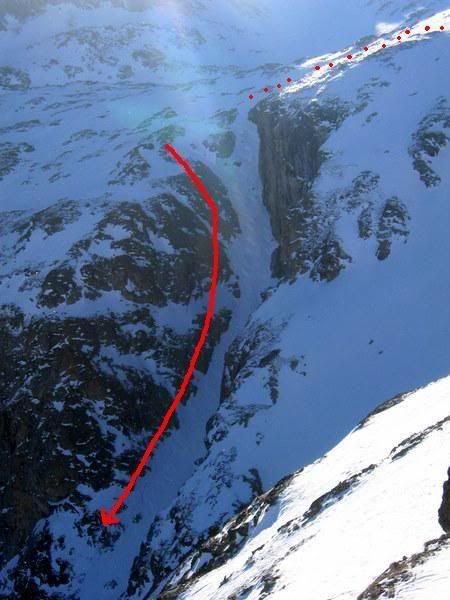 Banana exit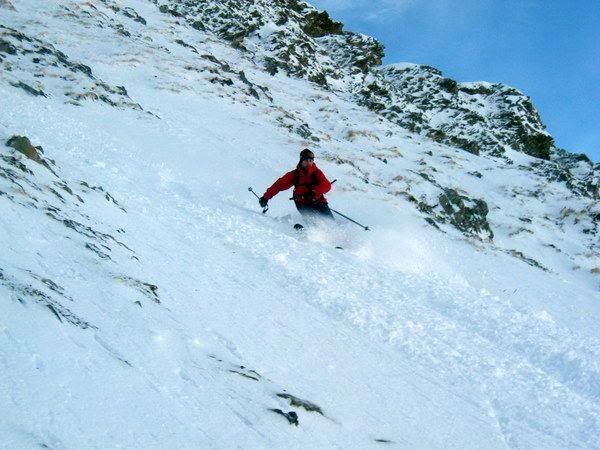 Patou Couloir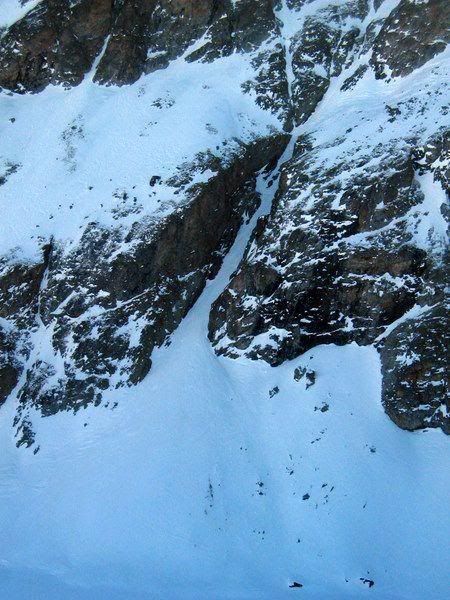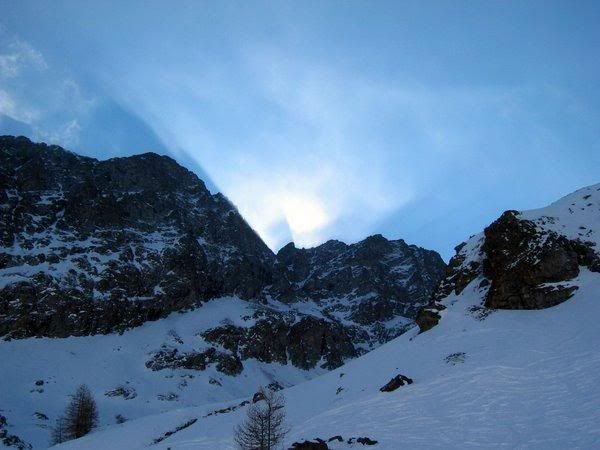 After the Larch trees
Lenticular clouds on La Meije ? always a good omen!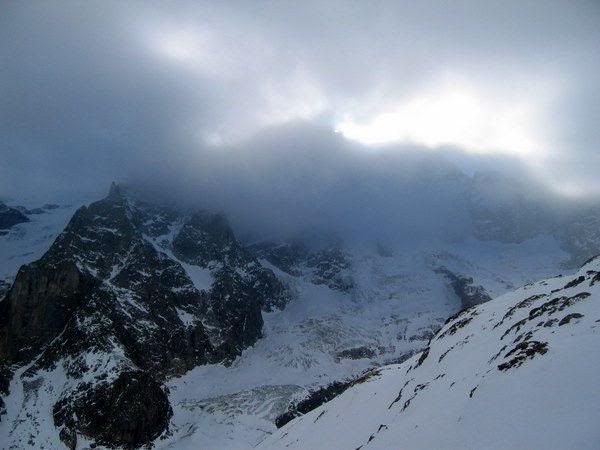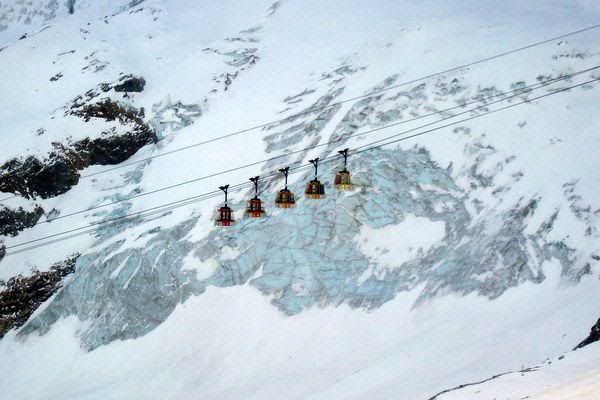 Powder
Patou Couloir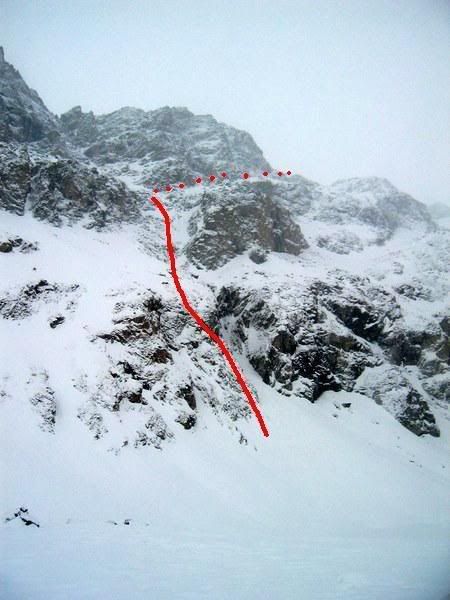 Inside Patou Couloir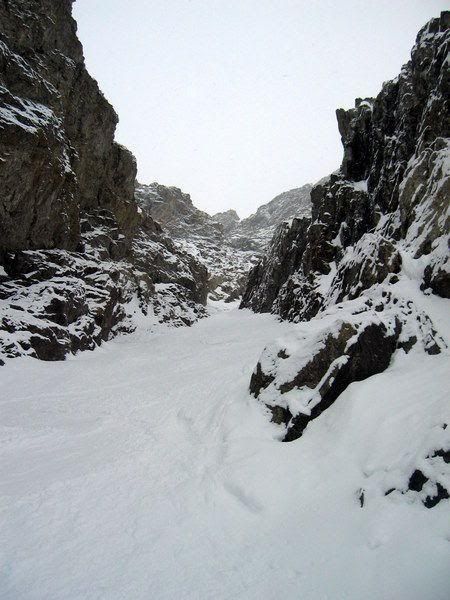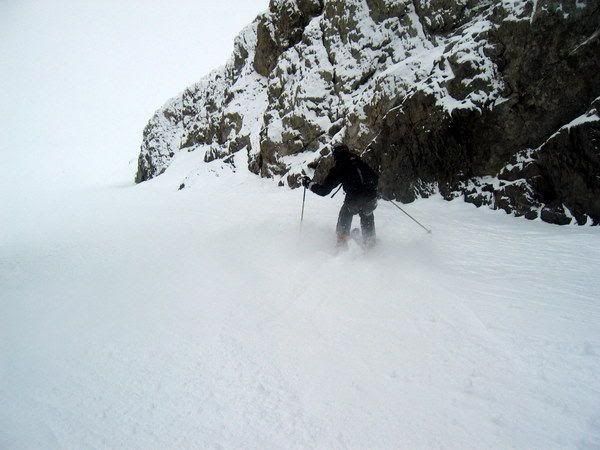 Couloirs du Lac (Patou, Banana, Derobe) as seen from the Chancel Refuge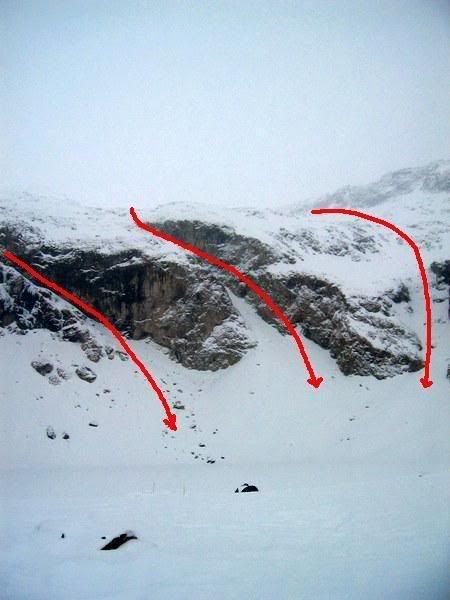 Cote Fine Couloir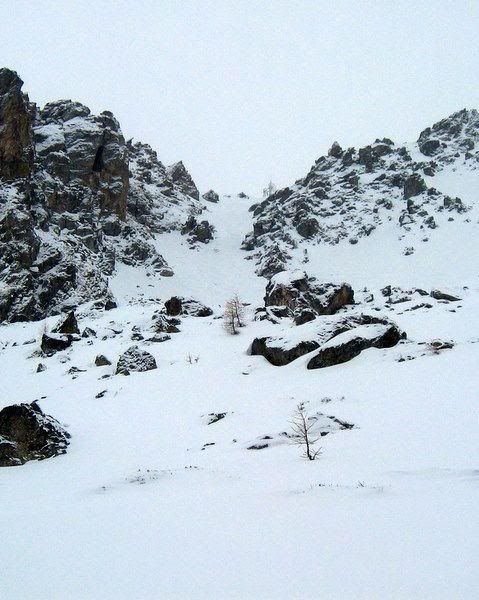 Yep, lots of snow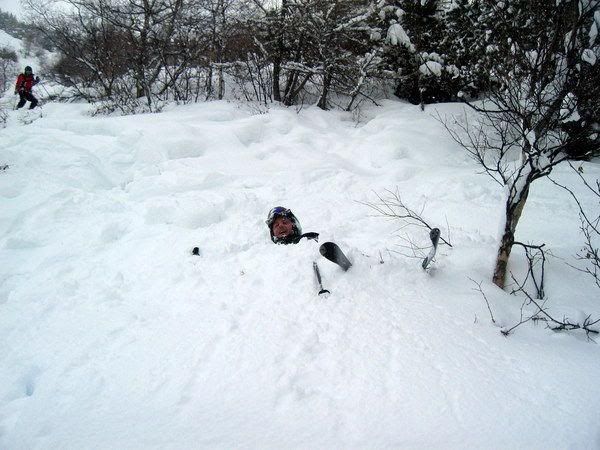 Another tight couloir entrance....or Why to hire a guide!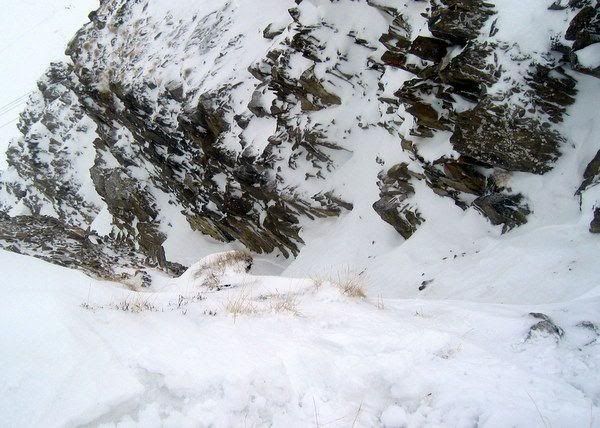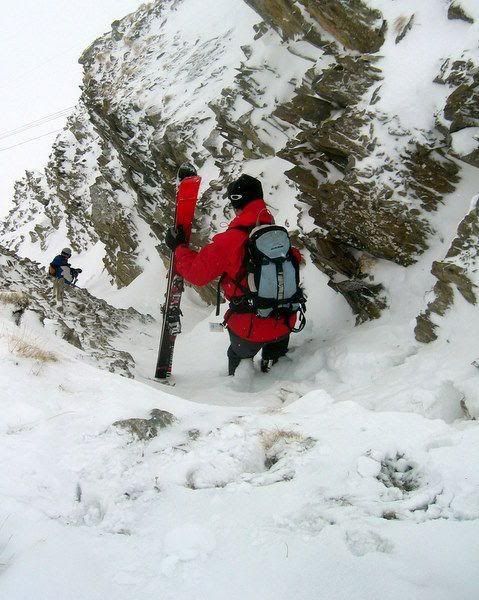 Me slutting for the camera.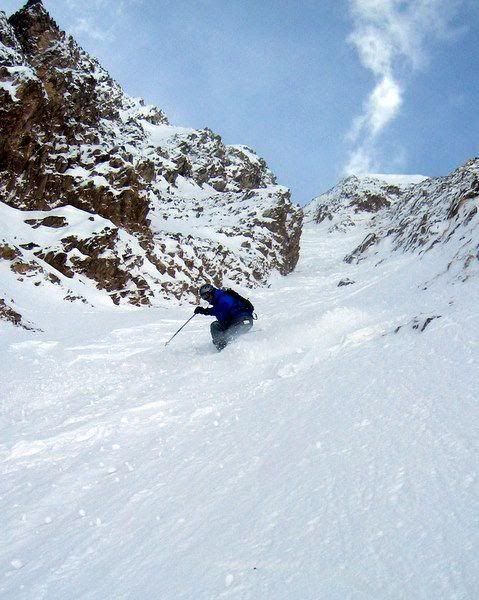 Another great La Grave day. Time for a shot of Genepi and some town photos.