We just came back from 3 weeks in Chile. The post below narrates our adventures from July 7 - July 21. Because of the length, I will describe the remainder of the trip in a 2nd post to follow this one.
THE SKIBUMS BIG ADVENTURE
July 7, 2008
Started out late for the plane, long line at check-in, don't know if they'll take all our luggage. We have a hard shell rolling carrier for the skis and poles, two large and heavy suitcases, backpacks containing boots, jackets, etc, and various other carry-ons. Amazingly they take our skis bag and overweight luggage with no complaint - remember we are flying LAN which is part of American Airlines who first started charging a fee for checked luggage.
Make it through TSA with no problem. Our seats are almost in the last row and I ask the stewardess in English if we can move and she doesn't say anything and then I realize she probably doesn't speak English. Time to try out the Spanish I've been practicing. She says we can move if there are empty seats after they close the doors, and we talk briefly about our trip. This is a good sign, we're understanding each other (more or less). Some of my Spanish speaking apprehension goes away.
Randy finds a seat in the very front of the cabin. That means we have to eat on trays that slide out from our armrest, but this minor inconvenience is far offset by the fact that since there are no seats in front of us we have an amazing amount of leg room. Almost as soon as we take off we are served lunch - not bad. Very tasty cheese ravioli, bread, butter, a nice salad, and a small piece of cake. We are plied with wine, water and soft drinks. Perhaps our 8 ½ hour flight to Lima won't be so bad after all.
We have an hour stop in Lima and I walk around the airport a bit. It confirms what I already knew - that I love the arts and crafts of Peru and would like to spend a couple of days there if we can. We will look into flights. As you can see, we're still figuring it out, and I expect we will spend fewer than half our days skiing, the rest touring. Of course if we love the skiing that may change. As usual, flexibility is our keyword.
July 8, 2008
We didn't sleep all that much on the plane and were exhausted when we got to our apartment around 7 am. Santiago time = NY time.
We slept until about 2 pm and then took a long walk through the city. It is definitely second world, but seems pretty safe and very interesting. We did what we enjoy, mingled with the people, had empanadas and Coke, walked some more. So far my Spanish is doing me well enough.
Tomorrow we will venture onto the Metro and see some historic and cultural sights around the city. Our plans also include the Barrio Brasil, a colorful part of the city, the Mercado Central where the best seafood is found, and the arts and crafts market in Santa Lucia. The next day if the weather is good we will go up to ski, probably to Valle Nevado.
I've been checking airfares and I don't think a side trip to Lima is in our future, as it's about $750 round trip. Last year Spirit Air was offering extremely low fares to Lima; we might catch a low fare and fly down at another time.
July 10, 2008
We catch a taxi to the staging point for all the buses to the ski areas. Two hours later, after some fun conversation and some hairy switchbacks, we are in Valle Nevado. It's a beautiful area, totally above tree line, just snow and lifts everywhere. Not a lot of people. One high speed quad which we naturally gravitate to. Valle Nevado is 46% red (advanced) runs and we mainly ski those. Everything is well groomed, slightly firm, but highly turnable. There hasn't been fresh snow for a while but conditions are good. Off-piste is skiable if you find the right aspect of the mountain, very crunchy where the sun doesn't hit it. We're skiing with big grins on our faces!!! Now we are really looking forward to our 4 days staying in the mountains!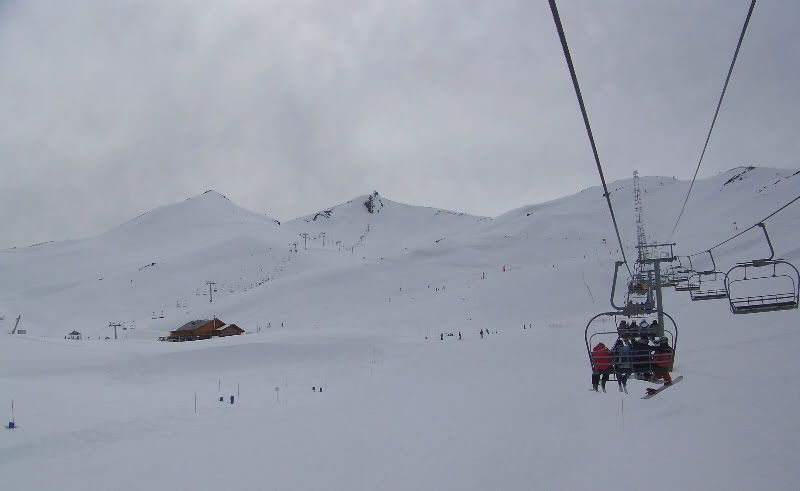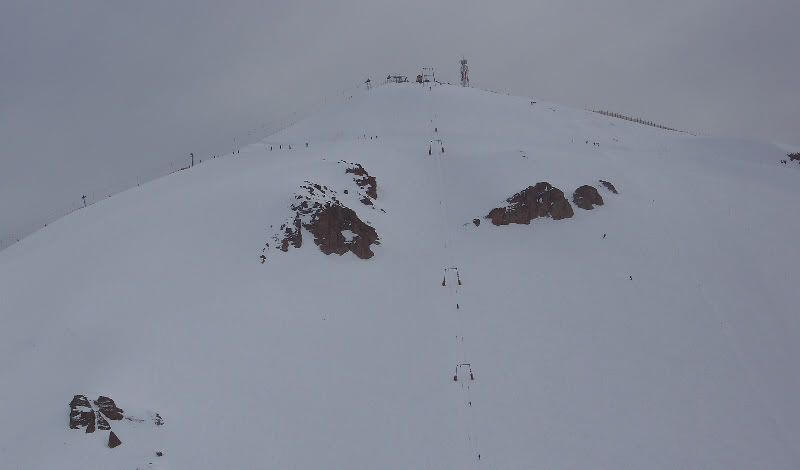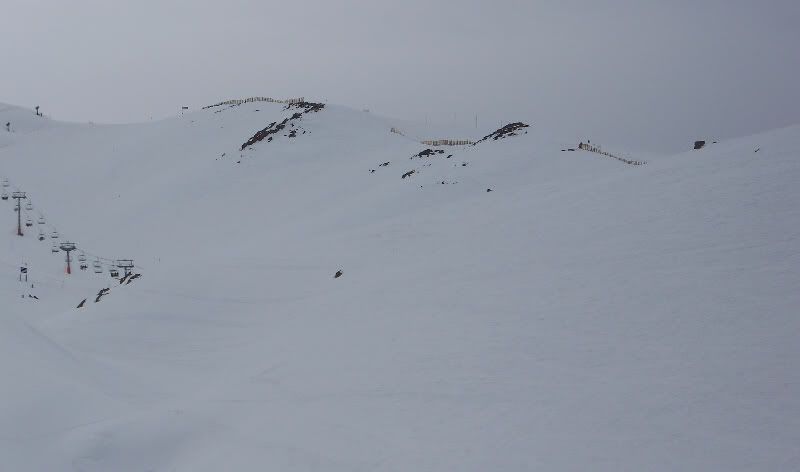 July 11, 2008
It's hard to hit the ground running when you are not on a tour and don't know your way around. We slept late today, then did lot of walking. Santiago is a fun city for me in that every block may hold an interesting row of shops to explore, not to mention all the items being sold by street vendors. It's kind of like New York - noisy, a bit dirty, polluted - nothing we didn't expect.
We went to the bus station and checked on trips to Valparaiso (the sea, about 1 ½ hours away) and also looked into going to Mendoza which is the gateway to Las Lenas. I would like to ski Las Lenas and Bariloche in Argentina on this trip, as it may be our only time in South America. The town of Bariloche sounds like a fun town to visit, kind of like Aspen in the US or Chamonix in France. We probably won't ski there, however, as it is the lowest resort and does not currently have good snow conditions. Las Lenas, on the other hand, has a very good base and we really want experience it for a couple of days.
Hungry from all our walking, we went for the first of several visits to the Vaca Gorda (fat cow) restaurant. Two delicious filet mignons wrapped in bacon for $10 - enough that we each brought one home and had it the next night with some vegetables. French onion soup, baked potatoes or french fries, and incredible tiramisu for dessert.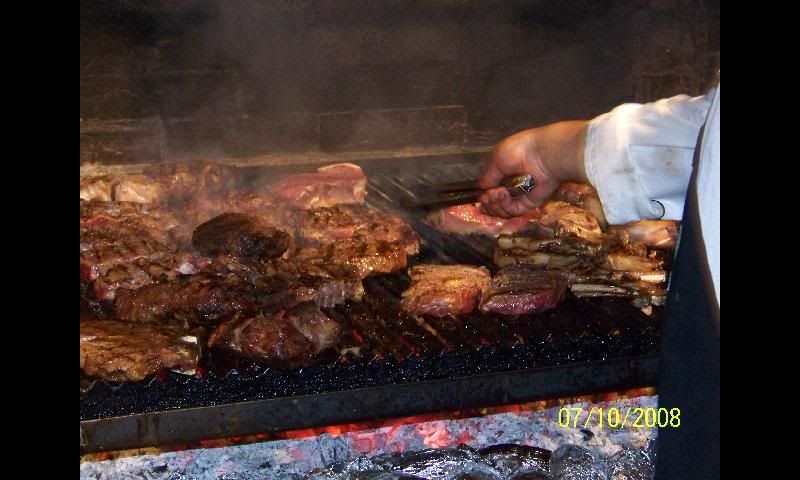 July 12, 2008
We woke up this morning relatively early, and realized that our trip to Valparaiso must be put off to another day. It was rainy and quite cool, not weather for walking around a beach area. Instead we donned our ski jackets and hats and set out on the Metro which is quite close to where we are staying. We returned to the Bella Vista section to purchase a lapis lazuli necklace and earring that I had seen a couple of days ago. After looking at lapis in several other places, I decided that this particular necklace would satisfy my need to take home some jewelry made from the national stone of Chile. Again did a lot of walking.
July 13, 2008
Sunday is pretty quiet in Santiago. We sleep late and decide to visit some museums. We go first to the Pre-Columbian Museum which is fascinating with artifacts from all of South America. Photos are forbidden but Randy manages to sneak in a few. There are some incredible objects.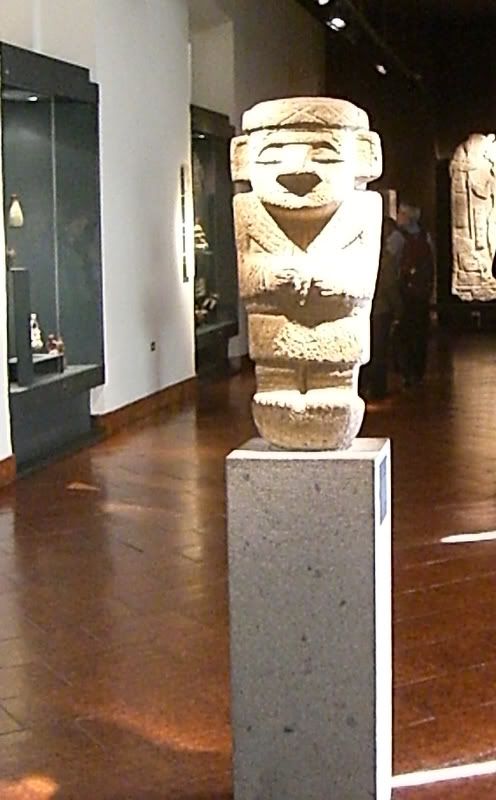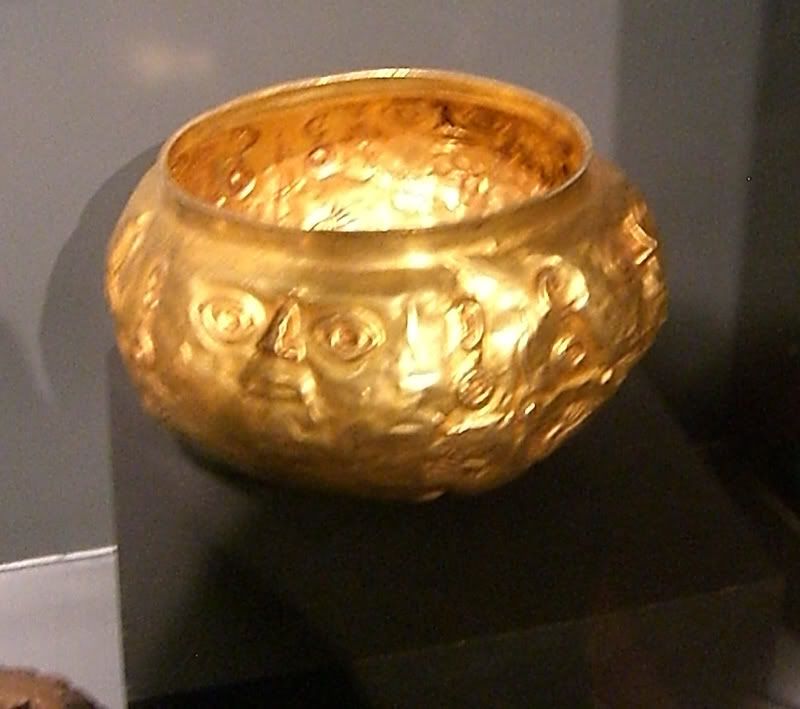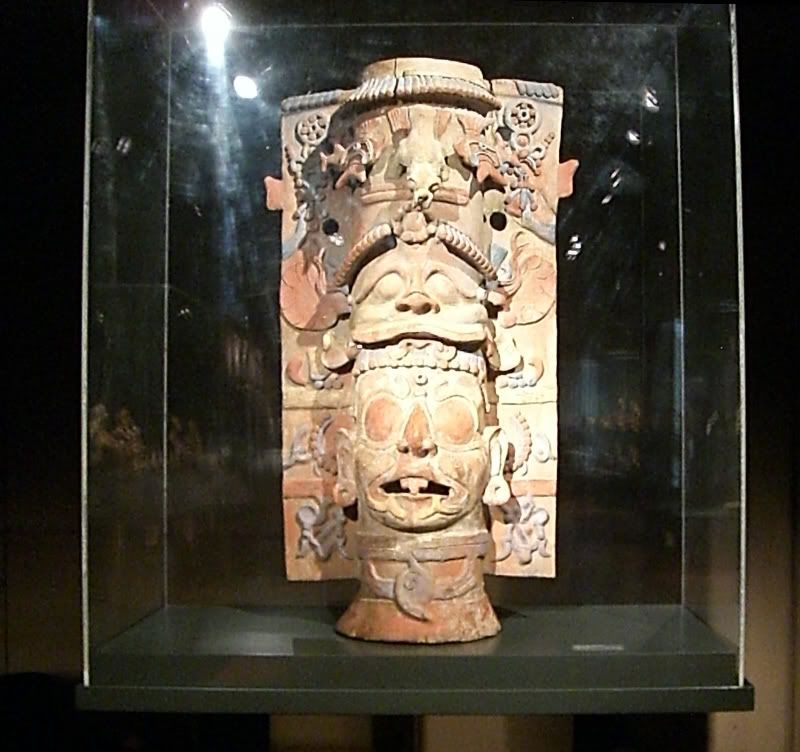 After that we walk around and see a long line of people waiting to enter a building. It turns out to be the Presidential Palace, so of course we join the line. It is somewhat disappointing in that we can only walk through the courtyard area. There are some metal sculptures which look to me like alien bugs but are probably pretty famous.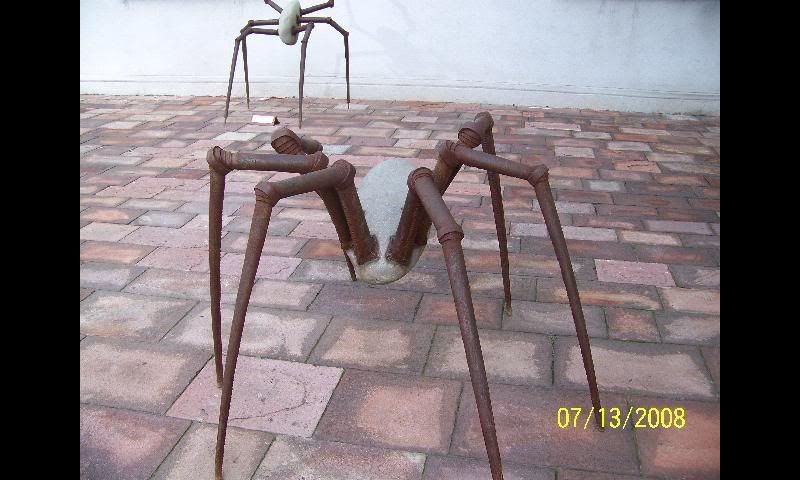 Since few restaurants are open, we eat in and prepare for tomorrow's trip up to the ski areas where we plan to ski for 4 days.
July 14-15, 2008
We get up early and take a taxi to the ski bus pickup. We have put what we need for 4 days into a single suitcase. Along with our skis, poles, and large boot bags, it is still a good amount of luggage. The ski bus drops us off at our hostel, where we have reserved 4 days. Our room is ready and we bring in our stuff and get dressed to ski. It is about 2 blocks to Farellones. Farellones is the lower part of El Colorado, which is today's destination. One poma and 2 t-bars later, we arrive at the first El Colorado chairlift. The skiing is good after a few cm. of snow a couple of days before. At some point my legs decide that no more surface lifts are to be ridden, and we stick to the chairlifts after that. There's plenty to ski, and to our left on the rides up we glimpse La Parva, which is the next day's destination.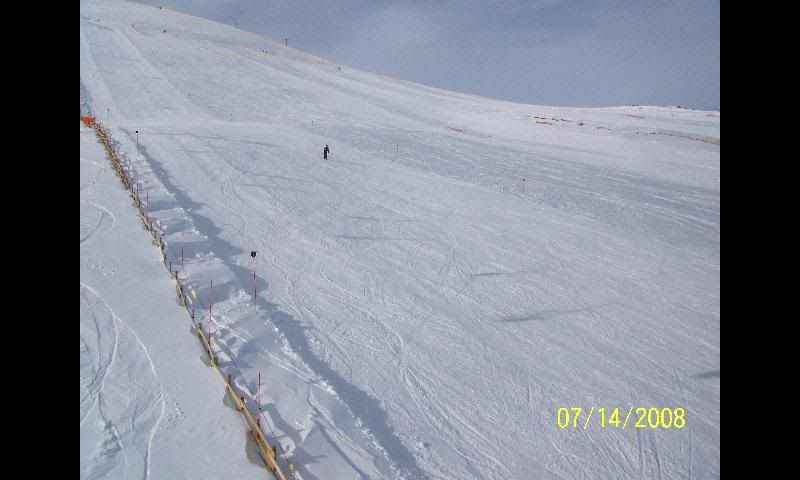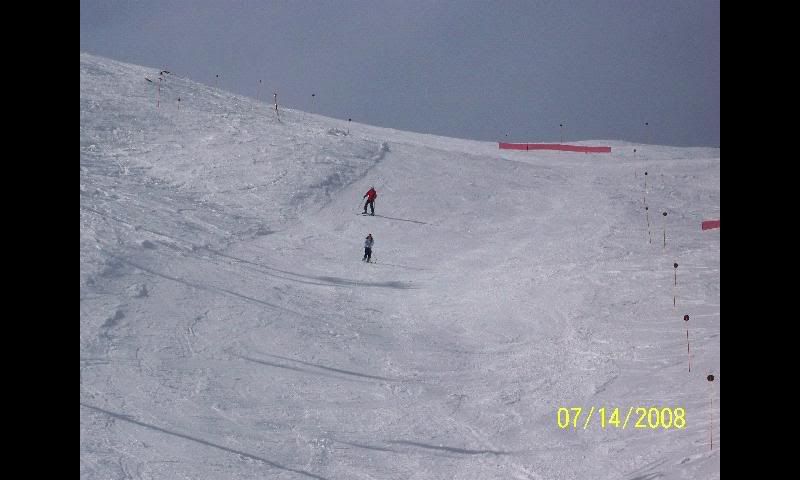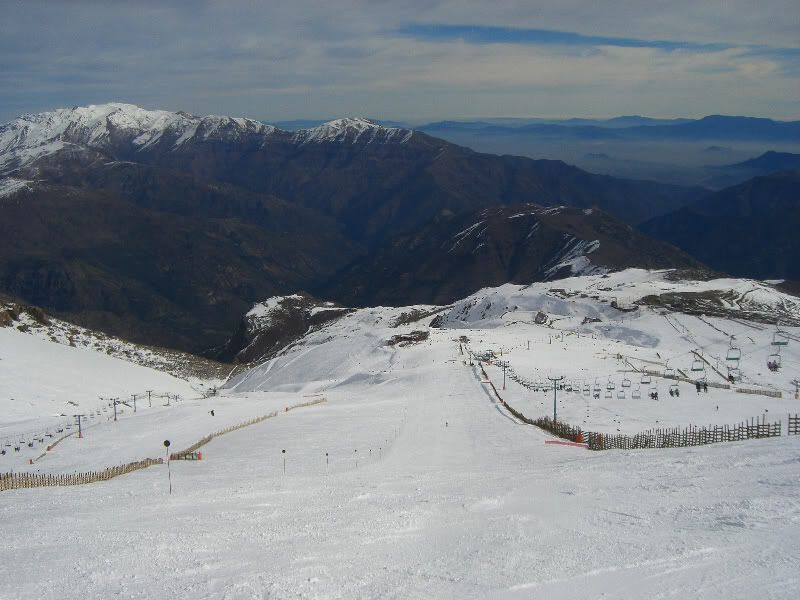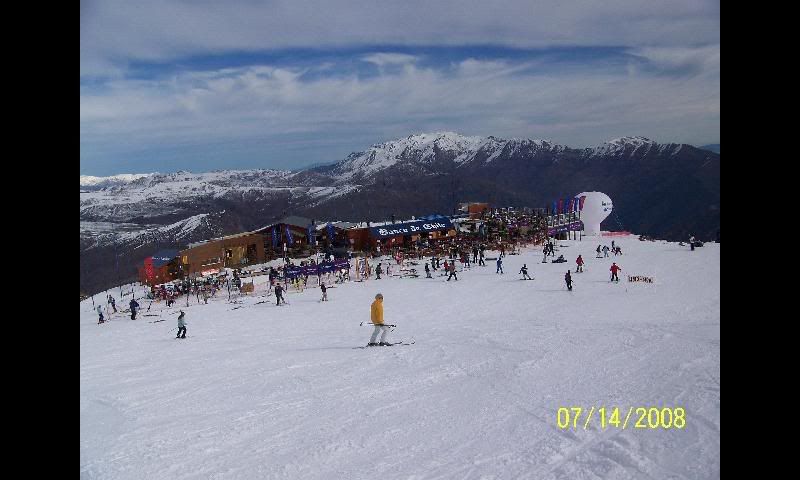 We return to the hostel and get to chatting with a Brazilian we had met on our bus ride up. We get to watch a beautiful sunset. We're still in ski clothes when dinner is served. At the table we join an American couple from Bellingham, WA. We chat about their South American adventures, where they have skied in the US, and about life in general. Suddenly it's nearly 11 pm and we're still in ski clothes. We decide to forgo showering and get to bed.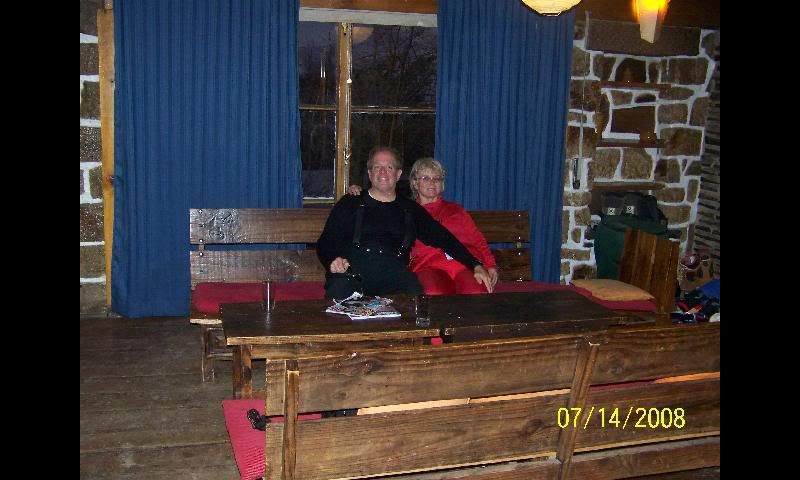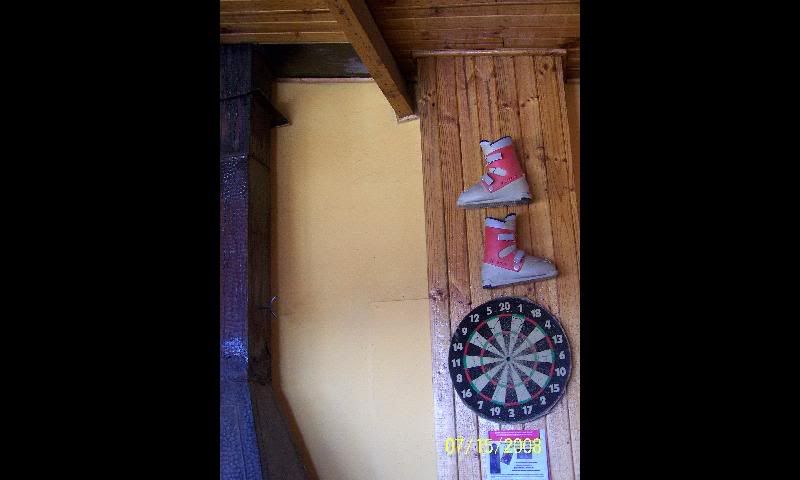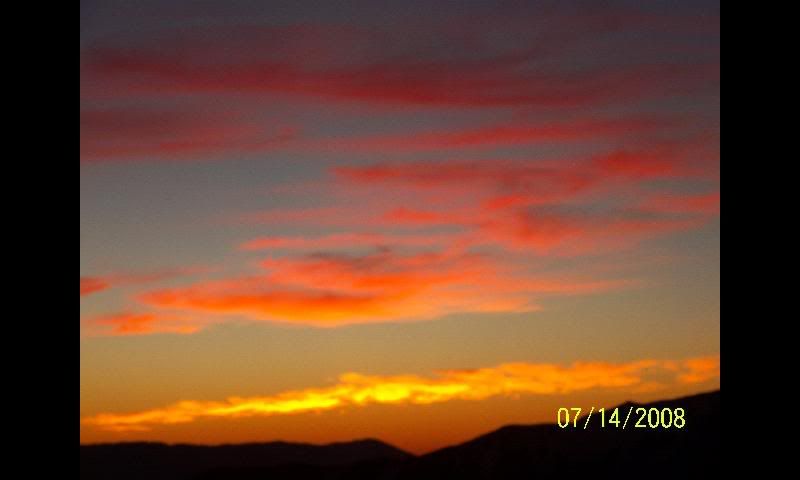 Our room has no heat, but the manager provides us with a gas heater that warms up the room (and leaves it smelling of gas). We have 2 bunk beds and Mr. skibum gets the upper one. Its flimsy construction makes him fear that it will collapse and he will crash down on me and kill me in the middle of the night. We snuggle deep into our blankets and finally fall asleep. The next morning we have slept pretty well and I am still alive. Our room does not have a lock, but the manager assures us that it is "no problem".
We get up for breakfast, find a couple of Brazilians who are headed by car to La Parva, and return to our cold room to get dressed for skiing. Whoops! - we haven't showered! Whoops! - there is no hot water; the early risers have used it all up. We wait a bit and take quick lukewarm showers. The hostel experience is starting to lose its charm. We make it to La Parva and it is pretty socked in. The skiing is OK but we don't even take any pictures. Except for a few low chairs, it's pretty much all surface lifts. After a couple of hours of skiing, we meet up with the Brazilians for lunch and we all decide to return to the hostel.
La Parva from our hostel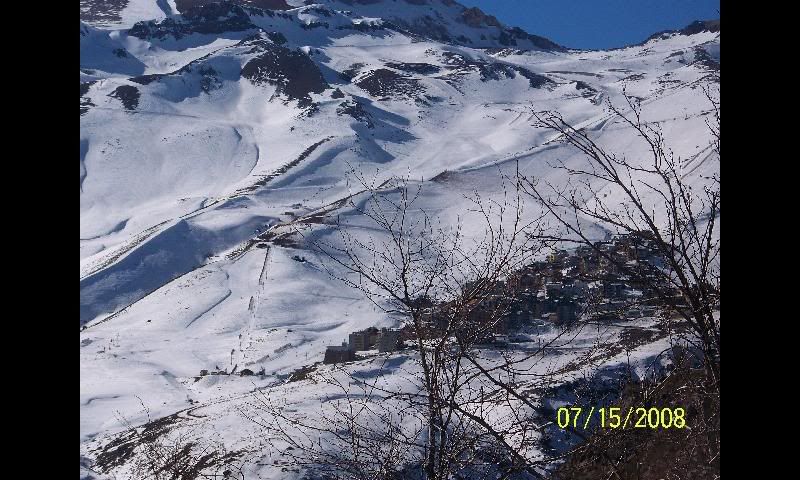 We have been discussing the lodging situation and decide to check out of the hostel and return to Santiago. We have accomplished our mission, finding out which of the 3 areas we prefer. It is Valle Nevado. The hostel manager says he will let us check out with no penalty, as he has another (much younger) couple who wish to extend their stay. He calls for the bus to pick us up, and we head down to Santiago. We had already reserved a room for the night we intended to return, and before heading down the mountain we call them and reserve for 3 additional nights. It's a beautiful new hotel called "Santiago Suites", close to the downtown area , overlooking the city.
July 16-17, 2008
We sleep well and enjoy several long hot showers. Spend the 2 days walking around different parts of Santiago. Purchase a couple of gifts and souvenirs.
July 18, 2008 - Mr. skibum's (Randy's) really big adventure
We again take the bus up to Valle Nevado. As we are putting on our boots in the locker room, we start to talk with an older gentleman whose jacket says "Far West Masters". He is from Berkeley, mainly skis at Squaw Valley, and is spending 3 days skiing at the end of a business trip. He loves Mammoth as well. We decide to join up with him for a few runs and to continue chatting. His nickname is Vlado.
We take a couple of quad chair rides together. He is a very good skier with excellent form. However, we are all having a bit of a problem because there are no trees and the light is extremely flat. We work on form rather than speed and arrive at the bottom of each run at about the same time. Then we ski down into a valley from which the only exit is a poma. OK, I can handle that.
However, Randy decides to explore for a lower trail. He ducks under a rope, skis into fresh powder, but gives me a sign (crossed ski poles) not to follow him. Our new friend and I take the poma up and ski down to the high speed quad. After a couple of runs, I contact Randy by walkie-talkie. He says he is OK and has decided to climb back up as he reached a point in his ski down where it was impossible to continue. I am pleased to hear this as I have looked at the trail map and it looks as if he was skiing down into an area from which there is no escape. We agree that he will call me again when he is back to the ski area. Some more runs and about an hour later, we talk again. He says he is OK and is climbing along the side of the mountain. In spite of his assurances, this is starting to sound not so good.
Another hour or so passes and I have not heard from him and can't raise him on the walkie-talkie. It's 3 pm, getting colder and there are only a couple of hours of daylight left. Vlado and I decide it is time for a chat with Ski Patrol. We tell them where he left us and where he was heading. About then we make contact. He says he is in sight of the poma lift but in is very soft snow and is not sure he will make it out. Time for a rescue! Yikes! Vlado and I are very worried but within 15 minutes Ski Patrol says they have spotted him. They eventually send a snowmobile to bring him out to the poma. The snowmobile breaks down about halfway and he is back to walking, but at least he is not alone and Ski Patrol advises him on the best way to walk.
Meantime it is getting later. I am skiing with a Ski Host who is giving me status reports. We decide to ski to the bottom, walk over to our bus, and tell the driver that we may not be ready to leave by 5. The Host kindly accompanies me as I am afraid that my Spanish is not up to explaining this complex situation. The bus driver agrees to wait until 5:30. I walk back to the ski area and wait in the locker room. Randy shows up at about 5:05. He is soaked, exhausted, but alive and not hurt. We change into our sneakers, grab all our equipment and make it to the bus by 5:20. Everyone cheers as we arrive. Not sure if they are cheering because Randy is alive and safe, or because his arrival means they can finally start the journey back down the mountain. He spends a while describing his day and drinking a lot of water, then dozes off as we descend.
July 19, 2008
We had planned to spend the day at Portillo but when we wake up at 6 am we are not inspired. I have not slept well and Randy's big toe nails have turned black and are very sore. I look at his feet carefully for any sign of frostbite, but apparently the only effect of the previous day's adventure is that he will probably lose his nails and they may not be completely grown out by November. We decide to go back to sleep.
We spend a slow and relaxing day doing some walking and taking it easy.
July 20, 2008
Ski bus to Valle Nevado. By chance, we meet up with Vlado in the locker room. I had emailed him that Randy was OK, and he is interested in hearing the whole story. On our second run, I have a collision with a telemark skier who just clips my tails but I fall - hard - on my head! Thank you, Giro. Despite the helmet I am briefly knocked out and have very little recall of the incident. By the time I am put back together, I know my name and where I am but still don't know (or care) who the President is. Randy decides I should sit in the cafeteria for a while. We lose Vlado and never meet up with him for the rest of the day.
After a short break (by now I know who the President is, but still don't care!) we go back out and hit the slopes. The skiing is great but the weather is getting worse. It starts to snow and visibility briefly drops to almost nothing. My head hurts and I decide to sit out a couple of runs. Later the weather improves and I rejoin Randy. We take a couple of more runs, then hit a slope we haven't skied before. It is a black slope, but groomed and not really that steep. About half way down a cloud overtakes us and visibility goes to zero. Not fun . . . We make slow tight turns down and hit a narrow cat track. I follow Randy very closely, and figure that if he goes off the edge I certainly won't follow. After a while we catch up with some other skiers who are as lost as we are. We all make our way down slowly until we get below the cloud. Time for lunch.
At lunch we meet a Brazilian who attended the same conference as Vlado. We chat a while and then notice that it is temporarily clear, so we finish quickly and head out for a couple of more runs. We are supposed to be at the bus by 4 today, an early start because the weather is bad. It is snowing lightly as we ride down to Santiago.
Almost as soon as we get back to our hotel, we get a call from Vlado who is concerned about what happened to the skibums this time. We tell him our tale and decide to meet for dinner, as he is flying home on Monday. We meet at a seafood restaurant about half way between our hotels, and have a great meal of fresh fish and shrimp.
July 21, 2008
Another day of walking and taking it easy. My legs are a bit tired from the day before. My neck is stiff but other than that I have no ill effects from my fall. We visit a coin and stamp store that we had noticed on another day, and Randy buys a couple of old coins.
We learn that there are no self service laundromats in Santiago, and we leave our laundry off to be washed. Tomorrow we will try again for Valparaiso. We believe it is snowing today in the mountains, and hope to get back to Valle Nevado on Wednesday.
(remainder of TR is posted below . . .)