With numerous skiing opportunities in North America, its easy to overlook the potential of the European Alps. It's not cheap to get there and you lose valuable mountain time in making such a mammoth trip.
I'm a Brit. I learned to ski in Switzerland 20 years ago. There's a tradition for UK winter sports enthusiasts to stick to just one country, or even one resort, for their annual break.
For many years, I followed the crowd. Austria was my country of choice and I was happy to sample its many delights year upon year.
But then I met Jeff Bateman, a rather remarkable man who is one of the few Alps-based tour operators specializing in the concept of a ski safari. He's the man who can make your visit to the Alps a multi-national experience to remember.
Bateman's company, Jistski, has extensive knowledge of resorts across France, Italy, Austria and Switzerland. It prepares bespoke itineraries, taking in the needs, dreams and skiing skills of its clients. When he offered to take me on a road trip across three countries, I jumped at the opportunity.
Jeff knows all about Austria and has guided many successful safaris across the more than 20 resorts offered by the Salzburg region, but I was keen for something completely different. Our itinerary was going to feature France, Switzerland and Italy, taking in the resorts of Avoriaz, Les Crosets, Champery, Chamonix, Zermatt, Cervinia and Saas-Fee in just five days.
But where were they? Read on and I'll tell you more.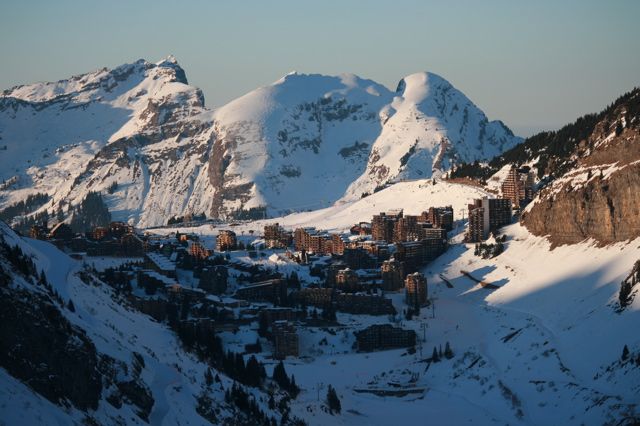 Avoriaz nestles on the clifftops above the busier resort of Morzine.
(photo: FTO/Leigh Mytton)
Avoriaz
Our starting point was the French village of Avoriaz. Nestling on the cliff above the bigger, more sophisticated town of Morzine, its just a few hours drive across the Swiss border from Geneva airport.
Avoriaz has an old world charm. Cars are banned from its snow-covered streets, but horse and carriage rides are available for weary pedestrians. My apartment Saskia, in the Pierre & Vacances complex, offered a stunning view over the valley and the road into Morzine (accessible by cable car).
On day one, we were up bright and early, with our objective crossing over into Les Crosets in Switzerland. Skiing at a leisurely pace, we had arrived in our new resort within an hour.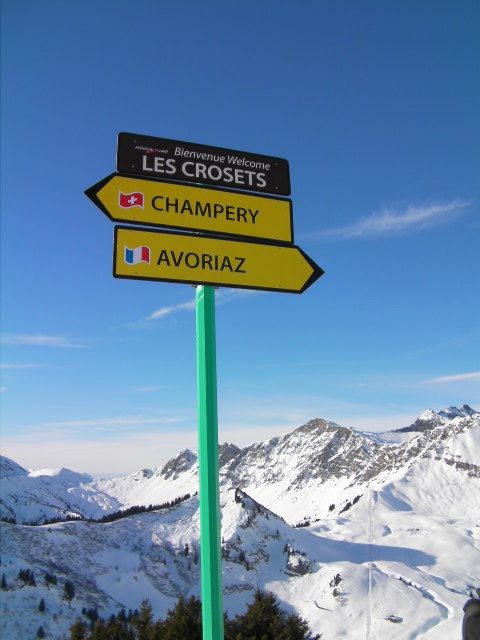 Ski resorts in France and Switzerland can be accessed in the Portes du Soleil ski area.
(photo: FTO/Leigh Mytton)

Vicci and her pro-snowboarder buddies tackle a roof in Les Crosets.
(photo: FTO/Leigh Mytton)
Les Crosets is part of the extensive Portes du Soliel skiing area. Many people only purchase an Avoriaz pass, but its worth spending the extra cash to upgrade, because – once we'd arrived on Swiss snow – the pistes were deserted.
The Portes du Soliel boasts 10 parks, making it freestyle heaven. Four of them are in Avoriaz and they can get quite busy, but the jumps and rails at Les Croset were there for immediate taking.
After taking a break for hot chocolate at a warm and welcoming chalet-style restaurant, a short ski took us into the neighboring resort, Champery. The run into the village is long and cruising, dropping into tree-lined avenues in the lower section. Try not to get too distracted by Champery's delights, though, because the last lift back to France departs at 3 p.m. and we needed to be on it. Thanks to Jeff's expert planning, we made it and that evening enjoyed dinner at one of the cozy taverns lining the main street of Avoriaz. The duck was to die for. Upon returning from dinner to my apartment, I'm greeted by a surprise email in my inbox — Jeff had been taking pictures and videos all day, and sent me a link to a website where I can download his work. It's a nice touch.
Chamonix
The next morning, we were on the road at sunrise for the two-hour drive to Chamonix. Jeff had arranged for us to travel with Ski Lifts, a company that specializes in airport transfers from Geneva, Lyon, Chambery and Grenoble to numerous Alpine resorts.
Chamonix, at the foot of Mont Blanc, is a vibrant and busy place. The streets are lined with designer boutiques, bars and restaurants and, in comparison to Avoriaz, conjured up a city vibe.
However, my hotel Les Cretes Blanches was a beautifully-presented haven of tranquility. Typical of the unusual and memorable hotels Jeff sources, it combined chalet-style comfort with a modernism.
Its crowning glory was a Japanese tea room, offering sushi and Far Eastern beers to tired skiers instead of the coffee and cake that has become the norm.

The panorama from Les Grands Montets viewing platform in Chamonix.
(photo: FTO/Leigh Mytton)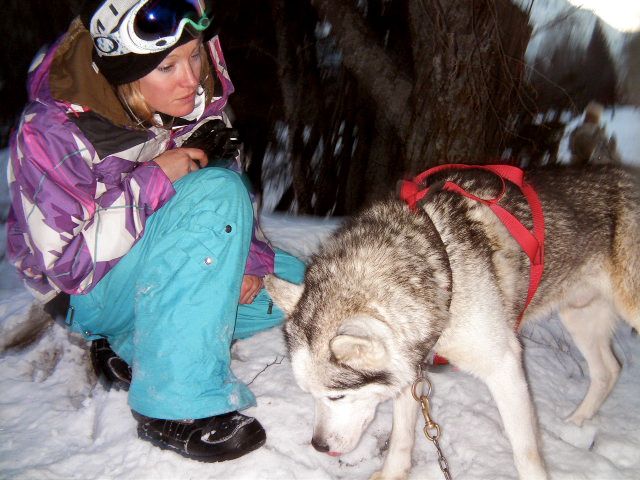 Vicci makes friends with one of the trusty huskies from our sunset trek in Chamonix.
(photo: FTO/Leigh Mytton)
Our skiing that day focused on Les Grand Montets area, accessed from Argentiere. It was another blue-sky day, and with fresh legs we first tackled some challenging black runs and mogul fields before admiring the view over the Glacier d'Argentiere. The other side of the mountain offered much easier terrain, as well as a terrain park and a charming restaurant, where many people were sunning themselves in deckchairs.
That evening, Jeff had arranged for me to take part in some dog sledding, courtesy of a company called Huskydalen. Upon arrival, we were greeted by a group of very excited huskies, who would be providing the pulling power. We were allowed to pet these beautiful creatures before they were attached to our sleds, and after a lesson in driving the dogs we set on a sunset canter around the golf course. It was an awesome experience.
Zermatt
On day three, we crossed the border to Switzerland. Our hotelier kindly arranged for us to take breakfast trays in our rooms so we could get an early start on our three-hour trip to Zermatt.
Zermatt is another car-free resort. Like many travelers, we left our vehicle in neighboring Täsch and take the mountain railway into Zermatt. My accommodation was the perfectly located Le Petit Hotel, just seconds from the town square and its imposing church. The rooms in this quirky, triangular-shaped building were incredibly cozy but there wasn't time for a nap. We were anxious to ski, but not before we had admired the breathtaking view of the wonderfully-jagged Matterhorn that looms over the town on clear days.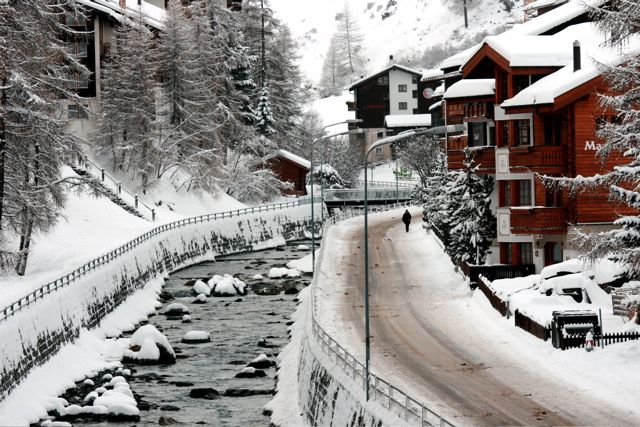 Street scene in a very snowy Zermatt.
(photo: FTO/Leigh Mytton)

A view of the Matterhorn on the drop down to the Hohtalli lift in Zermatt.
(photo: FTO/Leigh Mytton)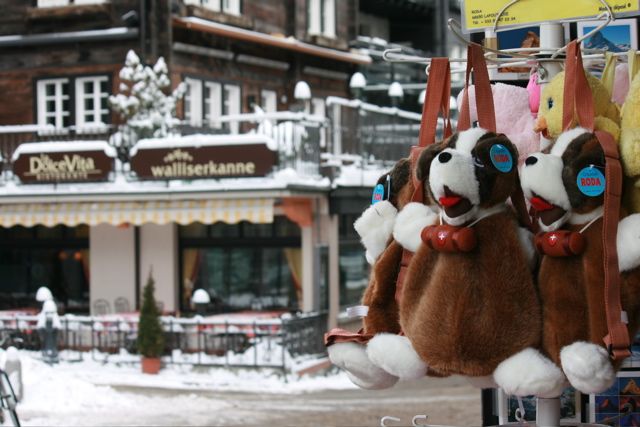 Zermatt's main street is lined with many shops, bars and restaurants.
(photo: FTO/Leigh Mytton)
For our warm-up, Jeff led the way to the Rothorn and Sunegga skiing areas, with their plethora of gentle runs. We then headed closer towards the Matterhorn, via the Hohtalli station, before skiing alongside the mountain railway line on our way back into resort. It hadn't snowed for nearly two weeks, but because it stayed cold, the pistes remained in great condition.
A must-visit for any party people is the Schneewittchen nightclub, just across the bridge from the town. It's a two-story affair where you can dance through the night, but I was tired and tucked up at Le Petit Hotel by 2 a.m.
After three days of skiing in France and Switzerland, it was time to hit the third country on our itinerary: Italy.
Cervinia
The resort of Cervinia is a five-hour drive from Zermatt, but you can reach it on skis by dropping across the border from the Klein Matterhorn station in a matter of minutes. It's a beginner's paradise. Numerous wide, easy runs filter down into Breuil-Cervinia, so there's plenty of variety for novices who don't want to travel too far. The resort is also home to a huge snow park, famous for its impressive kickers, but there are boxes and rails, too, and the crew were extremely welcoming.
Jeff had sourced a fantastic pizza restaurant for lunch in the shadow of the Matterhorn, which looks very different on this side of the hill. It makes for a fabulous view over a lazy lunch.
Saas-Fee
The final leg of our journey is an easy one. Saas-Fee, also in Switzerland, is just a 50-minute hop from Täsch, from where we collected our vehicle after a fun-packed day in Italy. By now my legs were beginning to feel the burn, and it was a great relief when I arrived at my apartment at Haus Alfa.
Saas-Fee is another pedestrian-only town and the cream-colored chalet-style building is just seconds from where Jeff dropped me off in the parking lot. It meant that I didn't have to carry my luggage very far. I was even more delighted when Sara, the owner, showed me to my spacious, comfortable quarters complete with two huge sofas to recline on.
After a good night's rest, the view that greeted me from my balcony looked hopeful. The mountains were bathed in pale sunlight and it looked like it was going to be another fine and clear day. But then the weather closed in. A dusting of the white stuff was needed, I suppose, but for the first time in five days I had to wrap up really warm.
Jeff led the way to the Alpin Express. Switzerland's famous for having very high mountains and, when we reached Felskinn at 3000m, there was the option of ascending another 500m to the high point, Allalin. But it was blowing a gale and with the wind whipping my cheeks I elected to get off and head down the valley into some shelter.
Saas-Fee is very popular with Swiss weekenders, but it's relatively undiscovered by large-scale tour operators, which gives the resort a traditional feel. It also boasts cozy coffee shops and numerous ski and snowboarding outlets. It was hard to resist the temptation to splash the cash.
The skiing area is impressive as well, taking in the neighboring resorts of Saas-Almagell and Saas-Grund. Jeff usually spends a couple of days exploring its delights with his clients, but sadly it was time for me to go.
I had only been away for five days, but the variety and number of the places I had visited made the trip seem so much longer than a standard vacation. It had also inspired me to explore further and to find out more about the history and culture of the resorts on our itinerary. I still love Austria, but the safari had opened my eyes to how much the European Alps has to offer. Besides, Jeff knows a fantastic route through the Salzburg area, and that's always an option for the future, isn't it?
For More Information: