Jackson, WY – Friends sometimes ask me why I often fly to ski regions with large, world-famous mountains and then end up spending as much or more time at the lesser-known "second-banana" areas nearby.nMaybe it's the old Groucho Marx maxim, "I'd never want to belong to a club that would accept people like me as a member," but I'm not a big fan of being part of a crowd that has traveled somewhere to do the exact same sport as me. Whenever I fly into Florida to play golf with my father and see countless people waiting for their clubs at the luggage carousel, I impulsively bristle. Same deal when I arrive at a popular mountain-bike region and see every other person with a $4,000+ ride on the back of his or her car.
But the worst is when I'm in a major ski hub airport like Denver, Salt Lake, Innsbruck, or Zurich, and am surrounded by hundreds of my ilk. Most skiers find it inspiring to be part of a throng that's united by its love of mountains, deep powder, fresh air, and endless vistas. They tell war stories, compare notes, click their poles at the end of a great run, and become comrades, if even for a few minutes. Me? I hate it.
For two decades, I kept myself on the straight and narrow (cross-country skiing) because I loved being alone or with a couple friends in quiet forests, hills, and mountains. Skimming through hardwoods or pines in total silence and solitude – that was my heaven. I avoided resorts like the plague because I didn't want to deal with the "horde" side of lift-served skiing – fighting for untracked snow, crowded trails, standing in lift lines, overflow parking lots, being sardined into a tram filled with stinking people, etc. And I didn't like paying for lift tickets either. Call me whatever you want – snob, pansy, navel-gazing narcissist, cheapskate – but that was my POV.
Long story short, about nine years ago, I got hooked on alpine skiing and, on a certain level, never looked back. At the same time, my distaste for mountains with a hardcore "industrial tourism" angle went merrily on.
Last season, this issue reared its head again while I nervously eyed travelers at the Jackson, Wyo. airport waiting for their suitcases and ski bags. Some had thick New York or Boston accents; others sounded like they were from Texas. Several were wearing expensive, brand new ski coats and accessories, while a few had mended their fraying garments with duct tape. Two older, prosperous-looking men were wearing floor-length fur coats and pointed cowboy boots like celebrity lawyer Gerry Spence. Different ages, clothes, body types, and socioeconomic levels, but the one thing this disparate group of people had in common was that most, if not all, were there to worship at the world-famous ski cathedral Jackson Hole Mountain Resort.
My original plan was to do just that – ski most of the week at Teton Village, bookended by a day each at Snow King and Grand Targhee for variety. But because of weather- and logistics-related issues, I ended up doing the opposite, and spending most of my time at Snow King and Grand Targhee – two ski areas that are as different from Jackson Hole as they are from each other. One is a small, but steep town hill, the other a sprawling, powder haven with mostly intermediate terrain. While neither ski area impresses people back home as much as Jackson Hole, I'm more than happy to trade bigger and better terrain for fewer people and less hassles.
Snow King

Snow King's ski trails form an impressive backdrop to downtown Jackson, Wyo.
The trails of Snow King provide an impressive alpine setting to the town of Jackson. Several years ago, while driving in from the airport in a shuttle van, I remember a woman sitting beside me looking up at Snow King and saying, "I thought Jackson Hole was bigger than that!"
While 1,571 vertical feet and 400 skiable acres may not sound like much compared to Jackson Hole, you'll be surprised at the challenge Snow King packs for a hill of its size. The lower part of the mountain has mostly wide intermediate runs that wind through skiable trees. If you head up the Summit lift and skim across the Saddle Cornice along the ridge, a handful of genuinely steep pitches, especially the "S Chutes" and "Bearcat" on either end, will keep you more than occupied.
While it reminds many skiers of a mid-sized East Coast hill 200-120 with trails cut through dense woods and hard-and-fast conditions, hit it on a storm day (or two, as we did), and Snow King's deserted terrain, ski-on lifts, and complete lack of competition for powder are paradise for someone like me. After being chased away from Jackson Hole – which was closed from top to bottom due to 60 mph wind gusts – I drove back to Snow King and skied untracked knee-deep powder in the trees all afternoon with virtually zero wind. At the end of the day, none of my crew felt cheated that we weren't at the big show across town.

Cruising Cougar at Snow King.
Another big plus is that, instead of cramming down your breakfast and rushing to beat crowds to the lifts, powder-day mornings at Snow King are an entirely different kettle of fish. You can take your time getting out of bed, then head over to the Atrium for a relaxing buffet breakfast. After you push away from the table and walk the 50 yards over to the lifts (which open at 10 a.m.), the entire mountain and all that untracked snow are yours.
Since becoming Wyoming's first ski area in 1939, Snow King has always been the place where local kids ski (or more recently, hit the terrain park) after school and people who work in town get in turns during their lunch hour. For years, it's hosted World Cup racers who train on its steep, consistent runs. And in a little-known factoid, Snow King is home to the only active cemetery located inside the trail network of a North American ski area.

Snow King's deserted ski runs with the town center below.
For destination visitors, the resort is a convenient headquarters that allows you to ski at Jackson Hole during the day and hang out in the middle of town, only six blocks away, during the 70-461 evening. Snow King also offers a popular "Ski All 3″ package – the closest thing to an interchangeable regional ski pass – that includes accommodations at the base, lift tickets at Jackson Hole, Grand Targhee or Snow King, full breakfasts every day, and transportation to and from all ski areas.
Lodging options include nicely appointed western-themed rooms at the Snow King Hotel or, our choice on this trip, the stunning Love Ridge lodges halfway up the hill. Another advantage for out-of-towners is that lift tickets can be bought in two- or three-hour increments, allowing you to do some warm-up laps the afternoon or evening of your arrival.
Grand Targhee
Located just east of the Idaho state line, Grand Targhee's renowned tagline was, for years, "Snow From Heavens, Not From Hoses" – alluding to the fact that it receives, on average, 500 inches of 5% water content snow every season. Weather forecasters will tell you how "mountain orographics trap west-to-east storms against the Teton Range, bringing Targhee approximately 100 inches more snowfall per year than Jackson Hole." That's to say, if you can check your testosterone at the door and deal with the fact that most of the lift-served runs are bluish in difficulty, there are few, if any, safer bets in North America for nailing a powder day on an advanced-booked trip. Even those without a local's knowledge can poke around the 1,800 acres of rolling bowls, gullies, pines, and aspens and find the goods without too much effort. Moreover, with small crowds, you won't have to fight your way through hordes of powder-hungry nutcases across crowded, bumped-up traverses.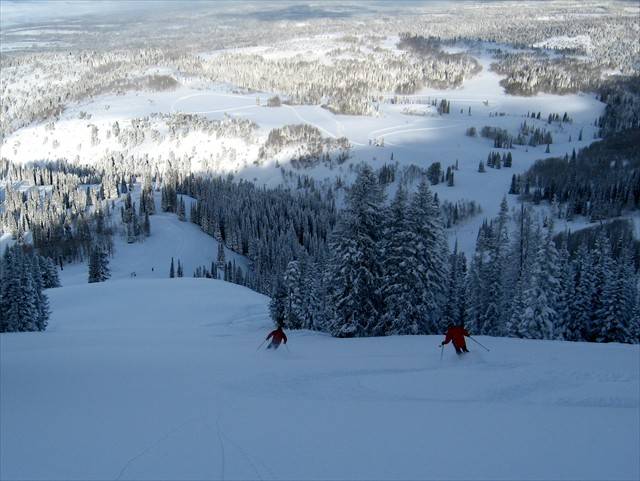 A Grand Targhee powder day on Big Thunder.
As my wife discovered, it's a perfect place for overcoming the anxiety of skiing in snow rather than on top of it. During previous visits, she stuck to Targhee's miles of perfectly manicured cruisers, while the rest of our group was wallowing in untracked sugar just a few yards away. But before our most recent trip, we made a deal on the plane. She was going to rent a pair of 100mm-waist skis, keep her skis together and her arms in front of her, and stay out of the back seat – hopefully all at once. And it worked. For the next three days, she finally understood why people chase storms, get up early to nab first tracks, and temporarily ditch longtime friends.
About the only thing that prevented us from achieving total powder Zen was the dense fog bank parked over the upper mountain. Not an uncommon phenomenon at Grand Targhee, the summit occasionally gets so socked in, it's tough to tell up from down or if you're standing still or moving. Luckily, the reward for brailing your way out of the cloud blanketing the top 500 vertical feet is being able to float down the next 1,500 through knee-deep powder with no moguls to slow you down.
When the lifts stop turning, you can après-ski at the Trap Bar and Grille in Targhee's compact base village, then move on to dinner at the atmospheric Branding Iron Grille or grab some Italian food at Powder Mountain Pizza. There's also a full-service spa with an outdoor pool, hot tub, sauna, and exercise room. And everything is literally steps from the bottom of the lift. Another selling point is that instead of running into obscenely rich tourists out on their annual Big Western Trip™, you'll generally run into normal folks who are there for a low-profile getaway at a place that has enough services to keep everyone happy but doesn't mess up the natural ambiance.

USFS naturalist Andy Steele
That same unspoiled vibe inspired the U.S. Forest Service to partner with Grand Targhee to educate people about the pristine environment in and around the mountain. Resort naturalist Andy Steele was brought in eight years ago to create year-round activities like snowshoe and wildflower hikes, mountain biking tours, bonfire discussions, and other outdoor-related programming. Ever since, Andy's enthusiasm, knowledge, and always-visible beard have transformed him into the public face of Targhee, even though he wears a USFS uniform.
My wife and I joined Steele and a local high-school class on a snowshoe hike through the woods below the Shoshone lift. Instead of a boring facts-and-figures lecture, he got the attention of the entire group with stories of native flora and fauna, animal life, snow crystals, and the ecosystem. While I couldn't say that I was delighted to miss a powder morning (our third in a row there), the hike was more than worthwhile, and it was great to see school kids react so positively.
Steele was also the driving force that convinced the resort to embrace the concept of environmental sustainability and integrate it into guests' vacations there. To spearhead this effort, in early 2007 Grand Targhee hired Christina Thomure, its first full-time director of sustainable operations to, as she explained, "reduce waste in all forms: time, money, effort, materials." Building on grassroots organizing that had begun there years earlier, she quickly got to work on developing a range of environmentally-related initiatives.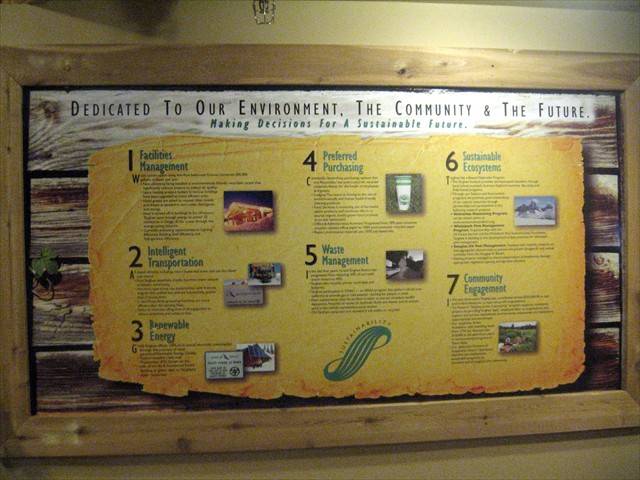 Grand Targhee's sustainability mantra.
Thomure started by knocking off the low-hanging fruit – installing low-flow water fixtures, educating guests to forego washing towels after one use, purchasing post-consumer recycled content, switching from plastic to corn starch-based disposables and reusable cups, flatware, and bulk dispensers for condiments to replace single-serve items. Next up was to recycle as much solid waste as possible, buy locally-raised, all-natural beef products, and replace all cleaning products with biodegradable, non-toxic ones. All of Targhee's diesel vehicles, including resort buses, snow cats, and an employee shuttle from nearby Driggs now run on a biodiesel blend. In summer the resort hosts a Sustainability Fair featuring products and services from local businesses, non-profit groups, and government agencies, along with exhibits demonstrating responsible social and environmental behavior in Teton Valley.
At two summer music festivals, Targhee diverted 47% of its waste stream from the landfill through recycling and composting. For 12,870 pounds of trash generated, 1,040 pounds of food waste were composted while 5,070 pounds of glass, cans, and plastic bottles were recycled.
So how do visitors feel about Thomure's weekly presentations and sustainable-lifestyle messaging? She explained, "While a few guests have disagreed with the programs we've developed to make people aware of our environmental impact, most react very positively and take that message home with them, which is very rewarding. The trick is to avoid browbeating them at every turn. After all, they're on vacation."