Highmount, NY – While the formation of a citizen's group to help save a local ski area in danger of closing isn't unheard-of, the longevity, enthusiasm, and organizational powers of the Coalition To Save Belleayre Mountain are. Formed in the early 1980s when New York State threatened to shutter this government-owned and -operated ski operation in the western Catskills, the Coalition has, over more than a quarter century, served as a vigilant watchdog and public-relations advocate for an unspoiled, but economically struggling region.
In the following interview, I spoke with group's founder and chairman, Joe Kelly, about their role in the past, present, and future of Belleayre Mountain Ski Center.

Members of the Coalition to Save Belleayre gather to rally at the New York State Capitol in Albany.
(photo: Coalition to Save Belleayre)
Q: When did you start coming to Belleayre and how were things in the Catskills back then?
Kelly: We first started coming here in 1976. With three young children, my wife and I were looking for a region within a three-hour drive of our house in Long Island. We weren't even skiers at that point, but we fell in love with the mountains in the western Catskills, started skiing at Belleayre, made a lot of friends, and have been coming back ever since.
Already when we arrived there in the mid-1970s, the Catskills had been steadily losing tourists for a couple decades, as people in the New York City area got in the habit of taking airplanes to far-off destinations instead of visiting somewhere within a few hours' drive.
Q: How did Belleayre compare to other ski Catskill areas back then?
Kelly: Gore, Whiteface, Hunter, the mountains in southern Vermont – they all had a snowmaking advantage over Belleayre, which barely had 20% coverage. That alone made a big difference for people when deciding where to ski. But it was around 1979 when things started looking really ominous for Belleayre. There was a document called the "Legislative Committee on Expenditure Review," a report on New York's three state-owned ski mountains, that essentially recommended directing the state's resources toward the two mountains in the Adirondacks, and didn't have much, if anything, to say about Belleayre.
Later, it was decided that all of the equipment used during the 1980 Winter Olympics in Lake Placid would be divided between Whiteface and Gore, with nothing for Belleayre. Mind you, at that point, all three ski areas were run by the DEC, and season passes were available that allowed people to ski at all three areas. It's really unfortunate that the current arrangement – with Gore and Whiteface under the direction of ORDA, and Belleayre more or less a free agent – doesn't allow that. All three ski areas should be under one umbrella.
Q: So it was during the early 80s when you moved from Belleayre customer to Belleayre advocate?
Kelly: You have to understand; at that time, Belleayre had acquired a very clear look of death. There were only two trails that had snowmaking; they weren't putting in any new lifts or creating new terrain; the lodge was rundown. When you went there, it wasn't a very cheerful experience – especially when you consider that Belleayre was the mountain that pioneered lift-served skiing in New York State. The final blow was when then-Governor Cuomo came out with a 1984 budget that included $100,000 to mothball the ski area.
That budget energized us to begin organizing a group of people to save Belleayre, which culminated in presenting 13,000 actual signatures to the governor. Newspapers within a three-hour radius, including the New York Post in Manhattan, were publishing editorials in support of the ski area. Even politicos from Long Island – some of whom had never heard of Belleayre – were writing letters on our behalf. And within a month, Governor Cuomo reversed his ruling and earmarked funding for the ski area.
But even though we had been taken off death row, so to speak, it was only the beginning: a temporary reprieve. There was a ton of work to be done to make Belleayre competitive, so our group drafted a plan addressing what we considered to be the three most important improvement areas: snowmaking, trail development, and marketing. Just getting a new chairlift in those days was a big event for us. One of the biggest breakthroughs was when Pine Hill Lake – which had been damaged when a dam broke after a big flood – was reopened for public use during the summer and tapped as a snowmaking reservoir during the winter.
So that's how our advocacy group, Coalition to Save Belleayre Mountain, came about. Everyone thinks "oh, it's a state-owned ski area; there'll always be funding; it'll always be around." But we found out the hard way that this wasn't necessarily the case.
Q: So this is where Belleayre's underdog status came from?
Kelly: Belleayre supporters learned very early on that we had to fight to get what we need. The incentive to keep our ski area open is very strong.
Even if some skiers eventually move on to other mountains, many got their start at Belleayre. It has a great history and a powerful spirit, and people get involved, whether it's for the racing program or the Belleayre Conservatory music festival, which was founded in 1992 to bring people to the area during the off-season. The first year, we had the full Brooklyn Philharmonic and they performed in the open air, which was a daunting proposition considering how quickly the weather can change up here and how much expensive equipment was on the stage. We now host 15 shows a year and a long list of well-known performers have played here. Currently, the artists play under a large tent, and a nationally prominent architect has donated plans for a permanent performing arts center that will seat 1,500 people under cover, so we're very excited about that. Former Governor Pataki lauded The Conservatory as a great example of a public/private partnership that should be emulated at other state facilities.
Q: Why have the Catskills had such a hard time economically over the last few decades?
Kelly: The overarching problem in the Catskills, just like in all of upstate New York, is declining population. But combine that with the stringent environmental regulations tied to the forest preserve and the New York City watershed, and you've got a lot of obstacles preventing the creation of a vibrant economy. Whenever any kind of economic stimulus is put on the table, the DEP quickly gets involved – a recent example is the controversy over drilling for natural gas in the Catskills – so the only economic activity that can really exist up here is tourism. But even that has a lot of strings attached. Our geographic proximity to the tri-county region downstate is a double-edged sword. It provides us with a huge potential market, but because this corridor is the source of New York City's drinking water, we're saddled with a very complicated bevy of burdensome regulations.
It's very tricky to combine environmental stewardship with economic stimulus. For example, Delaware County on Belleayre's border is something like 70% public land, and not coincidentally, it's the second poorest county in the state. As economically depressed as things are along the Route 28 corridor right now, imagine it without Belleayre!
The central Catskills region needs the ski area not only to survive, but to flourish. That's why I became such a fervent advocate. However, it's not only a selfish incentive; it's also an egalitarian motivation in that you can see how declining school enrollments, struggling businesses, churches closing, rising taxes, and people moving away for better economic opportunities are all part of a vicious circle. And once again, we're barely 2.5 hours from New York City!
Q: Over the previous two seasons, a feud developed between the Catskills ski areas, with Hunter, Windham, and Plattekill claiming that the state had, through Belleayre, created an unfair competitive playing field.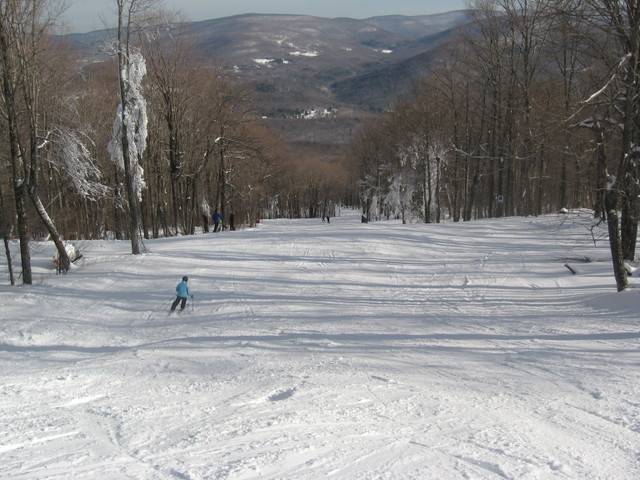 Despite its proximity to New York City, Belleayre's busiest ski season ever saw only 175,000 visits. (photo: FTO/James Michaud; skier: Zoe Temko)
Kelly: A lot of people in Greene County were spooked when former governor Spitzer signed the Belleayre Resort Agreement in Principle, known as the "AIP," in September of 2007, because they felt that the new resort would hurt their business. I was certainly puzzled by their reaction, and can't think of another example of one county attacking another over potential tourism revenues. To take a non-skiing example, it's like private golf clubs on Long Island blaming their poor financial performance on the presence of the state-owned courses at Bethpage State Park. Or Jones Beach being accused of stealing sunbathers and swimmers from a private beach.
What's funny is that Belleayre's best season ever was 175,000 skier visits, while Hunter and Windham routinely do many more than that, so I'm not sure how David was transformed into Goliath. During tough economic times, I guess that people start looking for scapegoats. Fortunately, over the past several months, we've all gotten back on the same page and realized that it does none of us any good to be fighting among ourselves.
I'm convinced that the solution is for all of the ski areas to work together to compete against southern Vermont. The Catskills do something like 800-900,000 skier visits every season, but given the fact that we're only a couple hours from an enormous metropolitan region like New York City, that number should be much larger than that. We should be organizing to increase skier visits for everyone, especially during weekdays, and not playing a zero-sum game where one mountain is viewed as boosting its revenues to the detriment of another. I think that things are moving in a more cooperative direction with the new CATS frequent skier card. It's a good first step.
Q: What about the criticism that Belleayre offers discounted lift ticket deals that the other ski areas can't match? Many also point out that, unlike the private ski areas, Belleayre doesn't pay taxes on its revenues or a variety of insurance premiums.
Kelly: Belleayre has always operated from the standpoint that it's preferable to have 1,000 people here on weekdays at $25 a ticket rather than 200 people paying $55 each. Those 1,000 visitors will hopefully spend money at hotels, restaurants, and other points throughout the region. It doesn't do the population in this area any good when the ski area is empty. Belleayre has two main objectives: to help stimulate the economy and to provide reasonably-priced recreation – not to maximize revenues. Our shareholders are the people of New York State, and Belleayre is here to serve those people.
What you have to remember is that Belleayre wasn't created as a way for the state to become a money generator in and of itself, but to act as an economic catalyst for the region around it – similar to the role Whiteface plays for Lake Placid and Gore for North Creek. It's not like the state forced Belleayre into a region where there were already privately-owned ski areas. Belleayre was operating at least 10 years before Hunter, Windham, Plattekill, and the others. The reason that those other mountains were able to open back then was because Belleayre had already established a strong ski clientele in the region. That's why, at least to me, it sounds a bit disingenuous when people accuse Belleayre of anti-competitive practices. Moreover, if you visit Belleayre on one of those discount weekdays, quite a few of the skiers are on 25-year-old skis and bindings. Many of them can't afford a $70 lift ticket, and they wouldn't be out skiing otherwise, so it's not like Belleayre is stealing them from other mountains.
By the way, all New York State facilities are self insured, including those in Greene County.
Q: Some feel that that states shouldn't be in the ski business and that Belleayre should be leased out to a private operator.
Kelly: The state is in the ski business because the people of New York approved a specific amendment to the constitution in the late 1940s. And they underscored that decision by voting to expand Belleayre in 1987. In short, Belleayre exists because of the people's will.
We went through the "lease Belleayre to a private contractor" discussion 10 or 15 years ago, and it keeps popping back up. I think that it would be extremely unlikely because a constitutional amendment would have to be passed not once, but twice by the legislature. The people who keep bringing it up as an option – and they often point to Sunapee in New Hampshire as a blueprint – don't understand how specific Article 14 is. New York State has very strict laws concerning the forest preserve, which is great for maintaining the natural beauty in this region, but not so great for people trying to live and raise families here.
Q: The planned Belleayre Resort hadn't been in the news much lately, but last weekend an article in the Albany Times Union reported on a scaled-back resort.
Kelly: The Agreement in Principle hasn't moved an inch forward since it was signed more than two years ago. The environmental review of this project has been stuck in the DEC (Department of Environmental Conservation) for something like 12 years. 12 years! And Belleayre still hasn't received a Unit Management Plan, which hurts the ski area, because we can't make any real preparations for the future. At some point, the DEC has to fish or cut bait, because the ongoing delay is hurting everyone. Former governor Spitzer is still a bit of a punch line throughout the state, but he was a big advocate for this region and came up with a compromise solution that was agreed to by seven of nine environmental organizations, the DEC, the developer, and New York City's DEP. It would bring 300-400 new jobs to the Route 28 corridor, increase the tax base, and help revitalize the area. To put it mildly, it's maddening to see this project sitting in limbo.
Q: This article reiterated complaints that critics have been voicing for years – that the development would increase road traffic, alter views on local trails, change the character of small valley hamlets, and damage the environment.
Kelly: The Times Union reporter should take a little more time to talk to locals who can't find jobs, the schools with precipitous enrollment declines, and the newly elected mayors of surrounding villagers and towns who are desperate for economic initiatives like this to survive. They want a future for themselves and their families in this area. The reporter doesn't even refer to the Agreement in Principal. He seems to want to go for the easy negative quote that the begrudgers are always willing to put forth. Increased road traffic is the least of our problems!
Q: What do you say to people who are uncomfortable with the proposed public/private partnership with Crossroads?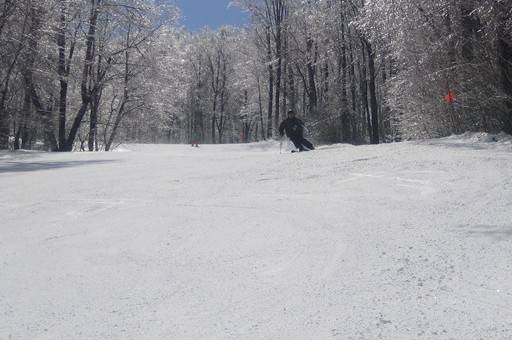 The author cruises the slopes of Belleayre. (photo: FTO/Jason Temko)
Kelly: The fact is, joint ventures like this occur everywhere: the World Trade Center, the Bethel Woods Center for the Arts, the Saratoga Performing Arts Center, the development at North Creek near Gore Mountain. That's how economic development occurs all over the country! Why should Belleayre be exempt from working to improve the economic conditions in its surrounding communities? If the state can make an infrastructure investment and get 1000% percent more in private funding for job- and tax-producing projects, that sounds like a no brainer to me.
It's not enough to have skiers only coming up here for daytrips; we need visitors who'll stay for several days. People want nice places to stay and we simply don't have enough of them nearby. The same type of proposal for the town of North Creek was approved at Gore Mountain within the Adirondrack Park and is under development. The environmental approval process there was not nearly as rigorous as the one Belleayre is being put through and was completed in two years!
Q: How has it been working with Superintendent Tony Lanza over the past ten years?
Kelly: Tony loves the sport of skiing, the mountain he runs, and the region he lives in. He's very much a part of Belleayre's fabric – he skis here in the winter, and golfs and hunts here in the off season. He functions as a one-man marketing machine for the mountain, and does it on a shoestring budget. His upbeat, magnetic personality is reflected in the ski experience here. You always hear people saying what a great "vibe" Belleayre has. On a certain level, it's skiing the way it used to be, but with decent lifts and excellent grooming. In my opinion, a lot of the very positive atmosphere that people encounter at Belleayre is due to Tony's leadership.
Tony realizes that on-mountain operations – especially in the northeast where grooming and snowmaking are so important – are the dog wagging the tail, not the other way around, so he gets out and skis the trails literally every day. He's not in his office basing decisions on web-cam photos from his computer. Even when Tony's giving a group of visitors a tour of the trails, he's constantly talking to his team, finding out what's good and trying to fix whatever needs attention. And at lunch, he often sits down with different people in the lodge to find out how he can improve the ski experience. He's great at listening to people and explaining why or why not he's doing something.
But to answer your question, I think that we work well together because we both have a skier's passion for Belleayre and have similar ideas about how to improve it.
Q: So now that you've retired, are you spending even more time advocating for Belleayre?
Kelly: I retired from my paying job a year ago, but I've kept my non-paying job here at Belleayre! I may have gotten it backwards! In any case, I have no regrets. I've always been involved with the towns where I live, especially up here in the Catskills because there are so many challenges. We've had some losses, but we've had some tremendous successes. It's an ongoing challenge to prosper in a tourist-based region with so many economic, environmental, and political issues. I'm proud of what's been accomplished here. Belleayre is a much better ski mountain than it was 20 years ago and we plan to keep building on that.
We're constitutionally limited to 25 miles of trails, and right now, we're at a little more about half that. There's a lot of potential here, and when our expansion plans are approved, we'll have an almost 2,000-foot vertical drop on the east side of the mountain. It'll be a much improved ski experience, one that will be a tremendous boost to the economy of the area.
It's imperative that the state government not only realizes how important Belleayre is to Ulster County, but acts on that fact. Particularly during the winter, Belleayre is the only thing going on along the Route 28 corridor. It's literally the lifeblood of the area.
For more information: