Taos, NM – A while back, my wife and I came to terms with the fact that we have conflicting expectations for ski vacations. Her ideal trip follows a more European model. It should be a sacred, relaxing time when you're able to do everything that's normally impossible at home – sleep until mid-morning, leisurely sip coffee over breakfast, linger over an unhurried lunch, relax with a late-afternoon massage or facial, drinks, a nice dinner, along with a couple hours of skiing. Meanwhile, I lean toward the North American "ski yourself into the ground" mentality. I want to wake up early, get to the mountain before the lifts open, rack up a maximum amount of vertical in (hopefully) powder, go to bed early, and do the same thing again the next day.
About the only thing we seem to agree on is the need for some sort of local atmosphere. Nothing is as depressing for us as to stay at a generic, could-be-anywhere village. Unfortunately, over the past 20 years, many ski towns have morphed into high-end suburban subdivisions filled with condo ghettos and/or 10,000 square-foot trophy homes. Even though we've had successful trips to resorts where we focused on skiing and managed to disregard a surrounding town that looked and felt like a Sacramento suburb, it's always more satisfying for us when we're visiting an area that was a distinctive place before being transformed into a ski town.
And out west, it's tough to find anywhere that nails the aesthetic end of things as well as the Enchanted Circle of northern New Mexico. With Wheeler Peak, the state's tallest mountain, as its epicenter, the Enchanted Circle meanders more than 80 miles through a unique landscape dotted with forests, valleys, mountain passes, desert mesas, a Spanish colonial village, two resort towns popular with Texans and Oklahomans, and an active Native American pueblo – all enveloped by the intoxicating scent of burning piñon wood.
While attending grad school in Albuquerque in the early 90s, I spent a fair amount of time traveling throughout the region, including two summers headquartered at the base village in Taos Ski Valley. Fifteen years later, the demographics of Taos are more or less the same – a large Hispanic and Native American population, a colony of artists supplying 40 or so galleries, "free-thinking" countercultural types (whatever that means), yuppie transplants hoping to commune with their inner southwest, and outdoor lovers there for the skiing, hiking, mountain biking, and whatever else.
This eclectic jumble of humanity, mixed together in a tourism-based economy, was succinctly and accurately summarized on a ski forum as "a funky little place that appeals to some and drives others crazy." While Taos's positives are obvious – dramatic scenery, great food, unique atmosphere, a town with a distinct sense of place, a melting-pot culture – visitors accustomed to resort towns equipped with a well-oiled service industry sometimes bristle at the area's perceived "mañana" attitude. That's why, whenever you're in New Mexico, it's always a good strategy to (as was also suggested in that same forum thread) "slow down a little and enjoy some green chili." If you play your cards right, you'll end up with a ski vacation unlike those at usual-suspect destination resorts near Salt Lake City, Lake Tahoe, or the I-70 corridor in Colorado.
By using the village of Taos as a center of operations, four ski areas are within a 40-minute drive from the town square: Taos Ski Valley, Angel Fire, Red River, and Sipapu. While Taos is the only mountain widely recognized outside of the region, the other three are all entertaining if you can put away your gnar hat for a day and enjoy terrain that leans toward the blue side of things.
Sipapu

Cruising narrow tree-lined runs are Sipapu's hallmark.
(photo: FTO/James Michaud)

(Trail map image: Sipapu)
With so much information floating around the internet these days, it's tough to claim total ignorance about a ski area, but I can honestly say that I had never read any articles, trip reports, or other information about Sipapu. About all I'd gathered from its website was that Sipapu was a small, no-frills mountain aimed at local families and Texas Panhandlers, and that it offers the longest lift-served season in New Mexico. It also advertised a virtual laundry list of deals, including free skiing for kids six and under, seniors 70 and older, and fourth graders, free RV hookups for anyone who buys a lift ticket, and free lodging for guests on off-peak dates at its funky base-area motel. To keep it real (and hold down costs, I assume), there's no in-room cell coverage, phones, or TVs at the motel.
But the most surprising offering is saved for guests who've recently entered their fourth decade. As the story goes, in 2007, Sipapu's managing partner wanted to celebrate his 40th birthday by allowing others who'd recently reached that milestone to ski or ride free any day of the season. The promotion understandably became popular and Sipapu decided to continue it in the following years. While the logic of giving away your product to people in the prime of their earning years escaped me at first, I assume that these visitors will spend more money in the lodge, bring paying customers along with them, and create positive word of mouth about Sipapu. Whatever the reason, it's good to see a ski area working outside the typical marketing box.
For most of the morning, general manager John Paul Bradley gave us a tour of the area, starting first on the high-speed groomers, and when the snow softened later on, the single-black tree skiing that he and his crew had developed on the upper skier's left of the mountain. Bradley is justifiably proud of his team's land stewardship – improving and adding to Sipapu's terrain without clear cuts or other environmentally damaging alterations.

A basket of green chile fries with a view.
(photo: FTO/James Michaud)
If you're splitting hairs, Sipapu isn't geographically located within the Enchanted Circle, but its location (only 20 miles south of Taos) makes it an easy choice for a warm-up day. With 1,055 vertical feet, 200 acres of skiable terrain, annual snowfall in the 190-inch neighborhood, no high-speed lifts, an old-school lodge, and narrow trails that roll through the forest, Sipapu reminded me of a classic smaller East Coast ski area. While the runs are short, they're consistently-pitched and steeper than what you'd expect for a family hill. Sipapu also seemed to ski bigger than its vertical would suggest – making me think of it as a Sangre de Cristo version of Norquay, near Banff, Alberta, Canada.
Around 3:30, we called it a day and relaxed in the sun with some green chile fries on a picnic table next to the Rio Pueblo creek that gurgles through the base area. While Sipapu is on very few destination skiers' radar, it's an undiluted New Mexican classic and worth a day trip.
Taos Ski Valley
Our visit to Sipapu was the final day of a stubborn high-pressure system that had parked itself over the southern Rockies for more than a week. With the forecast calling for a decent amount of precipitation, things looked good for our trip to Taos Ski Valley.
The drive up the access road the next morning was white-knuckle. With snow blasting down, visibility was barely 20 yards. By the time we arrived at the base at 8:30, avy bombs were blasting in the distance, and wind gales had closed everything except Chair 1, which takes you to the top of Al's Run. Disappointed that we'd have access to maybe a fifth of the lift-served terrain, we sacked up, put on our neoprene masks, and got on the lift.

Chair 1 and Al's Run at Taos Ski Valley.
(photo: Taos County Chamber of Commerce)
During the first hour, I skied untracked along the trees on Al's Run, Inferno, and the trees to the right of the Porcupine trail, but the mixture of wind-pummeled powder mixed with a crusty bottom from the earlier warm-up made it tough going on the steeper pitches. Unfortunately, with my one-day-at-each-area trip format, I don't have much more on-mountain details to report. Luckily, FTO's Tony Crocker wrote an exhaustive feature a couple seasons ago that – with the exception of an expanded terrain park and a challenging new run through the woods off Chair 1 ("North American") – is more or less current.
At 1 p.m., we sat down for a quick lunch with Adriana Blake, granddaughter of Taos Ski Valley founder Ernie Blake. While Marketing Director is her official title, it's just the tip of the iceberg for what falls under her aegis. And on a day with all sorts of weather-related issues, she could barely complete a thought without staff members radioing in to provide updates. We talked about her ongoing challenges to maintain Taos's no-pretension ski vibe while trying to attract a wider demographic of visitors. A big part of that strategy was, of course, the resolution of the decade-long "Free Taos" controversy in which the resort finally ended its ban on snowboarding. I'm sure that Adriana must have been tired of talking about that issue by then, but she couldn't complain about how it turned into a win/win for almost everyone.
As many had predicted, allowing boarders onto Taos's hallowed terrain had a negligible effect on the resort's ambiance. No fistfights broke out and there were no skier boycotts. Adriana reported that, spread across approximately 250,000 ski days a year, boarders now comprise 21% of total visits and that the mountain is now approximately 10% busier. Local merchants got more business from families who had previously been forced to decamp to boarder-friendly mountains, boarders had access to some of the most challenging lift-accessed terrain in the country, and the ski area got more traffic (both day trips and destination visitors), along with weeks of positive press.

(Trail map image: Taos Ski Valley)
Clearly, admitting snowboarders went a long way toward addressing one of the more stubborn perceptions – that Taos was aimed at an older, uncool clientele. In an unscientific survey of locals I spoke to on the lifts, none had any horror stories about single-plankers significantly impacting conditions. Many conjectured that this may be related to the fact that a large amount of Taos's steeper terrain includes boarder-unfriendly traverses. One joked that riders were having the positive effect of scraping the points off moguls. Although I ran into a few Taoseños who preferred the way things were "back in the day" (and that could've been 10 or 30 years earlier, depending on the person with whom you were speaking), the majority of people we talked to during our week there agreed that TSV had to make some changes to stay competitive, with the snowboard ban at the top of the list.
We finished the day with drinks at the Stray Dog Cantina, a hangout of mine during the warm-weather months I spent at the base in the early 90s. I also left with a copy of the coffee-table book "Ski Pioneers: Ernie Blake, His Friends, and the Making of Taos Ski Valley," published by Rick Richards in 1992. Culled from extensive interviews (hundreds of hours, I'd assume) with dozens of people who knew and respected the visionary ski area founder, the book explains in comprehensive detail how Blake created this unique resort. It not only covers obvious areas like Taos's steep terrain and powder days, but less sexy issues like sewer and road construction, marketing to Texans and Midwesterners, dealing with lean snow years, and growth control. By the time I finished the book, it was clear why Ernie's Elvis-like presence lives on at the ski area, 20 years after his death. It was fascinating to realize that the exact same dramatic arc he had put into motion many decades earlier – a vision of a distinctive lift-served mountain for family, friends, and true skiing aficionados, and the compromises involved in making it a sustainable business – was being played out by his grandchildren.
Angel Fire
While at the World Cup café in Taos for coffee, pastries, and a dose of attitude, my wife rolled her eyes upon hearing a barrista describe Angel Fire as "a good place to take your girlfriend." But a few hours later, all was forgiven, because it's exactly the kind of ski area that she loves, and as long as you're not expecting Taos-level terrain, you'll like it too.

Angel Fire's blue groomers overlook northern New Mexico's Moreno Valley.
(photo: FTO/James Michaud)

Gliding down Hell's Bells, one of Angel Fire Resort's steeper pitches.
(photo: FTO/James Michaud)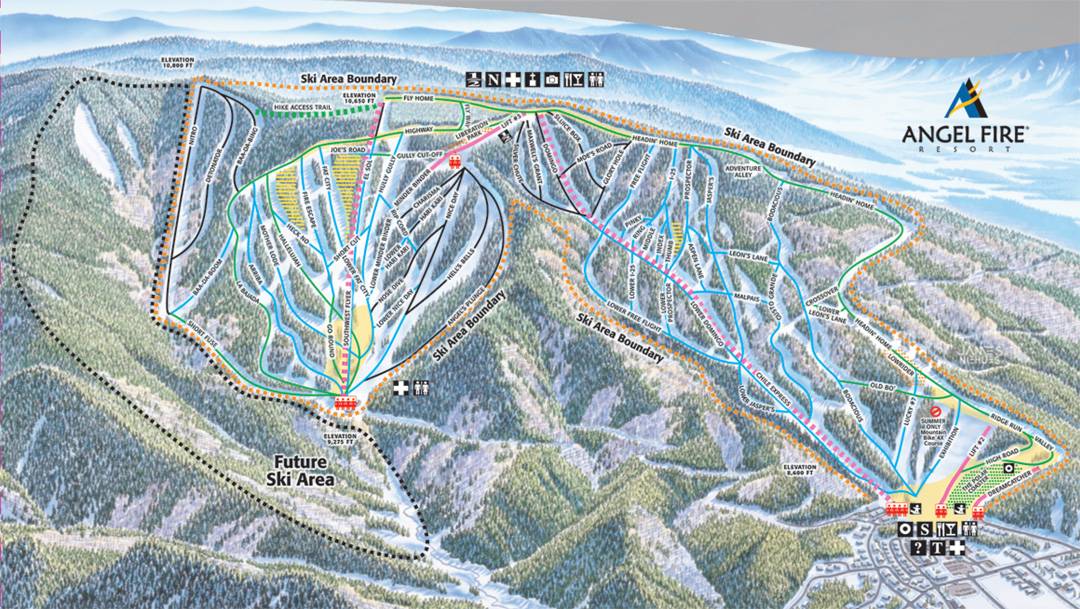 (Trail map image: Angel Fire Resort)
With 210 inches of annual snowfall and approximately 400 acres of terrain, Angel Fire's secret sauce is its long intermediate groomers, making it the yin to Taos's yang. Two high-speed quads (the only ones in New Mexico) cover 2,000 vertical feet on the front side and 1,300 feet on the back – most of which are twisty, rolling, tree-lined runs that could have been lifted directly from New England, but with value-added panoramic views of the Moreno Valley.
While top-to-bottom cruising took up most of our morning, I spent the afternoon tracking up the untouched six inches that had fallen overnight on two deserted glade areas on the back side, along with a few sections of short, single-black shots. While skiing on one of those trails – on the far skier's right after a short hike/skate – I got a better look at the large swath of terrain that's been earmarked on the trail map (for years, it seems) as the site for a lift expansion – one that would increase Angel Fire's black-diamond quotient. However, it's still in the "future plans" phase.
The only real annoyance at Angel Fire is what felt like one of the longest, flattest run-outs in North America (on the lower half of the front side). But all in all, it was an enjoyable, relaxing outing with lots of vertical, effortless turns on soft snow, some nice tree-skiing, beautiful views, and no crowds. And if you haven't run into your share of Texans or Oklahomans lately, Angel Fire is your place.
Red River
The 40-minute drive from Taos to Red River takes you through a rolling landscape with desert-mesa vistas to your left, the Sangre de Cristos to your right, and the village of Questa at the halfway point. The polar opposite from adobe, pueblos, and chakra therapy, Red River is an unvarnished throwback to a ski experience from the mid-80s, complete with brightly painted, retro lifts (aside from last season's new base-to-summit triple chair).

Skiing at Red River is in many ways a throwback to an earlier time.
(photo: FTO/James Michaud)
It was here that we scored the best conditions of our trip: five inches of fresh, impossibly dry powder, which followed seven inches the previous day, and more the day before that – very little of which had been skied. While Red River doesn't have a reputation for challenging terrain, it has a perfect split of green, blue, and black terrain, including a few steep shots up top and some nice glades about halfway down. The ski area makes no bones about its focus (families and kids), and that's who you'll see wedging down the green and blue trails. So if fresh snow is on the menu, you'll be delighted to see very few other skiers tracking up your spoils just feet from the groomed runs.
Red River's clientele (lower-level skiers from Texas, Oklahoma, and Louisiana) takes full advantage of the ski area's primary market differentiator – the lifts are a short walk from virtually any point along the village's main street. So if you're not happy with the lunch selections at the bottom of the hill, you have no excuse for not walking into town and checking out the restaurants there. The setup is especially helpful for those hoping to get a head start on après-ski festivities.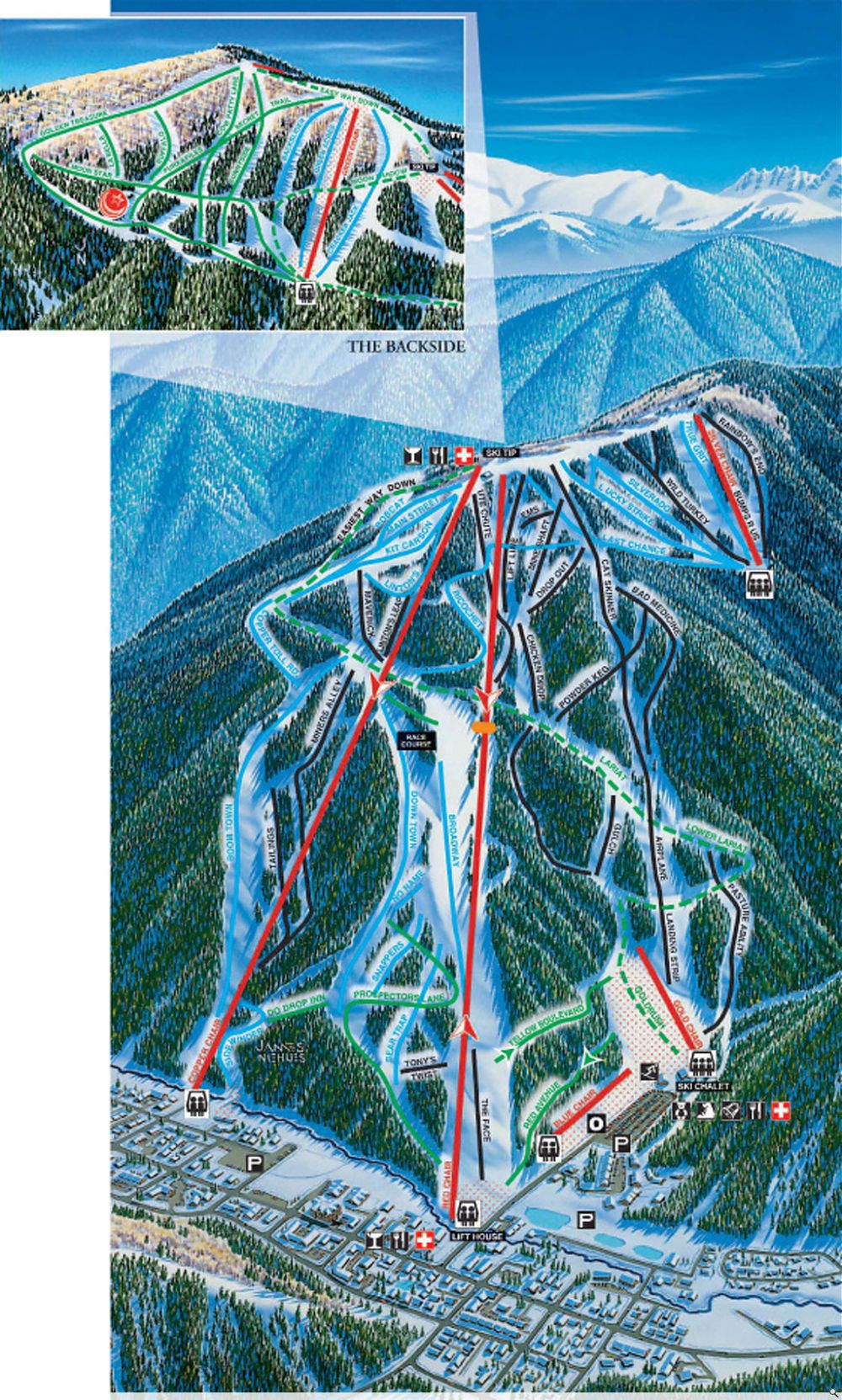 (Trail map image: Red River Ski Area)
On our way to the parking lot, I ran into Red River's ambassador of skiing Wally Dobbs, who knows everyone and can tell you a million stories about his beloved adopted town. He's one of those friendly, garrulous types who make you feel like an old friend after talking for 10 minutes. Throughout his long career at Red River that spanned several different job descriptions, including those of Ski School Director, Marketing Director, and others, Wally's main responsibility has always been to help people have fun. He takes that task seriously – whether it's teaching never-evers on their first day, taking skiers to an old mining shack, or riding atop a frozen turkey on Red River's annual Thanksgiving Day race.
Unfortunately, we couldn't stick around to sample Red River's vaunted après-ski scene and see for ourselves if the village's nickname, "Dead Liver," was accurate. Still, between the bone-dry powder, bluebird skies, deserted trails, and a brief meeting with Wally, we had a memorable day.
El Monte Sagrado Resort
During my travels through northern New Mexico over the past two decades, I'd camped out a fair amount, stayed in a couple bed-and-breakfasts, based myself out of the local Comfort Suites, and spent two summers at the dearly-departed Thunderbird Lodge in Taos Ski Valley. I'd even slept in my car a few times. But the one thing I'd never managed to do is go seriously high-end like you see in those glossy travel magazines.

The El Monte Sagrado resort in Taos.
(photo: FTO/James Michaud)
The stunning El Monte Sagrado Resort, which translates to The Sacred Mountain, to put it mildly, filled that hole in my travel resumé. With a growing stack of Best-Of" honors, including Condé Nast Traveler's "75 Top Resorts in North America" list and one of only two hotels in the United States to be named to National Geographic Adventure's 50 Top Ecolodges, El Monte Sagrado has gotten plenty of notice since its opening in 2003 as the plushest accommodations in Taos.
As mentioned in this feature's opening paragraph, our New Mexico trip was planned as a ski vacation for me and a winter getaway for my overworked and underappreciated wife. She demanded, in no uncertain terms, excellent food, comfortable accommodations, and spa-type relaxin'. If these are part of your itinerary while in northern New Mexico, you owe it to yourself to put a crowbar in your wallet and let it rip at El Monte Sagrado. The first true destination resort in Taos, El Monte Sagrado combines an environmentally-sensitive mantra with opulent atmosphere, top-shelf amenities, enough art to fill a museum, and first-rate service.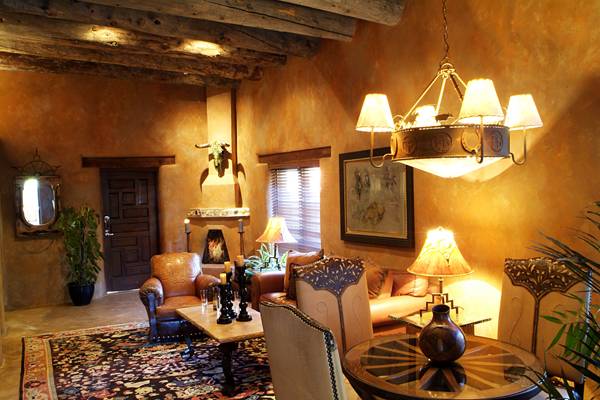 The casitas at El Monte Sagrado incorporate many aspects of northern New Mexican and Native American culture into their atmosphere.
(photo: El Monte Sagrado Resort)
El Monte's ambiance incorporates many aspects of northern New Mexican and Native American culture into its palate – the casitas from the former motel that stood on the site were remodeled into gorgeous luxury suites with influences from all over the world, including Spain, Japan, India, Africa, Argentina, Egypt, Marakesh, Bali, even Texas. The cuisine at the De La Tierra restaurant also follows this global-village theme, with interpretations of cuisine from New Mexico, Morocco, Russia, and other countries. Thus, while many parts of the resort reflect the local atmosphere (adobe building styles and color schemes, kiva-style fireplaces, stone tiles), they're not shooting for an "authentic" Taos experience, but rather a "gorgeous mosaic" international vibe.
There are enough details scattered throughout the resort to fill several feature articles. For example, in the inner courtyard, instead of a large swimming pool lined with lounge chairs and scurrying waiters, you'll find a grassy "Sacred Circle" surrounded by tall cottonwood trees, a stocked pond, gurgling waterfalls, and distinctive foot bridges. The Anaconda Bar has an expansive sculpture of its namesake snake winding through the ceiling. In the sumptuous "Library," you can shoot a game of pool on a table that Minnesota Fats once played on.
But most impressive of all is the Aqua Center. Inside a glass structure that allows you to gaze out at the mountains in the distance is a non-chlorinated pool, along with two wading pools and a hot tub. Surrounding them is a virtual rain forest of tropical fauna; every plant is ID'd with tags so you know where each species comes from. All of the resort's waste water is filtered naturally through the plants, soil, and rock formations, and then reused to irrigate grass and plants throughout the grounds: a self-enclosed ecosystem.

Earth consciousness and art blend seamlessly on El Monte Sagrado Resort's grounds.
(photo: FTO/James Michaud)
While El Monte Sagrado's blend of earth-consciousness and lavish pampering might appear to be working at cross purposes, one can argue that modeling ecological awareness and using alternative energy (solar and geothermal) throughout the premises makes sense on a political level. If you think about it, some of its upper-crust guests may be creating public policy for the rest of us.
The only downside to basing yourself at El Monte Sagrado for a ski trip is that you'll have to make some hard choices about how you spend your time. If you're planning to ski every single day, you'll miss out on the resort's specialty: ultra-deluxe relaxation. So if snow conditions don't look optimal, you've got a pile of reasons to take the day off – have a decadent breakfast at The Gardens (as the name implies, you're surrounded by all sorts of stunning plants), hang out with the beautiful people lounging around the pool, take a stroll around the Sacred Circle, and earmark some time for a few treatments at El Monte's gorgeous spa. Consider it karmic payback for all the times you stayed in a Motel 6.
The good news for those without A-list income – if you don't have the scratch for El Monte Sagrado's premium suites, there is a separate, more conventional building (where we stayed) with less expensive, but still very well-appointed rooms.
For More Information: