Lake Placid, NY – Ah, yes — the much maligned best-of list.
It's 2010 and by now you've read a few of them from the end of last year, and this year's will be arriving shortly. Always a fun way to pass time while waiting at the airport or the doctor's office, amazingly effective in igniting free-for-alls on internet forums, but generally, a big time-waster. Maybe you've sworn never to read another one, but your curiosity always wins out. And then you've gone and done it – lost another three minutes of your life that you'll never get back.
My personal favorite instrument of torture is SKI Magazine's annual Top Resort list. When I see the issue at a local ski shop in early autumn, laying there like a big powdered doughnut, I know beforehand that I'll be reading about the same "winners" as last year and the year before that. Moreover, they're exactly the kind of places that I've historically tried to avoid – the ones that claim to "have it all": hotels, shopping, restaurants, off-mountain attractions, nightlife to go along with the skiing.
And you know how it goes from there; the resorts that win these awards proudly trumpet the fact that they've been recognized as a top destination by their target audience. Meanwhile, the ones left off the list use their snubbing as a badge of honor to prove that they're too hardcore or off the beaten path to appeal to the publication's pampered readers.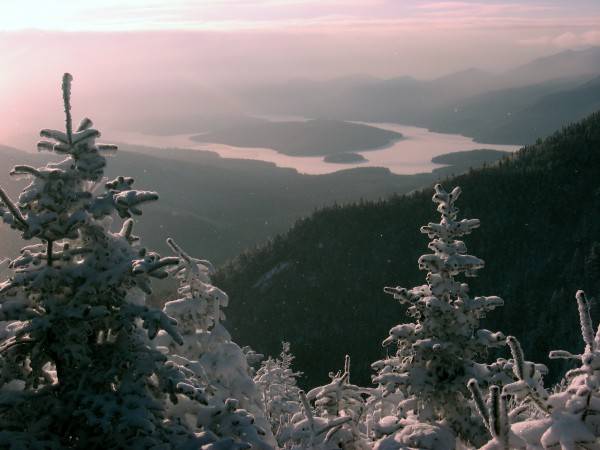 Lake Placid (photo: Alan Wechsler)
With 70 million people living within a day's drive, Lake Placid, N.Y., is no stranger to best-of lists. Recent accolades include Forbes Traveler website, which named it one of America's prettiest towns thanks to its "classic Main Street, pine-speckled hills, and pristine small lakes." MSN City Guide rated it as one of "America's Top 10 Best Outdoor Towns." Travel and Leisure praised it as "the kind of place that makes you angry other people get to live there year-round." And while, as a general rule, the Northeast never takes nationwide honors in anything ski-related, Lake Placid has, for the past 16 years, been voted #1 in the nation for SKI Magazine's "Off-Hill Activities" award.
I'd been hearing about the Lake Placid winter experience for so long – the quaint village next to a picturesque lake, the proud Olympic pedigree, the piles of off-mountain stuff you can do there – that I had almost stopped paying attention. When I thought about it for a bit, I realized that the reason Lake Placid hadn't gotten more destination-skier dollars from me was that my trips to the northern Adirondacks had always been purely tactical visits. If Whiteface got a dump of new snow, I'd drive up early in the morning, ski hard all day, and stay overnight in a cheapskate hotel. The next morning, I'd go back to the mountain, track up the leftovers, and drive home that night. But now that I fit into the exact demographic group (homeowner, married, parent, limited vacation time) that's supposed to leverage best-of articles to choose a resort for a visit, I wanted to see if those lists had any relevancy to someone like me.
So when I decided to spend a family weekend in Lake Placid, I did it while breaking the two cardinal rules of East Coast skiing: a) planning a destination trip more than a week in advance, and b) scheduling it for the second half of December, a classic Bermuda Triangle of Northeastern ski weather. Ignoring those two bits of conventional wisdom is traditionally a sure-fire recipe for disaster, but go figure, my gamble paid off when a storm dropped 20 inches of dry powder on Whiteface the night of our arrival.
That's Mr. Whiteface to You

(Trail map image: ORDA)
Tall and narrow, Whiteface Mountain not only offers the biggest lift-served vertical drop east of the Rockies, it's more than many ski areas out west. Those accustomed to smaller hills where they can zip from summit to base in a couple minutes will be impressed by Whiteface's thigh-burning, top-to-bottom runs. And with both the high-speed Cloudsplitter Gondola and Facelift Quad leaving from the base, you can quickly rack up big vertical. Of course, whenever a ski area claims any kind of "best, longest, highest, toughest" descriptors in its advertising these days, crossing your T's and dotting your I's is absolutely mandatory, because the online ski community will quickly call you on any inaccuracy. One of Whiteface's ad campaigns last year featured a beautiful helicopter shot of the ski area with signposts indicating how other high-profile mountains compare to Whiteface in the vertical department. It's an effective visual aimed at people who value superlatives. But when the graphic first went live in early autumn, a "3,430 feet" marker was placed at the top of the Summit lift (it's actually a still noteworthy 3,116 feet), which quickly led to a fair number of internet posts calling foul on the claim. You'll now see an asterisked disclaimer explaining that the larger number was measured higher up on the mountain, from The Slides.
Despite recording 225, 263, and 202 inches of snow in three consecutive seasons, very respectable by eastern standards, Whiteface is best known for its hard and fast conditions, or what some would call "a racer's mountain." Often out of reach of powerful lake-effect storms that, sadly, dump most of their load on the Tug Hill Plateau to the southwest, the mountain also gets hit with scouring winds that blast a good portion of its cover into the next county. So like many eastern ski areas, you have to get it while the getting's good, because conditions can quickly change from memorable to "let's go get a beer." I've skied there in every possible condition – from deep powder to perfectly groomed corduroy to luscious spring corn to brutal sheets of ice – and by the end of almost every season, Whiteface's clientele will have experienced all of them.
Whiteface Mountain's summit, viewed from atop Little Whiteface.
(photo: Alan Wechsler)
While much has been done to soften the obvious rough edges (the aforementioned high-speed lifts, along with improved grooming and expanded snowmaking), Whiteface's marketing department long ago adopted an honesty-is-the-best-policy approach and emphasized the mountain's stature and force-of-nature personality – from the "Take Off Your Training Wheels" tagline to my personal favorite, the "That's Mr. Whiteface to You" campaign from almost 10 years ago.
Thus, it goes without saying that you can never go wrong by bringing a pair of freshly tuned, mid-fat skis to attack Whiteface's main offering, long cruisers, but the mountain also has some dedicated bump runs, a handful of glades pruned out of the thick forests, and, my personal favorites, several narrow, natural-snow trails like Empire, Mackenzie, and Blazer's Bluff. And when the rope goes down on the fabled Slides, usually in late March, steeps lovers can attack 35 acres of expert, side-country terrain featuring a series of narrow chutes, a frozen waterfall, extremely variable conditions, and a few spots where you have to, as they say, "make some decisions."
Surrounded by New York State "Forever Wild" lands, you'll never see any resort-related development of any kind outside of the ski area perimeter. As the mountain's website reminds you, "the fresh air filling your lungs has just blown over a protected park larger than Yellowstone and Yosemite combined." However, the downside of being in the middle of a state-sanctioned no-development zone is exactly that – you can't develop anything, and that includes ski terrain. This predicament has contributed to what many have always considered to be a major drawback at Whiteface: the relatively low number of skiable acres for such a tall mountain.
To address this issue, Whiteface has, over the past few seasons, added a new terrain pod to its arsenal: Lookout Mountain. Served by a new fixed-grip triple chair, skiers are now able to log an impressive 2,780 vertical feet from the top of the Lookout lift to the base. When built out, Lookout Mountain will put the mountain's skiable terrain at the state-mandated maximum of 25 miles.
On the way to the base, we dropped off our three-year-old at the Kids Kampus complex, which sports a handsome new lodge, a dedicated parking lot, its own lift, and a small network of learning trails completely separate from the rest of the ski area. There's even a new security camera system to keep parents from worrying about little Connor or Ashley wandering off the property.
America's Olympic Village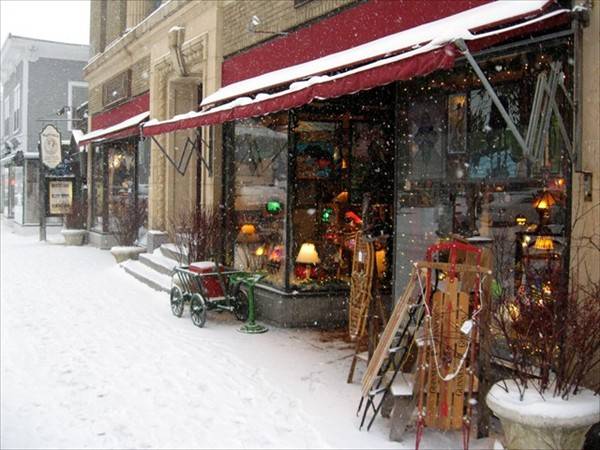 Lake Placid boasts all manner of boutiques.
(photo: FTO/James Michaud)

Dogsledding on Mirror Lake in Lake Placid.
(photo: Roger Laroche/Carnet du Ski)

Lake Placid's 1932 Olympic Center.
(photo: James Michaud)
As you've already heard or read, even if one of your group doesn't want to ski at Whiteface, getting bored in Lake Placid is not an option. In addition to Saranac Avenue's selection of restaurants, cafés, bars, shops, clothing stores, hotels, and boutiques, the town offers an extensive list of activities, including dog-sledding, snowmobiling, snowshoeing, ice hockey on Mirror Lake, and sleigh rides. Another popular cold-weather favorite in Lake Placid is an old 30-foot ski jump trestle that's been converted into a toboggan run. After zooming down an icy chute, riders slide up to 1,000 feet across frozen Mirror Lake.
But the real value-add of Lake Placid is the way the town continues to masterfully leverage its hosting of the 1932 and 1980 Olympics. It's literally everywhere and the public is allowed to interact with this legacy at every turn. The famed Olympic Center in the middle of town (with an indoor ice rink and a 400-meter outdoor speed-skating oval that are both open to the public) is still in full operation and has, ever since the electrifying "Miracle on Ice" three decades ago, become a pilgrimage site for hockey players and fans. At the Olympic Museum, you can learn the inside story about how this small village successfully hosted the Winter Games twice.
At the Van Hoevenburg Olympic Sports Complex, a few miles outside of town, you can cross-country ski on 30 miles of groomed trails and then do some target practice at the biathlon shooting range. After watching athletes train on the ski jumps, visitors can also check out the observation deck at the top of the K-120 meter jump. I'm told that the view down the steep, narrow jump is "disconcerting" or "exhilarating," depending on your ability to deal with heights.
But the must-do activity for me was the bobsled and luge course, which was newly built a decade ago. Even though equilibrium issues had always made me avoid roller coasters, I decided to man up for the bobsled experience, if for no other reason than to brag about it at cocktail parties.
Commandeered by a professional driver and brakeman, the first few seconds went by painlessly, but when we hit a series of 3-G turns, with the ice flying by literally inches from my helmet, the possibility of immediate decapitation made me keep a death grip on the inside of the sled. I was seated directly behind the driver and had absolutely no clue how he was able to make turns going at that speed. Afterward, he saw my ashen face and mentioned that we "only" hit a top speed of 55 mph, instead of the 80 mph they can reach in real competitions.
While $75 might sound steep for something that's over in a little more than a minute (the admission price includes a commemorative pin, a 4×6" photo of you taken just after you've gotten out of the sled, and a team t-shirt), the bragging rights are yours forever. If you don't like the idea of someone else doing the driving, try a ride on a skeleton sled – you lie on your stomach and go up to 30 mph with your chin only three inches from the ice.
Where to Stay: High Peaks Resort
We were headquartered at the High Peaks Resort – a comfortable full-service hotel that does a nice job incorporating Adirondack furnishings with a "casually elegant" setting, as they say in the hospitality business. You walk through an attractive lobby featuring a stone fireplace, native woods, and big leather chairs. On the premises are two restaurants with excellent food and pleasant ambiance, and an atmospheric bar. You'll also find an indoor pool, a workout facility, and a spa offering extensive treatments.
While it's possible to dispatch a moderate piece of change there without too much effort, the High Peaks also offers affordable packages during midweek/non-holiday periods that aren't much more than what you'd spend at an Econolodge-type joint.
If you can gather up the spare coins between the cushions in your sofa (and maybe break into your kid's college fund while you're at it), nearby Mirror Lake Inn is an experience you won't forget. Rated the #11 best ski hotel in the country in a Condé Nast Traveler reader's poll, it's one of those places that remind you of how things probably were for upper-class travelers 100 years ago: plush, elegant, and old-school. Since I only managed to go there for dinner (which was fantastic), see Marc Guido's earlier article for more details about Mirror Lake Inn.
For More Information: