West Dummerston, VT – Southern Vermont's Maple Valley, closed for the past decade, may reopen as a four season resort. The ski area's owner, MVS Associates, LLC of Stamford, Conn., has filed a zoning application for a conditional use permit with the town's Development Review Board.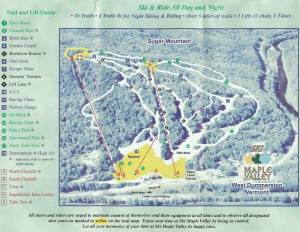 Maple Valley first opened in 1963 beside Vermont Route 30, six miles northwest of Brattleboro, and operated through 2001 as one of Vermont's smaller ski areas and one of its few to offer night skiing. It featured two double chairlifts and a t-bar reaching an elevation of 1,312 feet on Sugar Mountain with a vertical drop of around 1,000 feet. MVS Associates acquired the ski area at an auction for back taxes in 1997.
In addition to skiing and riding, the application seeks to add summer hiking, mountain biking, hang gliding, paintball and special events at the facility.
The town will hold a special public hearing on the application on June 21. Once that process is complete the town has 45 days to render its decision, followed by a 30-day appeals process.